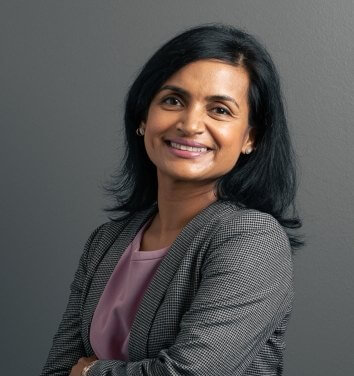 Sangeetha Karthik
AIA, RID, LEED AP BD+C, NCIDQ
Principal
Dallas, Texas USA
Inclusivity is the central motivation behind Sangeetha's work. As a member of our Education Studio, she creates spaces that benefit both the client and the end user, despite some of the limitations of the public sector. "I believe beautiful architecture can be created regardless of constraints and budgets," says Sangeetha. "Beautiful buildings that evoke a sense of belonging and self-worth should be accessible to everyone." She works with PK-12 and higher education clients across North Texas to create learning environments that are both magnificent and functional. Sangeetha is known for her unique ability to create spaces that mimic the real world, foster collaboration and engagement, and result in self-directed learners who are prepared for future careers.
Interested in both the artistic and scientific qualities of architecture, she approaches her work with a creative mindset as well as an understanding of the data behind learning. Sangeetha is excited about what the future holds for education and has done extensive research on the topic, specifically focused on planning for the future through project-based learning. "I approach projects with a future outlook," Sangeetha says, "making sure that flexibility is accommodated in the design."
Education is important to Sangeetha outside of work as well, as she believes it has the power to change the world. "I volunteer and mentor students whenever I can," she says. Over the years, Sangeetha has served as an AIA Education Outreach volunteer (and was named a K-12 Camp Champion), Association of Learning Environments NTX Chapter volunteer and president, and KSHT Frisco volunteer.