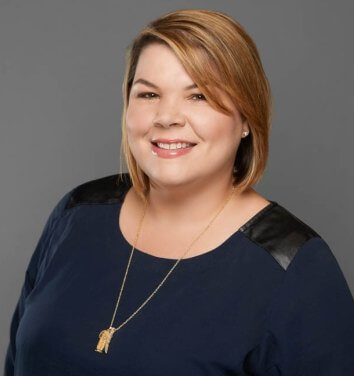 Vice President, Senior Interior Design Project Manager
Christy brings a blending of creativity and detail-oriented processes to develop complex corporate aviation interiors and take them from A to Z. With her valuable understanding of aviation and office facilities, Christy oversees a multitude of projects ranging from large-scale corporate campuses to intimate airport lounges. She's what we call a boomerang. After more than ten years with the firm, she left to work with her family and soon returned after missing Corgan's people and culture. 
As a leader, Christy is adept at juggling multiple tasks and bringing order to chaos. She is most proud of her work at the American Airlines Integrated Operations Center in Fort Worth where she was responsible for the programming, space planning, finish selection, FF&E, construction administration, change management and move services to consolidate airline operations in their 150,000-square-foot facility. The headquarters handles over 1400 aircraft for both American and American Eagle and is considered mission-critical to the airline's operation. The project was completed in just one year and is revered in the aviation industry as a shining example of functional design. "At Corgan, there's something new to learn every day and there's always a challenge to dig into," she says.