News & Insights — Collection
Design Lessons From Teachers 2.0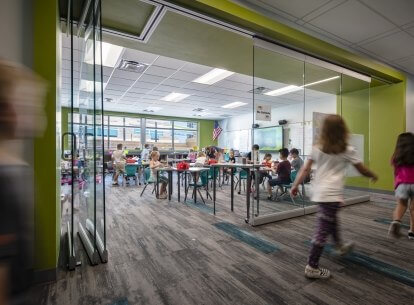 Accelerated shifts in new technology, pedagogy, and student expectations exacerbate the challenges of an already strained profession as teachers grapple with navigating our new normal and increased pressure for more personalized learning. While recent years have welcomed leaps in student-centric improvements, there has been relatively little progress in the support or resources available to teachers.
From tailored curriculums and heightened fluidity to a sharpened disconnect and added distractions, the expectations on teachers continues to intensify, and without the right support, can threaten the sustainability of a talent pipeline while making improved student outcomes even more difficult to reach. Though school design continues to keep student needs, preferences, and outcomes front of mind, how can it also care for those responsible for delivering those outcomes? What do teachers need from their school environment?
In a follow-up to Corgan's 2019 survey, Design Lessons from Teachers 2.0 we explore the impact of the built environment on teacher satisfaction, employment, loyalty, and even employment decisions. Here's a look at what teachers want most from their classroom design.