News & Insights — Insights
The Broken Breakroom and How to Fix it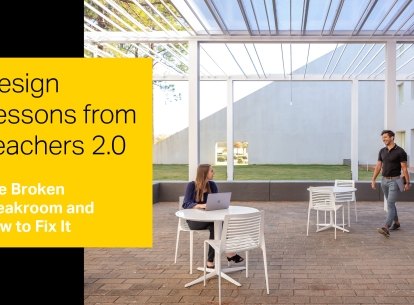 According to a recent Corgan survey of 1,000 K-12 teachers across the nation, only 14% of surveyed teachers use the workroom to complete their non-teaching tasks. That's all those things teachers are responsible for before students file into the classroom: grading papers and tests, inventing new ways to bring to life the Pythagorean Theorem, and prepping for the week of Parent-Teacher meetings. They'd rather use the desk in their classroom—not because they enjoy it, but because it is the best option.

Design Lessons from Teachers 2.0, exploring what teachers need from their workplace and how design can help as an extension of the firm's initial study in 2019 and sheds light on how teacher pain points have evolved since the pandemic. The survey results in combination with in-depth interviews including one with a middle-school teacher who described her work environment as a "crappy desk…a small desk and a very, old uncomfortable chair" provides insight into how she like many teachers across the county find their school design inadequate for their job.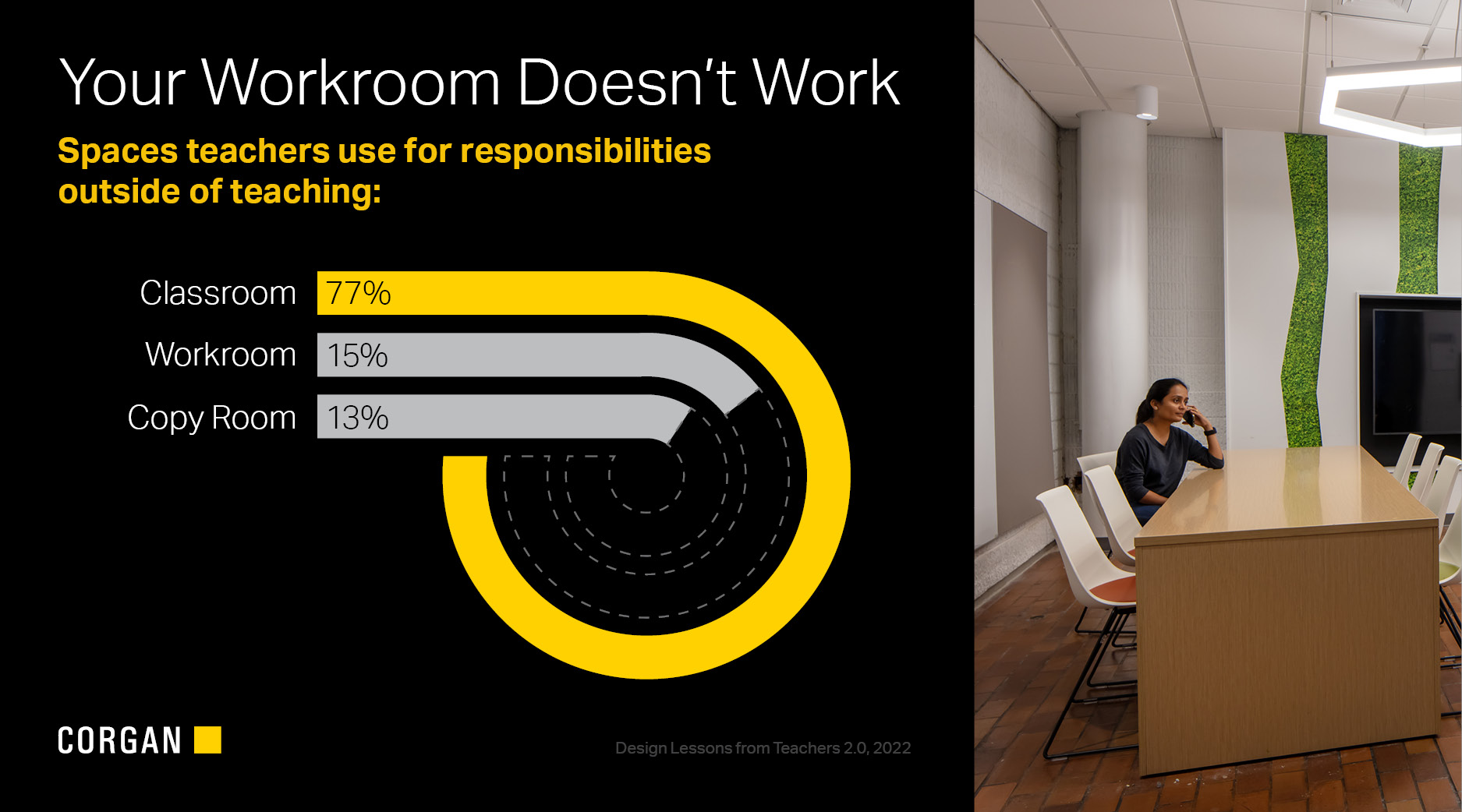 Others in the survey took to the bathrooms or their cars to take a moment for themselves or their homes to complete work because the school campus failed to provide the spaces, equipment and setting they need from their workplace for personal and professional needs, teacher frustration isn't just about functionality either. Spaces that are currently intended for collaboration, innovation, or socialization, such as the breakroom and teacher lounge, are similarly underutilized.

Meanwhile, recent years have invited a transformation of the corporate workplace: dog-friendly policies, kitchens brimming with gourmet snacks and local kombucha, gyms that rival prestige spas, and furniture that is both ergonomically designed and cool to look at. The office changed our notion of what it feels like to be at work, recognizing that where we work shapes our culture, productivity, and even the talent we attract. Since the pandemic began, many of us were welcomed back to offices that are hyperflexible, stocked with amenities that not only help us work better but also support the rhythm of our lives, encourage well-being, and seize the moment to rethink decades-old design and policies for something more intuitive, more engaging, and more human.

While schools introduced new teaching paradigms, increased personalization for students, and explore emerging technology applications, education design has been slower to respond to the role of schools as workplaces for teachers. Like their corporate counterparts, a teacher's workplace can influence the way they feel, their satisfaction at work, their employment selections, and perhaps, most importantly, their performance. If the primary goal of the school is to foster the academic, mental, emotional, and social development of its students, approaching education design as not only a classroom but also as a workplace for teachers unlocks the possibilities of improving their performance and, ultimately, student outcomes.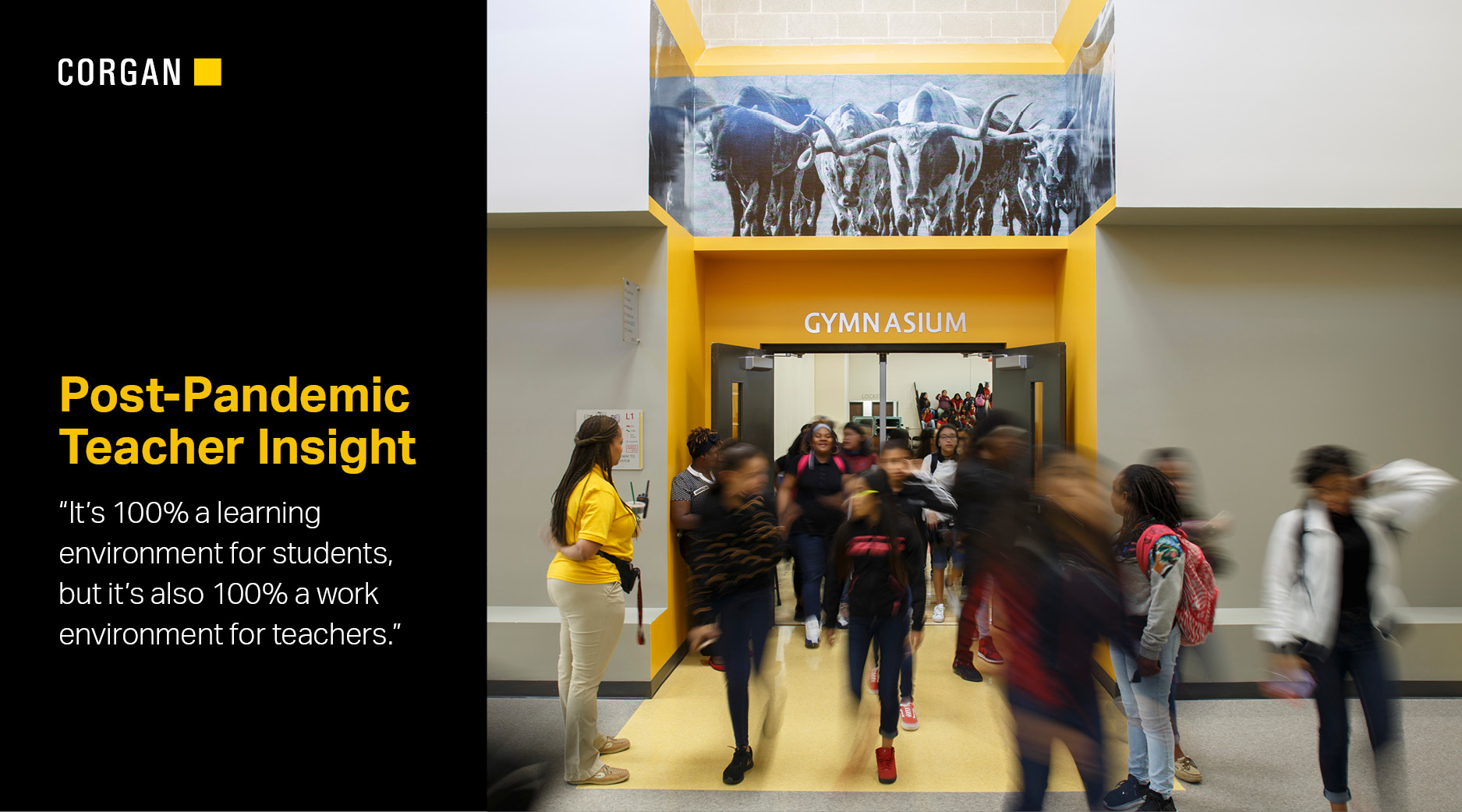 Does Your School Work? Like, Really Work?
In education, the past two years highlighted the strain and discrepancy between design and what teachers need from it. It seems as if the working world has found the ability to zoom forward—literally—taking advantage of remote and hybrid technologies and adding new flexibilities that personalize the workday so we can work better and feel better doing it. The school as a workplace, however, has remained relatively unchanged. Workspaces outside the classroom are not typically designed with the same consideration as student-centric spaces and, in turn, become uninviting and hinder the work they are intended to assist. It's why a majority of surveyed teachers reported being moderately dissatisfied with teacher-focused rooms in the school, such as their break rooms (2.84/5) and work areas (2.78/5).

While suggesting upgrades to these spaces mirror corporate counterparts would be both impractical and unnecessary, understanding how meaningful design interventions that reinforce best practices from workplace design offer a powerful opportunity to shift the relationship between teachers and their environment.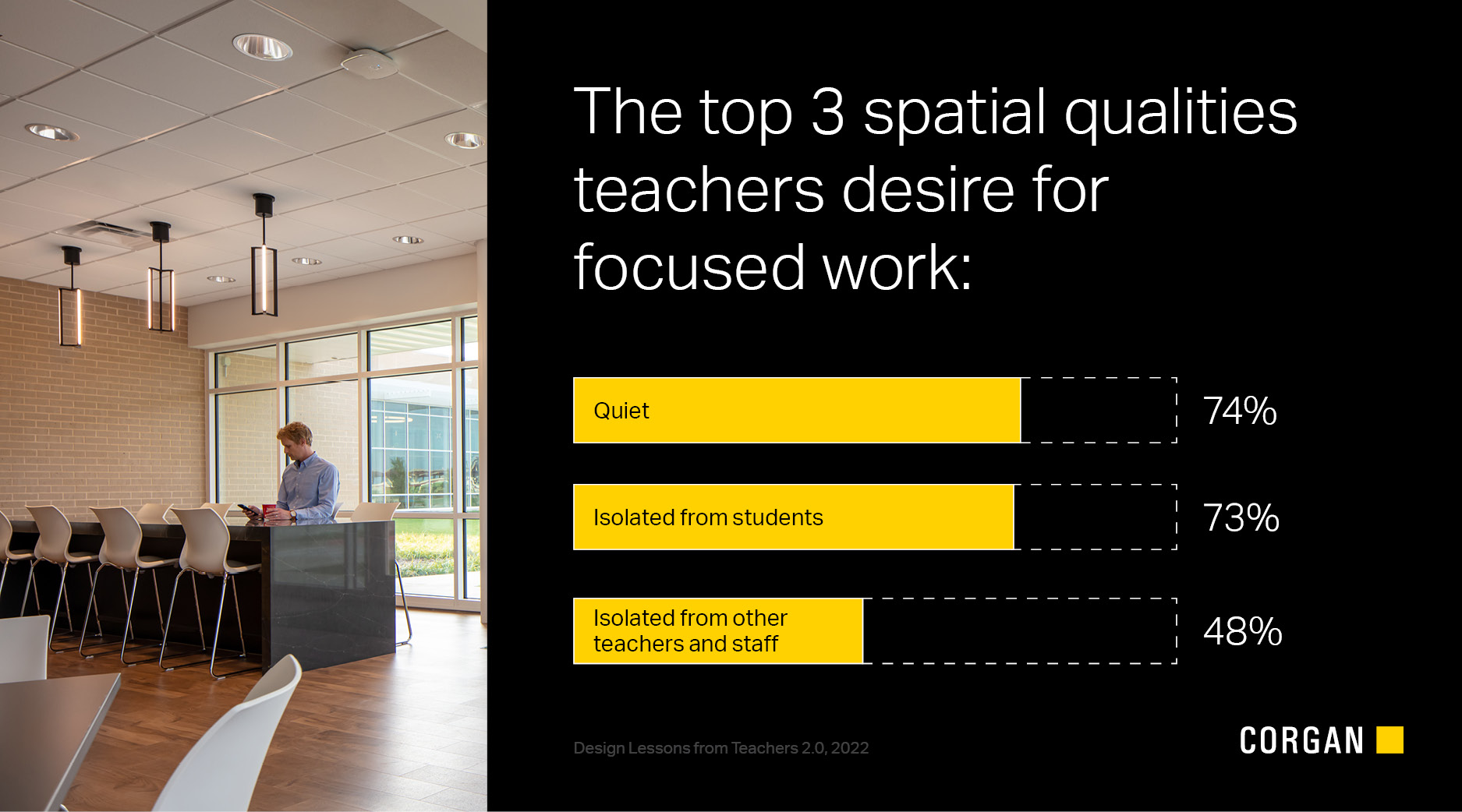 A Day in the Life
Where most employees now have the expectation that they would have some controls to customize how or where they work depending on their personal and professional needs, teachers have fewer options. Most can't Skype into a class, choose to peel away to a more remote corner of the campus when they need, or control the volume of their workspace or the height of their desk.

Limited controls for teachers become especially frustrating when those needs are constantly changing and in competition with each other. Asked to quickly adjust for modalities, meet the increasing demand for more personalization, and fill in for learning discrepancies and inequitable access to resources caused by the pandemic, the pressure on teachers continues to build without additional support.

Strained on time and resources, teachers were already stretched thin—a pain point that is also reflected in the profession's talent pipeline. 53% of surveyed teachers indicate that the amount of workload they are expected to complete is a main source of stress. Now, juggling new technologies, helping students catch up after the lost years, and managing behavioral and mental health issues worsened by the pandemic only complicates their day-to-day responsibilities. From preparing differentiated lesson plans, study guides, and tests to after-hour homework help and meetings with parents, the functions of a teacher extend beyond teaching the content. All this is balanced with their multiple roles across the school community as athletic coaches, extracurricular liaisons, and collaborators with other teachers about student behaviors, best practices, crossover subjects, transition preparation, and professional development.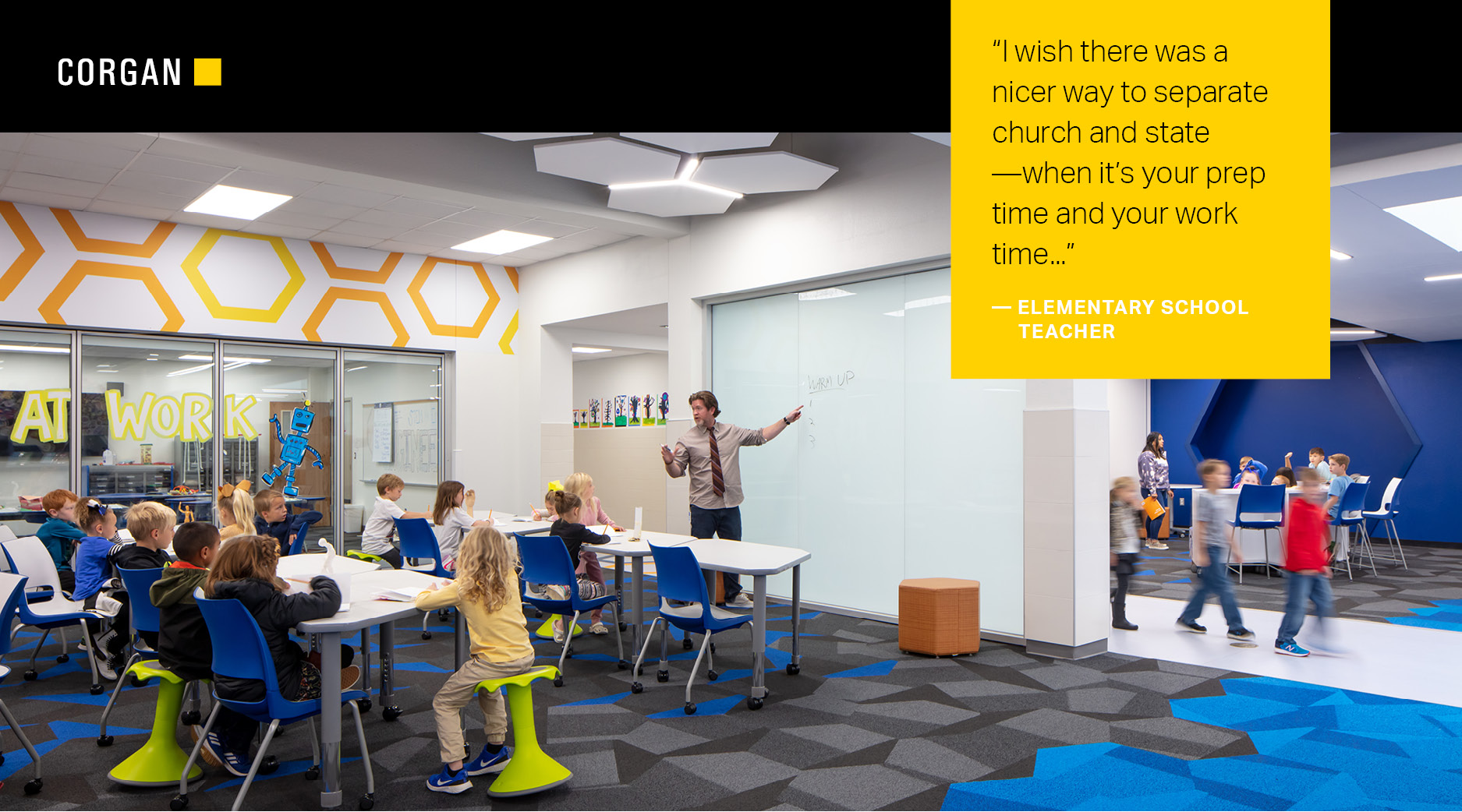 A teacher's day is marked by exceptional variety. The mix of tasks oscillates from extremes with little control about when or where it happens and little distinction or separation between them. Their work requires more than a desk in a classroom. Like other professionals, they need environments that match their purpose and preferences, offer a mix of settings, and the meaningful, strategic considerations that empower them to succeed.
Design Solutions
Investigating education design through the lens of the workplace reveals opportunities to activate the space to better support teachers and, in turn, their students.
Professional Settings
Outfitting the school for teachers is less about replicating corporate office spaces and more about including settings that reflect the purpose behind those accommodations—offering a professional space for their work and filling the void for teachers who may be handicapped by their environment.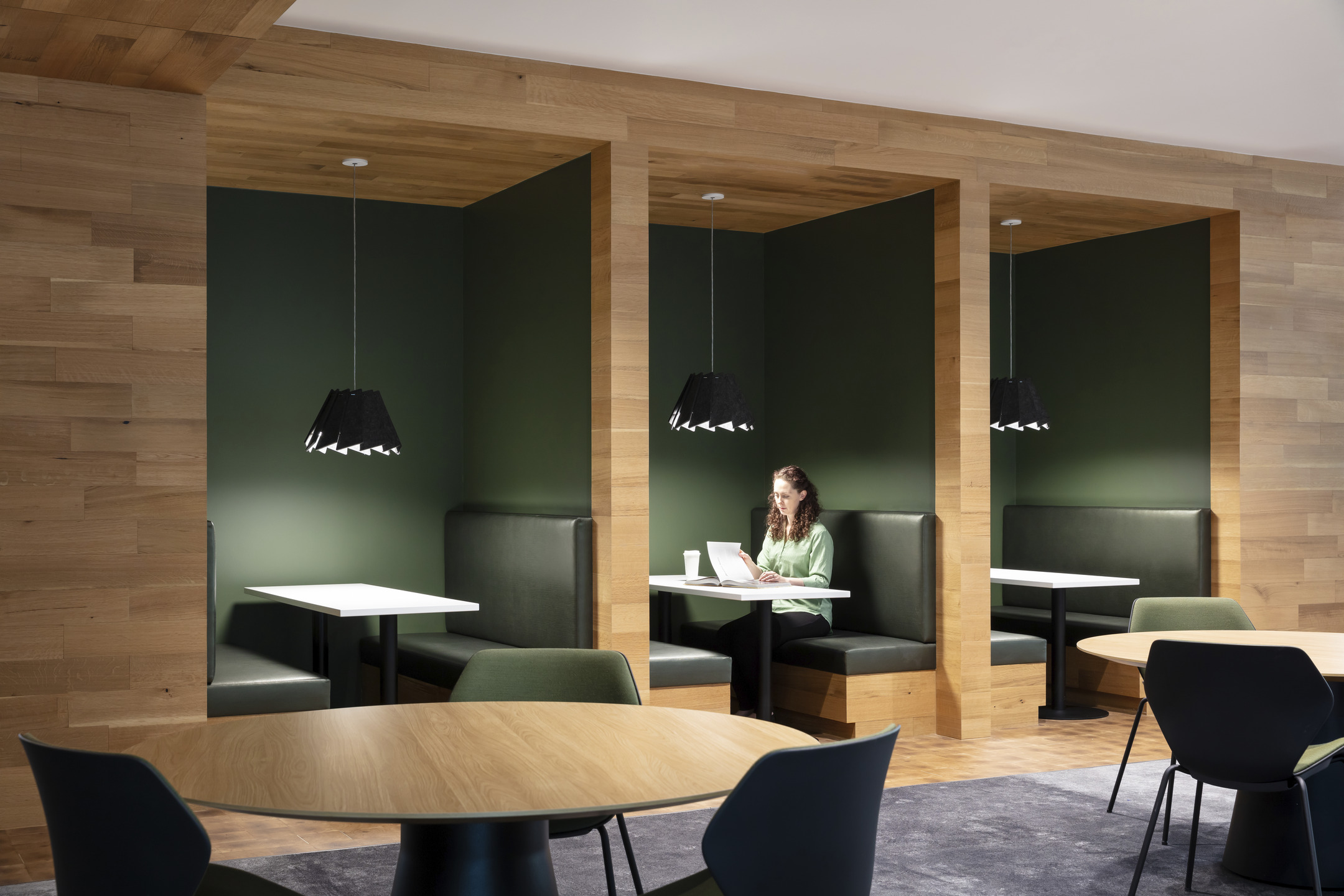 Imagine losing the most critical spaces in your office. When teachers are appointed a desk, they fail to meet the typical workstation expectations. Sometimes, the one copy room on campus is the only destination for teacher supplies, privacy, and focus. Teachers who work primarily at their in-classroom desks are asked to conduct their work with overlapping tasks and no change of location or pace. These spaces are also usually not intended for those tasks—too small, inadequate equipment, outdated technology coupled with the several other concurrent users, which takes a toll on teacher mental fatigue and exhaustion.

Conversely, providing the same desk features we see in professional workplaces such as sit-to-stand desks, ergonomic task chairs, and personalization distinctly activates it as an attractive, functional tool for teachers. Elsewhere, elevated materials that include calming colors, comfortable furniture, residentially inspired finishes can carve out dedicated spaces that signal focus and encourage productivity. A departure from the bright colors, branding, and installations for students, these areas are markedly designed for professional educators—an acknowledgment of their responsibilities and the environment they need to do them.
Variety of Spaces
Giving teachers the agency to choose their work environment depending on their task type or personal preferences reflects some of the same benefits a variety of zones and seating options provides to students: an increase in focus and productivity, higher satisfaction rate, and better retention. Dedicated staff courtyards or updated spaces that have the right affordances, such as plug-and-play compatibility, large surface areas, and inviting seating, for example, add functional opportunities for teachers to intentionally and casually connect. Centralized workstations offer an alternative to the classroom and encourage the collaboration possible in open offices but difficult to achieve on school campuses.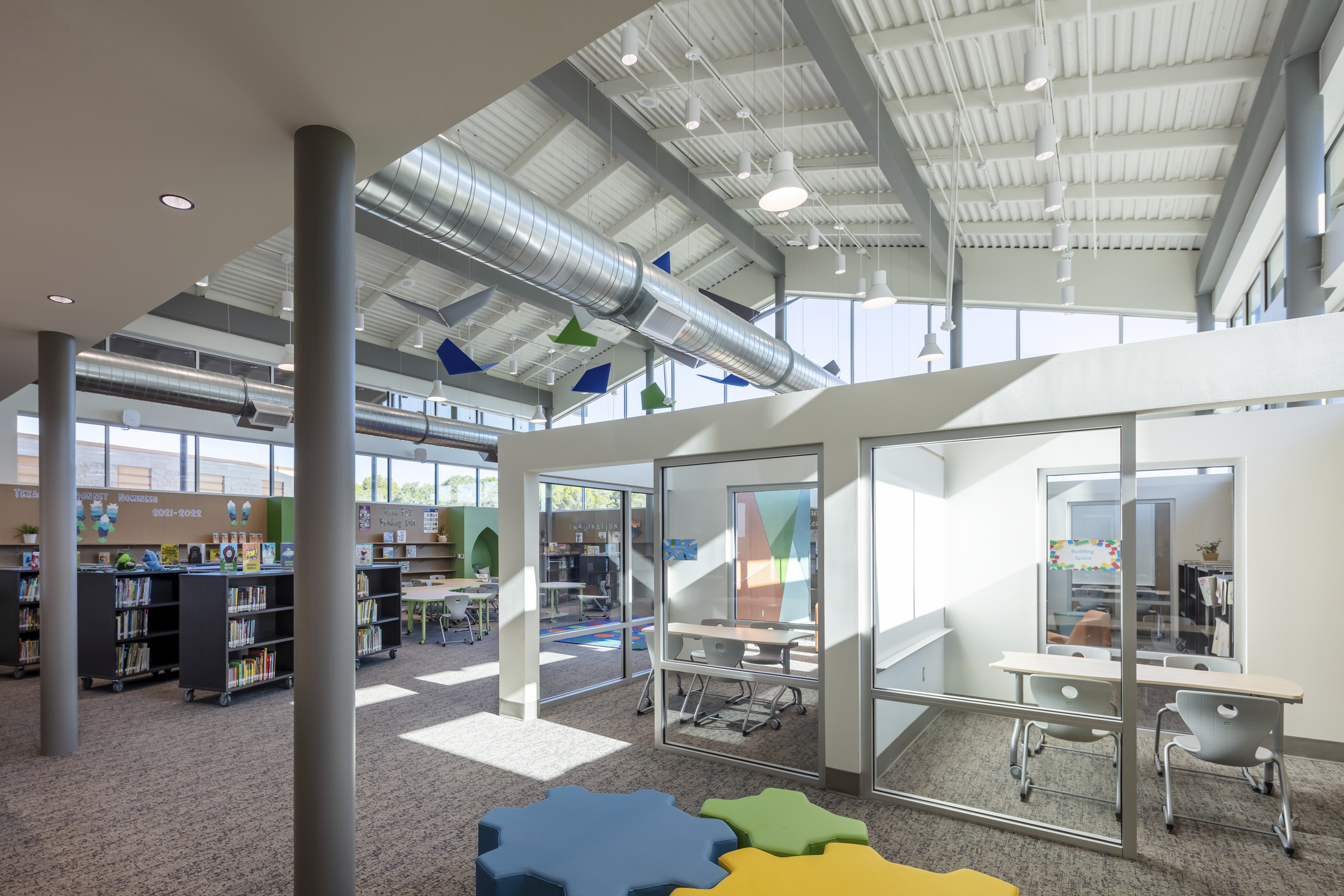 When teachers need a moment to themselves, they report looking for privacy or a space where there is a degree of anonymity. The go-to spots? Their classroom (42%), their car (34%), the bathroom (32%), the teacher's lounge (29%), or outside (26%). Small respite spaces or phone rooms located near classrooms instead could allow teachers an opportunity to regroup, touch base with their child's pediatrician, or take a moment for their mental wellness.

As important as a variety of spaces is the strategic location of them. Teachers are more likely to make use of these areas when they maintain a line of sight to students and are easy to get to versus being tucked into a more remote administrative suite. Classroom pod models, for example, that include a dedicated staff space conveniently situate commonly used amenities such as a copy machine and printer, supplies, small seating areas, restrooms, phone rooms, and coffee at teacher's fingertips—encouraging the use of these spaces and helping teachers feel supported throughout their day.
Private and Quiet vs. Shared
While teachers can appreciate spaces for collaboration with peers, mentorship from more established educators, and opportunities to socialize and build connections, they are most often lacking in the areas they need for focused work.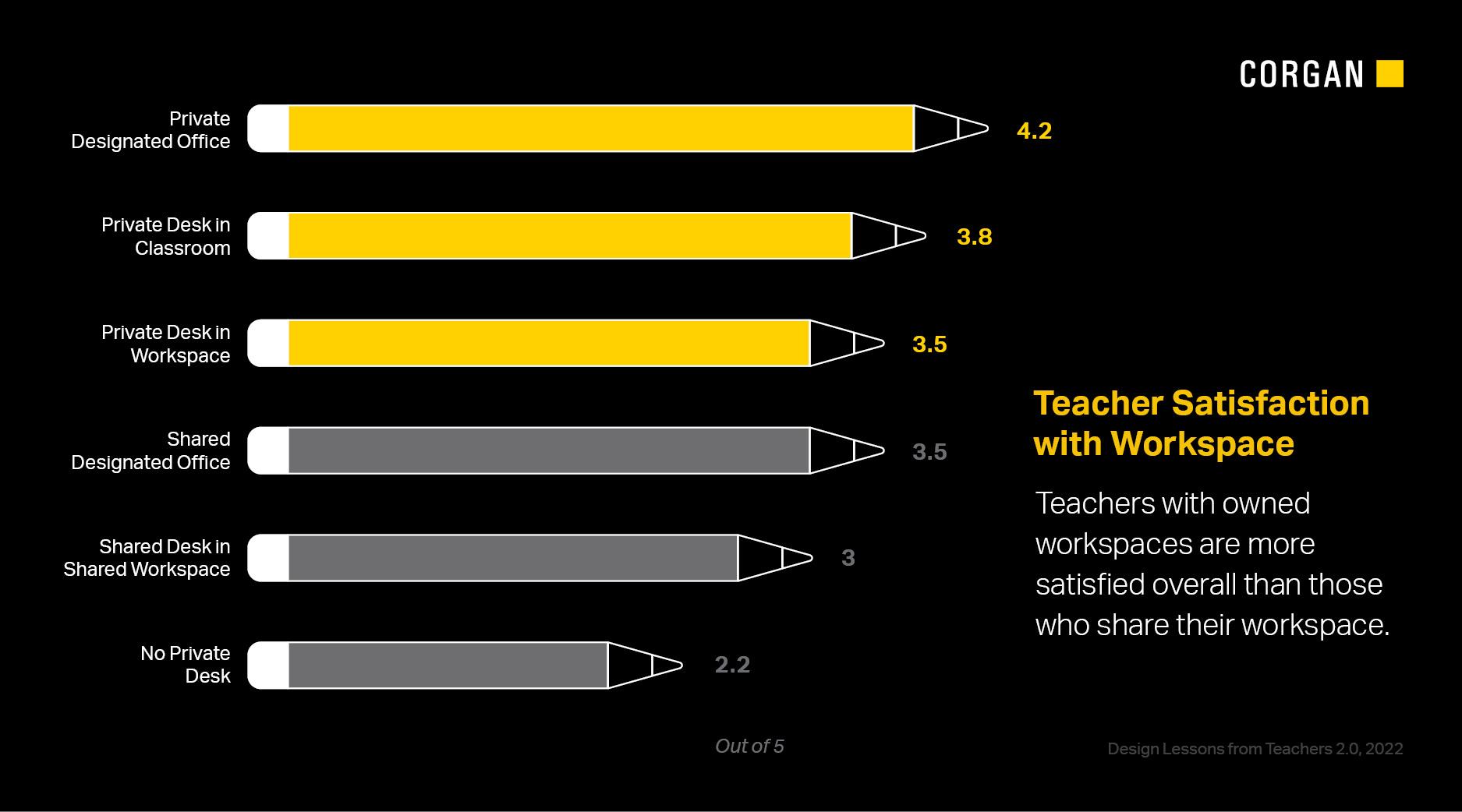 According to survey respondents, in the mix of spaces available to teachers for work, teachers were more satisfied with spaces that offered ownership, privacy, and quiet. Where and how much space a teacher has for their personal workspace is less important than the quality of that space and who is present (or not). The top three spatial qualities teachers reported looking for when completing focused work and taking a moment for themselves were quiet (74%), being isolated from students (73%), and being isolated from other teachers and staff (48%). In a comparison of a teacher's designated workspace and their level of satisfaction with that space, teachers who have their own designated workspace (whether it's a desk or an office) were more satisfied overall than those who share their workspace.

Prioritizing design solutions that minimize distractions balance the energy of the classroom and shared collaboration spaces to afford teachers focus areas to regroup, complete heads-down tasks, deal with stressors, or hold sensitive conversations. For instance, adding smaller, enclosed spaces adjacent to shared workrooms creates "hoteling" opportunities for focused, individual work while glass doors keep the connection to colleagues and leadership.
Amenities
Most traditional offices have started to understand the office is an amenity. While the breakroom on campus may have once signaled a thoughtful notion of hospitality for teachers, they are now typically notoriously neglected and ill-fitted for what teachers need to succeed. Instead, providing the strategic flexibility and affordances that support evolving curriculums, wellness considerations, intuitively integrated technology, and opportunities to personalize their décor or physical comfort offer meaningful assets to our schools' most important asset: teachers.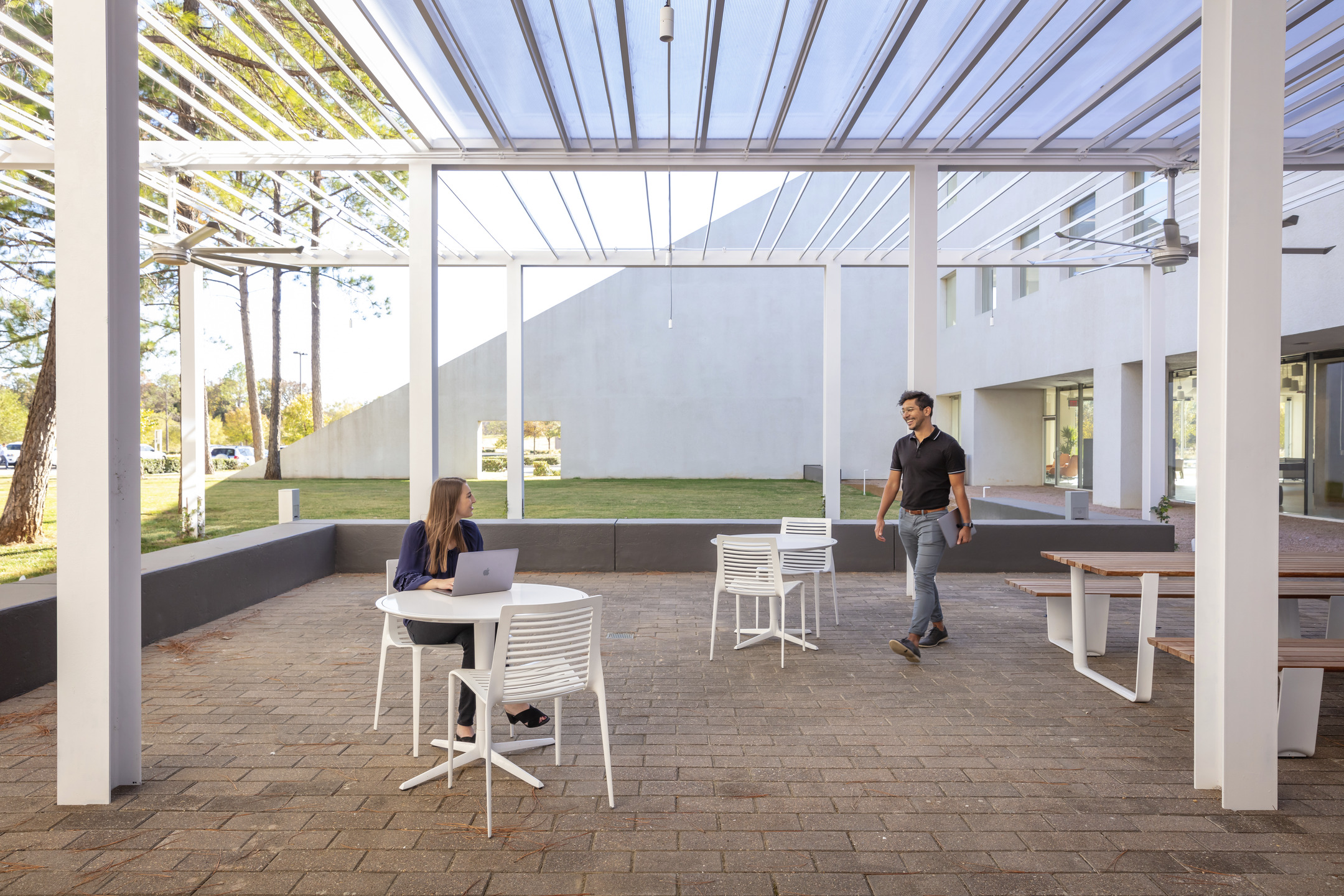 When asked what facility enhancements they would most like to have, the majority of teachers (58%) indicated that they would like complimentary tea/coffee/beverages/snacks, followed by catered lunch (34%), wellness rooms (32%), a gym (27%), and outdoor spaces (25%).

Instead of ping-pong tables and wine bars, spaces that make work easier and more pleasant are the most transformative amenities for teachers. Planning for convenience to refreshments with a nearby fridge, microwave, and coffee/water station can save teachers the time-consuming walk across campus and give them a moment for a mindful meal or break. Or, a dedicated courtyard can facilitate casual connections between colleagues to trade ideas while also taking advantage of the biophilic benefits of the outdoors.
Looking Ahead
Teachers need spaces that, because they are invested in the success of their students, also invest in them. Tapping trends from the corporate office, shifts in how we approach education, and insights from teachers reveal why the school design doesn't work for teachers and how to activate it to better meet their needs not just as teachers but as educational professionals.
---
In early 2022, three years and one pandemic after Corgan's original teacher survey, we wanted to understand how teacher perspectives, needs, and pain points regarding school design have changed over time. Using design research methodologies, Hugo, Corgan's research team, conducted 36 in-depth interviews and deployed a survey to 1,000 K-12 teachers in the United States. The survey allowed for both longitudinal comparison to the original 2019 study as well as offering new insights into the school as a workplace that is designed to better support teachers.
Check out This Episode of TheSquare
TheSquare Episode 11 · The New School
As we approached the start of the 2021 school year, the requirements on educators, parents, and students will be no different than the agility and flexibility required by the pandemic at the close of the last school year. With so many unknowns and changing directives from local and national agencies, administrative operations and design will need to quickly pivot to provide a safe, welcoming space for students this Fall. Discover how Sangeetha Karthik, Associate Principal at Corgan, and the education studio is helping districts discover multiple scenarios for everything from food delivery and adapted schedules to learning cohorts and transportation as they navigate the impacts of COVID-19. A combination of short-term adaptations and long-term impacts, the studio taps into lessons learned from Corgan's other practice areas including healthcare and office spaces to balance safety and the mitigation of infectious diseases with the continued priorities of personalization, community, and hands-on learning. COVID-19 has forever changed the way we think of places including our school campuses. Despite its challenges, however, Sangeetha shares how post-pandemic models, technologies, and design solutions might also provide insight into the ways our notion of learning and campus communities is changing and a glimpse into the future of educational environments.