News & Insights — Insights
The Problem with Flexibility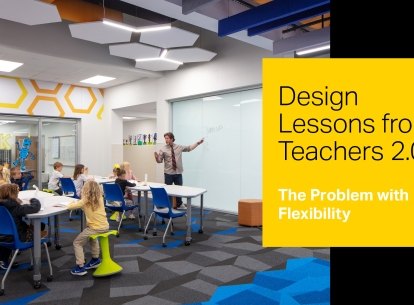 So much ink has been committed to the boom of flexibility that perhaps some of its benefits has been diluted—reduced to debates about remote work and the return to the office, bemoaning the challenges of virtual learning, and, of course, finding a new object to accessorize with casters.

The problem is that in the midst of saturated conversations about what flexibility looks like or why it does or doesn't work, we've lost sight of its purpose. Rather than an add-on or some nice benefit, it is an expected part of how we work, learn, and connect with each other. That's because flexibility, at its core, hinges on activating and empowering us for the task at hand. For teachers, it means considering their goals, challenges, needs, and preferences as they deliver constantly changing curriculums, evolve with shifts in pedagogy, incorporate new technologies, and juggle administrative, student, community, and personal needs.
The Flexibility Paradox
Where previous approaches to flexibility seem overwhelming and resort to an "infinite possibilities" tactic, a recent Corgan study reveals that teachers are looking for more purposeful flexibility. Design Lessons from Teachers 2.0, Corgan's national survey of 1,000 K-12 teachers exploring their most pressing challenges and how design can help, reveals how teacher expectations have changed since the firm's initial survey in 2019. Findings suggest it is less about having the longest list of versatile options and more about thoughtful interventions for specific use cases and what affordances those require.

Does the room have the right number of power outlets? If I move these desks around, will I still be able to reach them? Can I easily access the supplies or technology I need for class or to adapt a lesson plan?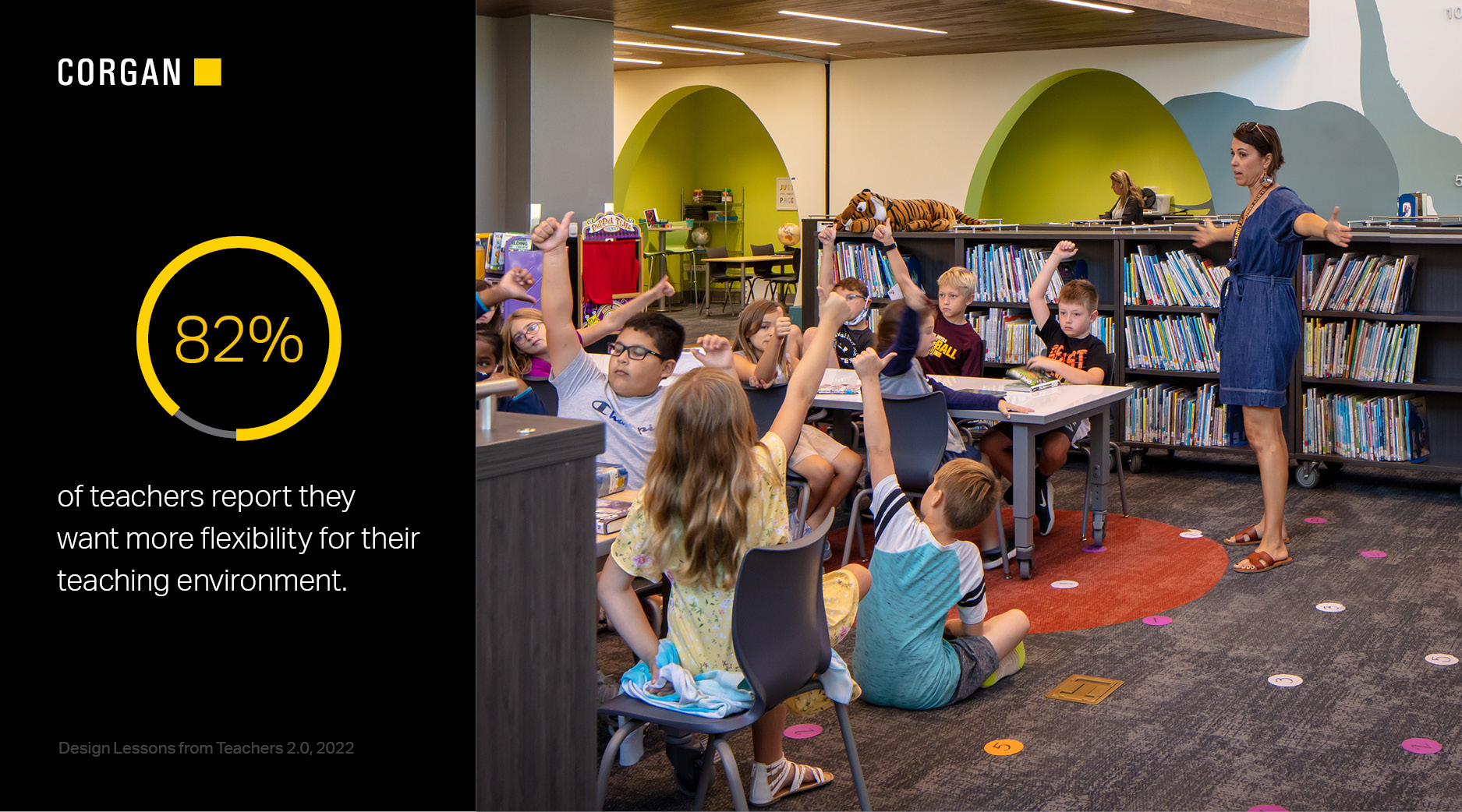 82% of teachers reported they wanted more flexibility from their teaching environment. Surprisingly, the desire for more comes even after a majority of teachers—63%, in fact, indicated their classroom affords some level of flexibility. So why the need for more? The desire for flexibility is less about a need for more of it and more about a different kind—an indication that teachers are still unable to adapt their classroom in the way they need.

Some frustrations can be attributed to temporal restrictions related to COVID-19—with 36% of teachers reporting they find pandemic safety policies limiting. A contributing factor: the increasing number of teachers using traditional, lecture-style classrooms (76%, up from 60% in 2019), many of whom turned to the setup out of necessity but found it least desirable and most limiting. Instead, teachers reported they would prefer to teach through "hands-on" activities, with technology, through collaboration or one-on-one interaction over traditional classroom instruction.

The sustained limitations of the classroom are both an indicator of the prevalent pre-pandemic gap between design and function as well as the ways education has progressed over the past several years. The past two years have exacerbated and highlighted the mismatch between the flexibility teachers have and the flexibility they need.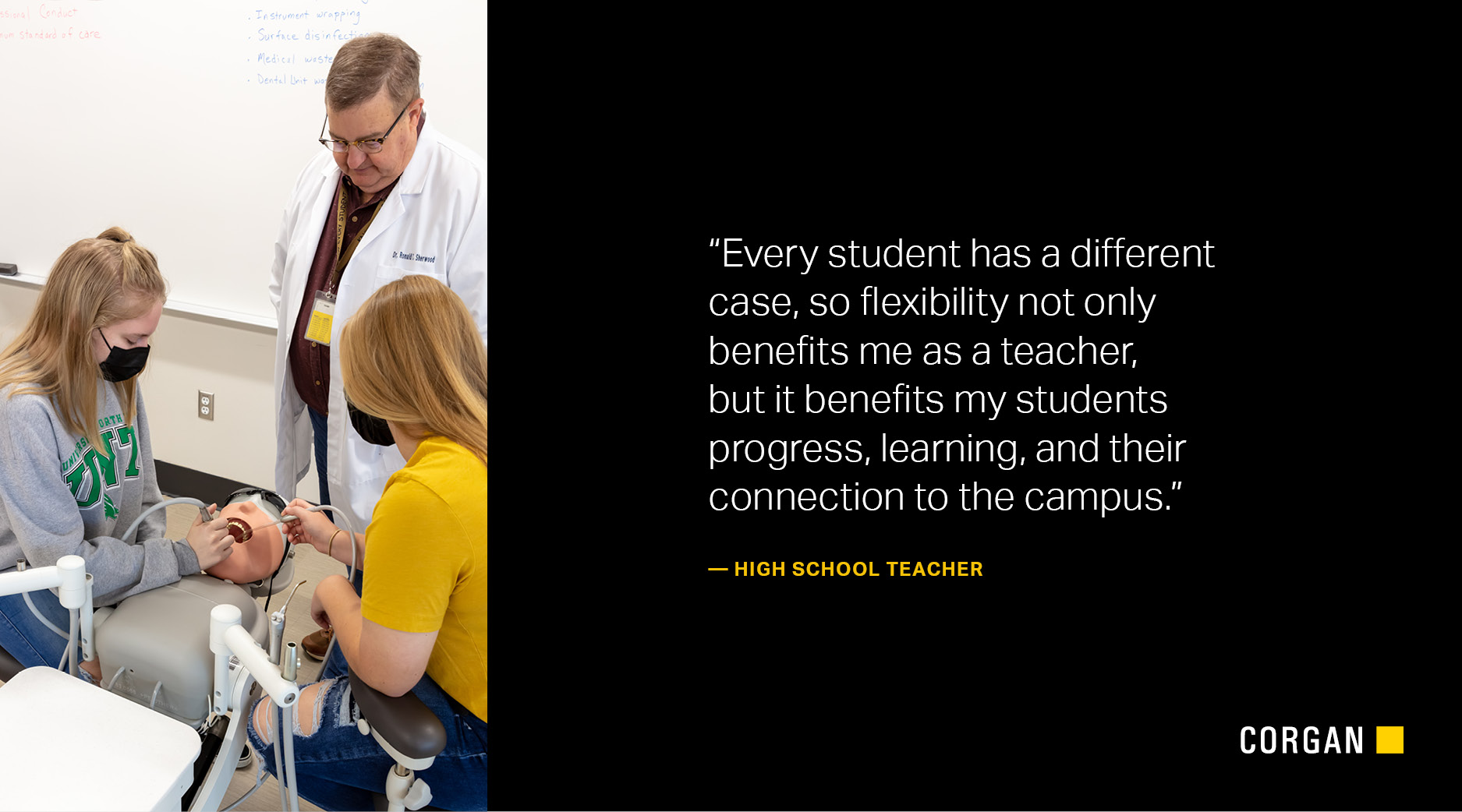 Open-ended is Dead-ended
Already stretched thin, educators are also expected to create experiences that are tailored to fit the diverse needs of their several students, counteract the limitations of virtual settings to win engagement and connection, and fill in for even wider learning gaps. Though the list of teacher demands gets longer, the appropriate and most effective response is not always met by a longer list of gadgets or customizations. Additional needs do not necessitate more things. A spectrum of student progress and preferences in a classroom does not require an equally high variance of supplies, settings, and customizations.

Recent notions of flexibility have celebrated hyper-customization where anything is possible at any time. Perhaps mirroring our on-demand and in-demand culture, speculation on the future of flexibility has often pushed for spaces that can quickly move from one extreme use to another or serve several age groups and sizes at once. It welcomed the idea of large open multi-purpose rooms and an obsession with casters. It justified the trend of popularizing the blank canvas.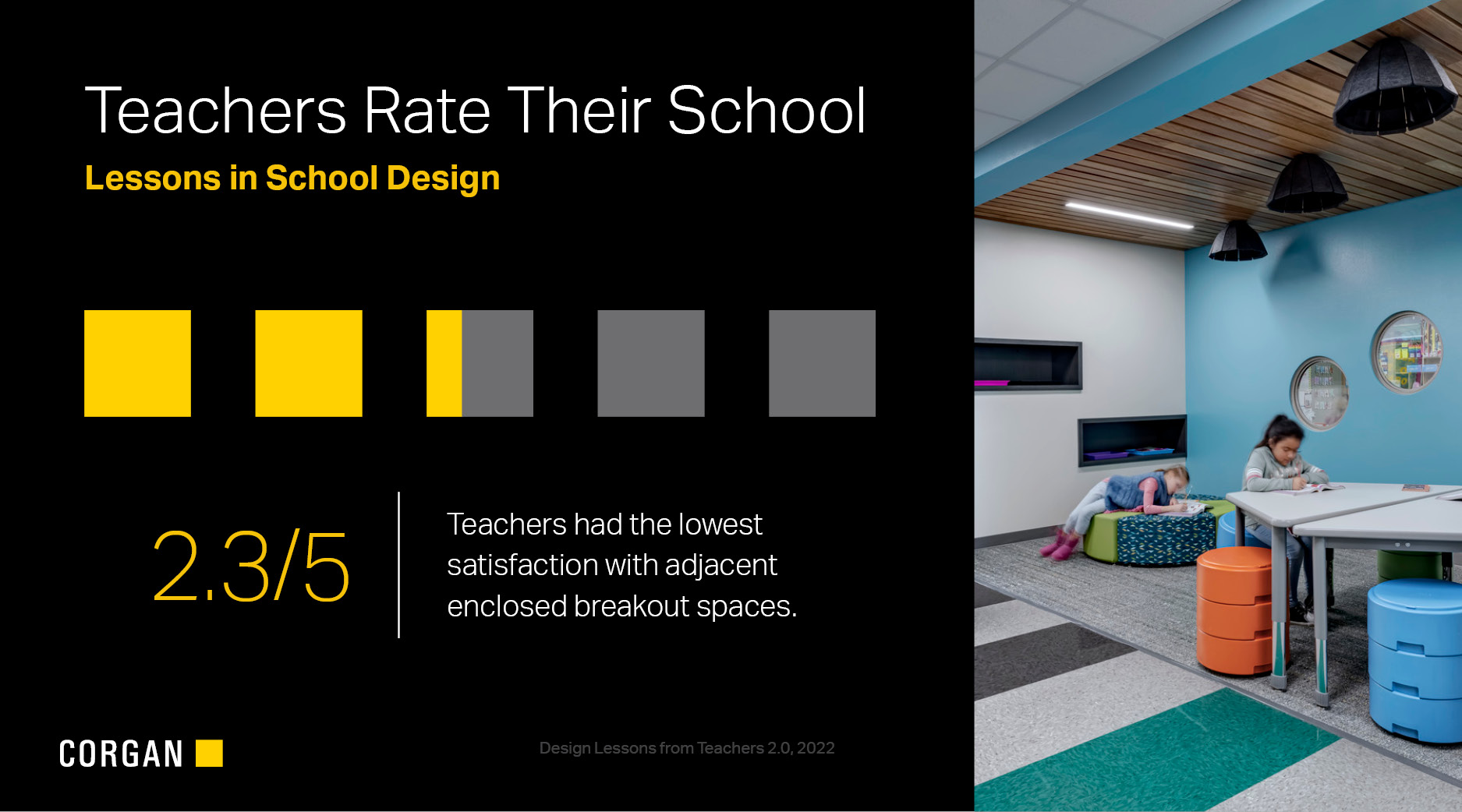 But, the idea of designing for limitless possibilities or a space that is all things to all people is effectively void of the design itself. Open-ended leaves spaces dead-ended. Uber-flexibility that is lacking a guiding framework, though well-intentioned, typically doesn't provide the adaptability it promised because it lacks that which is inherent to activating and empowering users: purpose.

Too many options and spaces become inefficient and accommodations unused. The focus needs to be on the quality of that space and it affording teachers what they need. For example, surveyed teachers had the lowest satisfaction with adjacent enclosed breakout spaces (2.3/5). While they have a strong desire to utilize group-based activities, the supporting spaces aren't meeting their needs. Teachers also agree that the inflexible design of their classroom and teaching spaces makes it difficult to integrate new technologies (3.3/5). Not having the right functionality in furniture because it cannot be reconfigured to support different activities or group sizes (29%), is not movable or easily movable (25%), or does not meet needs or teaching style, activities, or grouping (24%) also limited the environment's ability to adapt.

Too little direction and guiding frameworks, though, risks teachers becoming overwhelmed, missing opportunities to customize their space while spaces become ambiguous and chaotic. And still, too few opportunities create rigidity that leads to frustration, which in a classroom could mean increased teacher dissatisfaction, lack of engagement, and ultimately affect student outcomes.
The Solution: Strategic Affordances
So, what do teachers want? It's no surprise that flexibility tops the list. Upended teaching paradigms, however, have redefined what that flexibility means—favoring strategic affordances matched for specific use cases. It is a marked shift away from endless versatility toward smart, modifiable spaces that make possible personalization and choice and welcome different teaching and learning styles. With the right planning and accommodations, it provides predictability to optimize and activate spaces and clarity to focus on the things that matter most.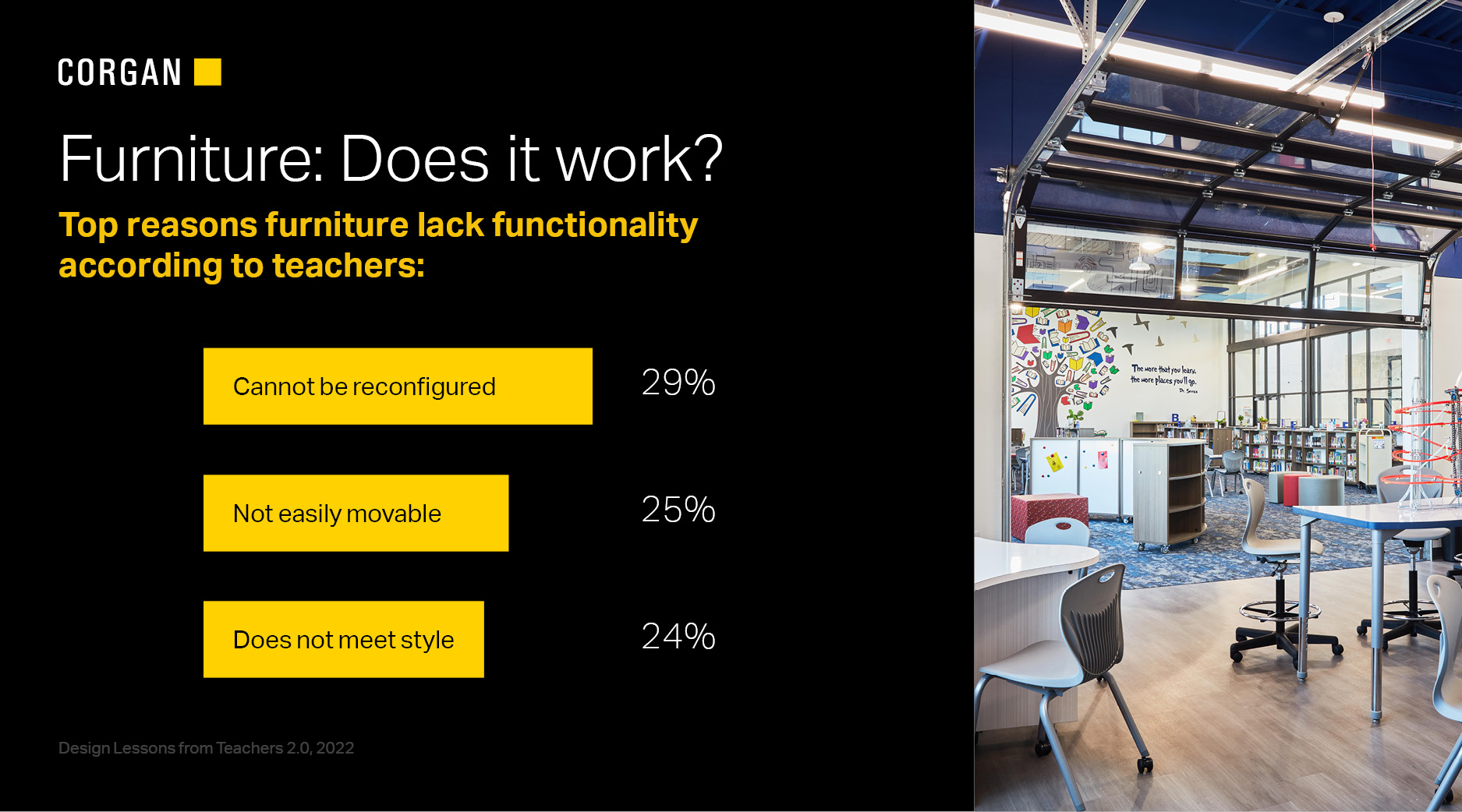 Kit of Parts
The goal is to create standardized, replicable, and equitable classrooms that overall meet teacher needs and integrate technology. However, these spaces still need to be adaptable, evolve with changing pedagogies and technology, be context-specific, and meet student and teacher needs. The Kit of Parts approach describes a method to create flexibility in the design process itself.

For instance, in healthcare, a kit of parts creates identical spaces with predictable and interchangeable parts so that providers can manipulate it for a variety of cases—adding efficiency and opportunities for personalization. Similarly, in addition to providing specific classroom types such as science and computer labs, classrooms that function as a predictable template with elements that can be reconfigured supports a more change-ready environment. The modern classroom requires the kit of parts consider multi-use learning/display walls instead of one-wall focused classrooms, variation between display, ideation spaces for students, movable furniture, and thoughtful integration of technology—compatible with the right range of expected uses to empower educators to join in the design process of their classroom.

Bonus points: a kit of parts can help lower cost for development and speed project delivery while supporting the several evolving needs of teachers and students.
Modular Furniture
Moveable furniture is about more than putting everything on casters—it's about ease of use, adjustability, storage capabilities, and a strong mix of furniture types that accommodate a spectrum of activities and group sizes. From furniture that functions as a kit of part itself with easy assembly and storage to tech compatibility, maximizing the utility of furniture includes offering a variety of postures and rotations, minimizing disruptions during transitions, and encouraging ease of use with lightweight but durable materials. Rethinking storage that is more seamlessly integrated into the function and design opens the possibility of storage being incorporated into the wall with writeable surfaces on the exterior—push to open or grab some markers to display materials for today's lesson plan. Right-sizing furniture, considering how pieces work together and the range of activities they support, and including a mix of more permanent options help to identify the right options and right uses for the space.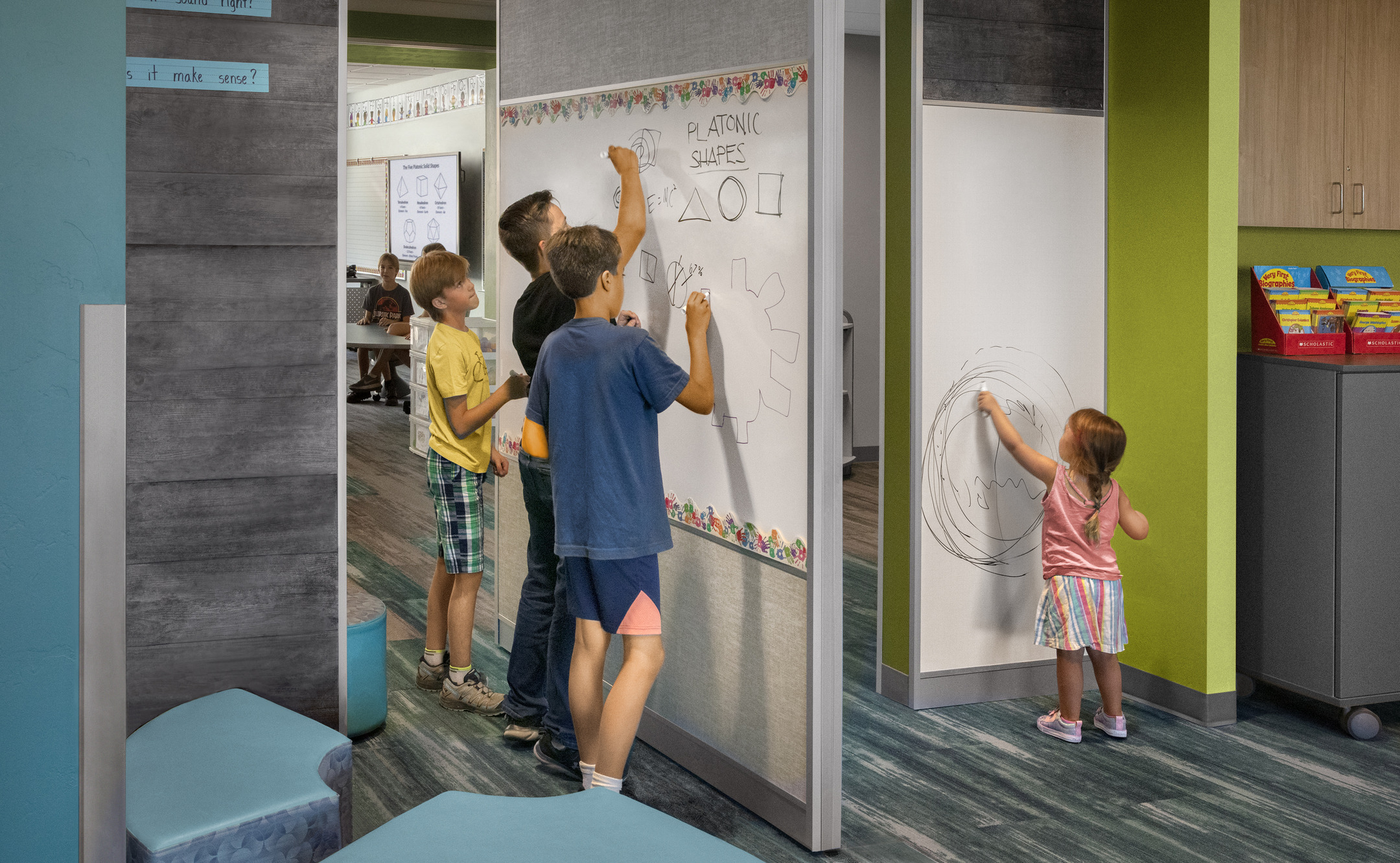 Storage
At home or at school, there's never enough storage. And, things always work better when they have a "home." Storage carts for classrooms translate another healthcare design trend for the classroom to maximize space and provide additional flexibility to spaces; instead of rooms that are tied to single-purpose or identity because of built-ins, supply carts activate new parts of the campus—art class in the courtyard, anyone? More storage isn't always the answer, as additional shelves and cabinetry always manage to become full and poorly utilized. Supply carts, however, provide teachers a clearer picture of inventory which in turn, increases ease and likelihood of use. When integrated into the furniture, the sometimes frustrating and intrusive parts of design can instead define zones, add functionality, or at minimum reduce visual clutter.
Zoning and Redistributed Spaces
Breakout rooms have enjoyed popularity as the default solution for flexibility, but the location and affordances of these spaces can significantly impact whether or not they are used and whether or not they work. Teachers prefer maintaining a line of sight for their students, so these zones should be approached as adjacent classroom spaces to offer more space and support setups that cannot be accommodated in the classroom.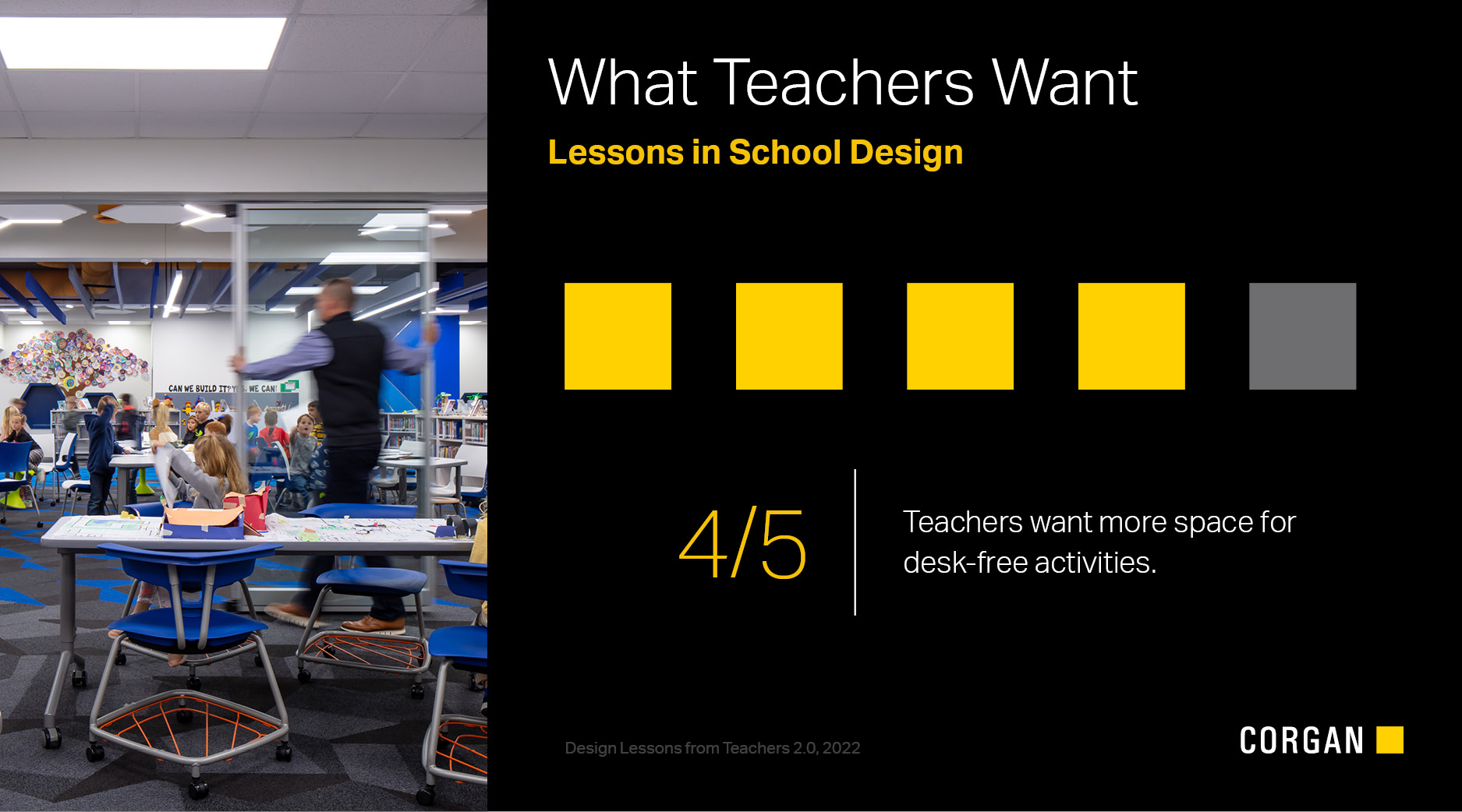 In reimaging the zones of classrooms and the larger campus, redistributing space and room ratios to reflect the current and future relationships teachers and students have to their environment can maximize square footage while also providing educators a mix of settings that more effectively meet their needs. A mix of room sizes outfitted with affordances such as glass walls for connectivity, outlets, mindful acoustic and lighting interventions, allocated wall space for teaching, and well-matched furniture can transform a counseling room into a room for after-school homework help or small group study.
Tech Fluid
Spaces need to be designed to work in-person and with technology simultaneously and individually. Tech-readiness is largely dependent on the right number and location of data ports and power outlets—requiring creative applications beyond the walls, such as suspending ceiling outlets. Wifi extenders boosters that extend the plug-and-play capabilities of breakout areas, alcoves, and other areas teachers and students may want to go for quiet work and focus.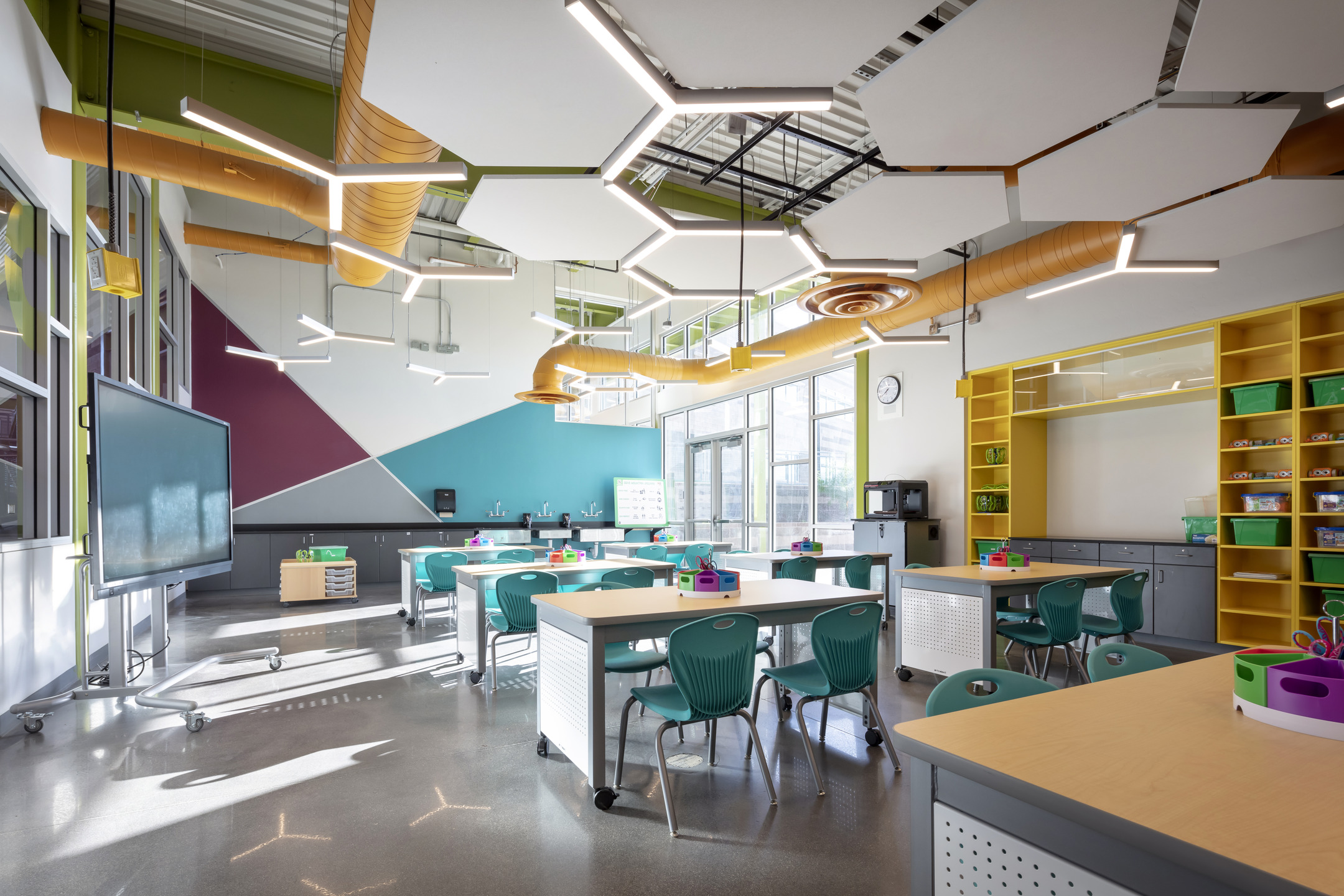 Change and technology readiness needs to also support universal accessibility adjusting to differences in domestic resources, physical and mental disabilities, and location. Fortunately, emerging technology is typically easier to incorporate, however, on a more dated campus, schools may need to update and standardize infrastructure. Tech fluidity requires the design to not only consider more common or new technologies but also understand the larger lifestyle shifts and trends that articulate how we engage with the virtual world and which technologies will reshape how we learn, teach, and connect with each other.
Looking Ahead
Flexibility that works means taking account of as many parameters as possible and solving for many problems as possible with as few design elements as possible. It means finding what is in conflict with what is common. The campus experience provides several opportunities to add functional variation for teachers—from where they park and eat their lunch to having the right number of writing surfaces in the room. However, a deep understanding of the school's several users can help navigate often competing interests and challenges to provide more strategic solutions that empower students and teachers—because even the great outdoors need a perimeter, shade, and seating before it can become an outdoor classroom.
---
In early 2022, three years and one pandemic after Corgan's original teacher survey, we wanted to understand how teacher perspectives, needs, and pain points regarding school design have changed over time. Using design research methodologies, Hugo, Corgan's research team, conducted 36 in-depth interviews and deployed a survey to 1,000 K-12 teachers in the United States. The survey allowed for both longitudinal comparison to the original 2019 study as well as offering new insights into the school as a workplace that is designed to better support teachers.