News & Insights — Insights
Top 5 Lessons from Teachers and What They Want from the Classroom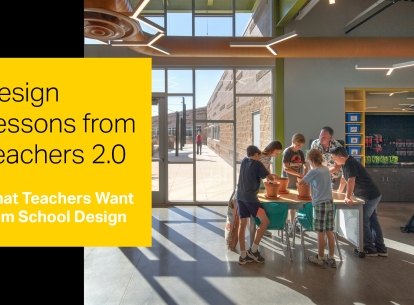 Few professions were upended by the past two years as much as teachers. Met with immediate school shutdowns, social distancing, technology inequities, and learning gaps, the urgent responses to the pandemic introduced new challenges and exacerbated old ones. The pressure on teachers, however, extends beyond direct, temporal challenges to meet the moment. Instead, accelerated shifts in pedagogy, technology, as well as student and teacher expectations demand teachers also navigate our new normal and the enduring changes in how we learn and work.

For an already strained profession, it means adjusting to leaps in student-centric improvements and new responsibilities with relatively little progress in the support available to teachers. The resurgence of personalized learning, for instance, intensifies the limitations of school and staff resources. Heightened fluidity escalates and magnifies around-the-clock teacher responsibilities. New technology sharpens the disconnect and distractions. While school design, programs, and policies are designed to support the needs of students, without the right support, these post-pandemic pivots threaten the sustainability of those charged with shaping a positive school experience, improving student outcomes, and delivering quality education for tomorrow's leaders.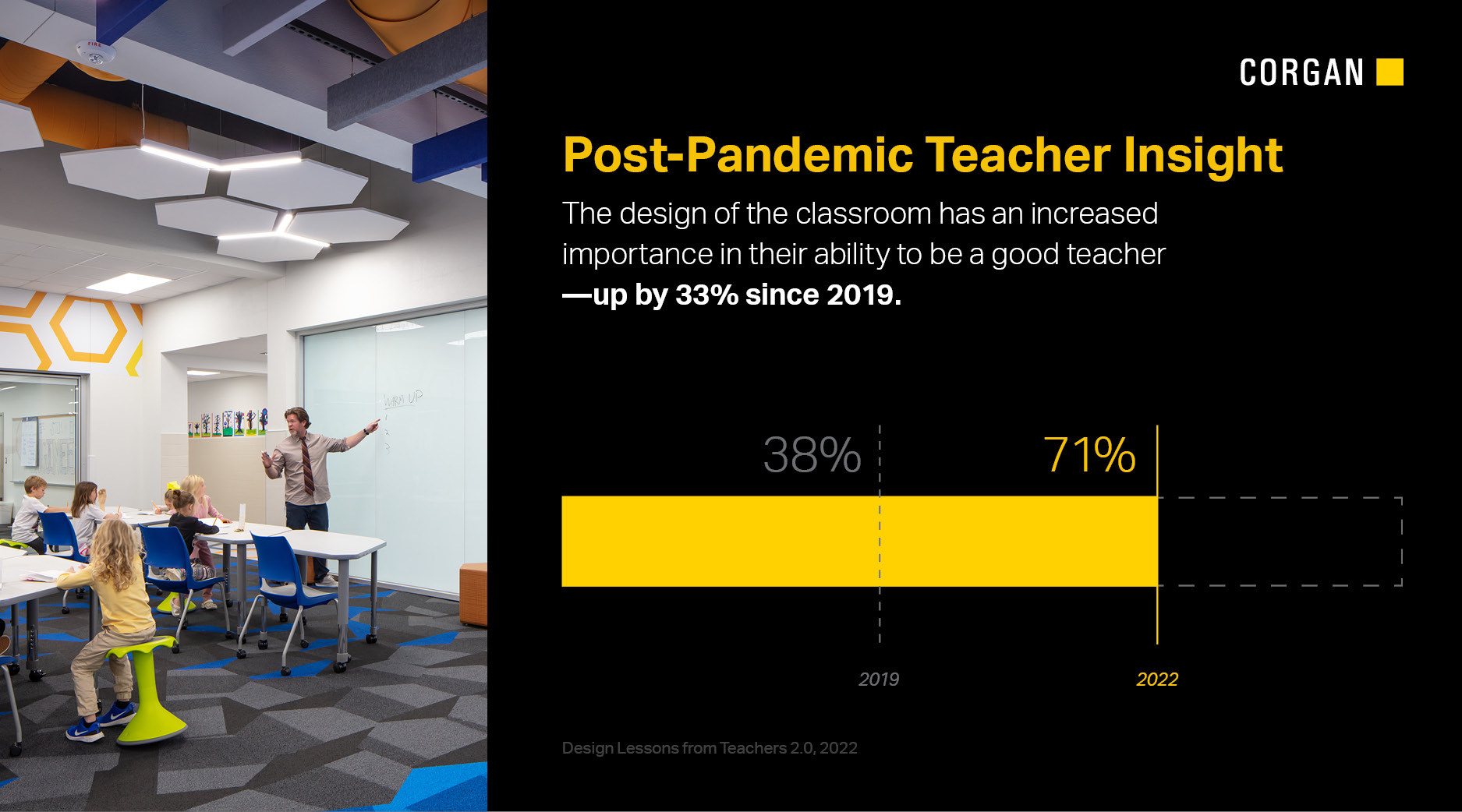 So, what do teachers need? In a follow-up study to the firm's 2019 survey, Design Lessons from Teachers 2.0 explores the challenges, needs, and preferences of teachers and the impact it has on their ability to teach. In a survey of 1,000 K-12 teachers from across the country and 36 in-depth interviews, the research provides new insights into how their pain points, relationship to the environment and students, and expectations have changed since the pandemic. Since discovering the impact of the school environment on teacher satisfaction, engagement, loyalty and even employment decisions in 2019, Corgan's 2022 study underscores the increasing importance of design in their ability to be a good teacher.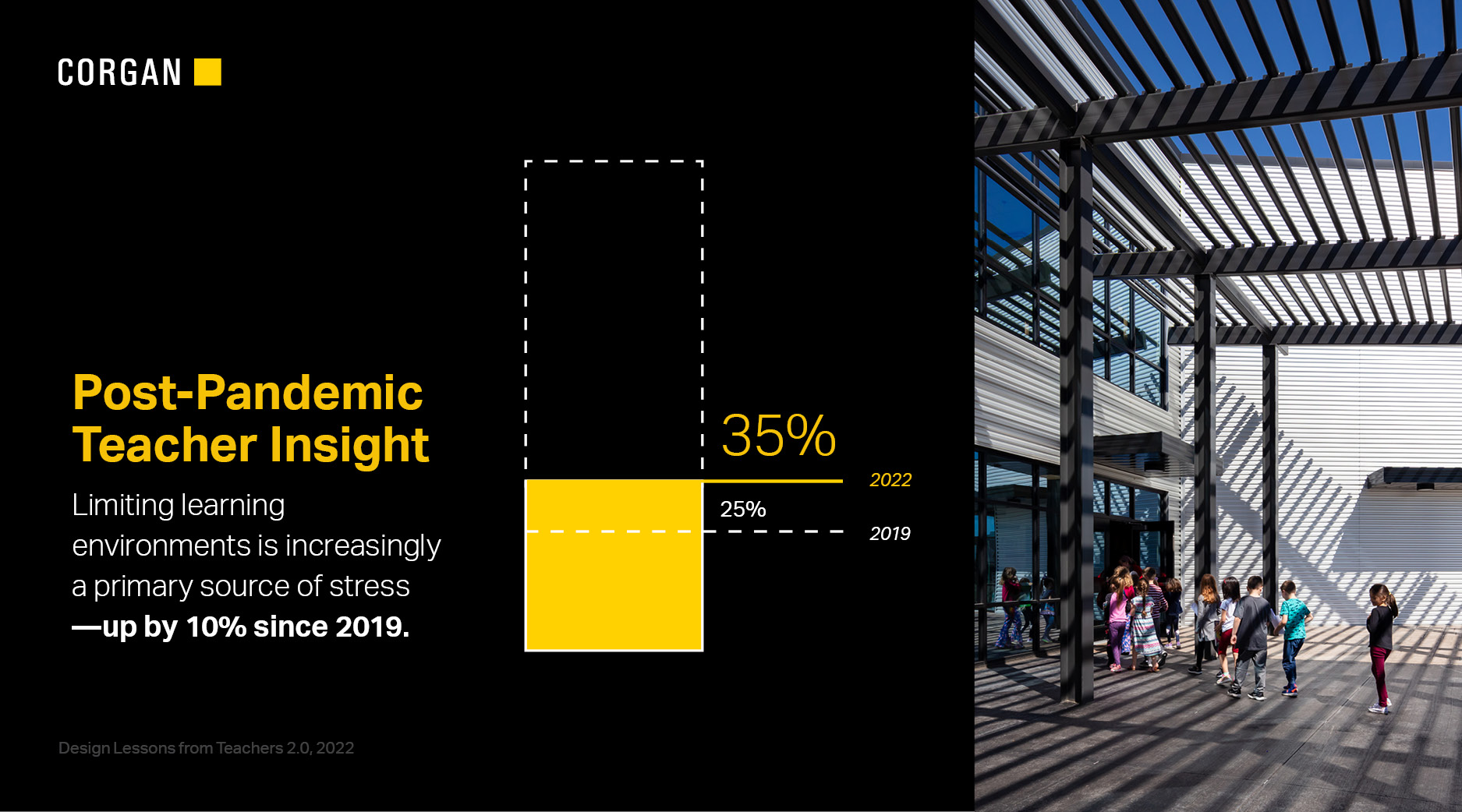 As national headlines call attention to a pipeline predicament, surging departures, worsening staff burnout, and glaring disparities in learning, schools have both an opportunity and challenge to activate their campus as a powerful tool to recruit and keep top talent as empowered partners in student success.

Take note—Design Lessons from Teachers 2.0 combines data-driven insights with practical interventions and design solutions teachers need most—extra credit for the perks it provides students, too.
NATIONAL TEACHER SURVEY FINDINGS
A testament to the value of flexibility, the number of teachers reporting they want more flexibility from their teaching environment has stayed largely the same from 2019 to 2022—85% and 82%, respectively. But the number of surveyed teachers that find their current teaching environment to be flexible has decreased over time—indicating that these spaces are unable to meet increasing demands and that teachers may desire not only more flexibility but a different kind of it.

Where schools have responded with large spaces showcasing infinite possibilities and versatility, these open-ended solutions may be creating dead-ends. Rather, a more strategic approach that combines modular furniture, innovative storage solution, and tech integrations that provide the right affordances can activate these spaces with the options teachers need for the various ways they teach and students learn.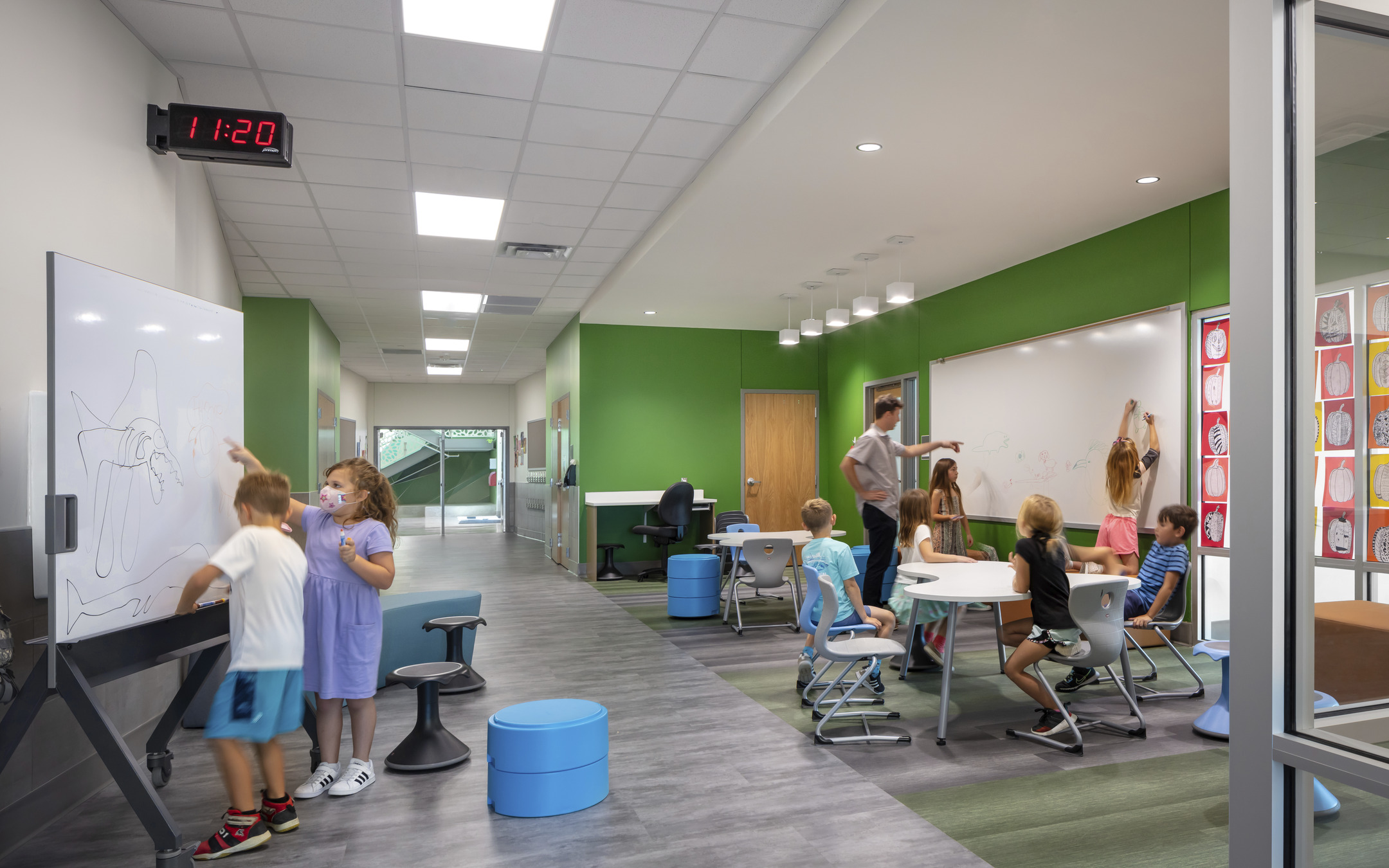 INSIGHT 2: Personalization and Choice
For students, virtual learning was not without its challenges, however, the opportunity to select the right setting for the task at hand—taking advantage of the comforts and dials available when learning from home accelerated the pedagogical emphasis on personalized learning. Student-led curriculums were increasingly designed to position teachers as facilitators to connect students to the resources and support they need. A little extra help on a math problem or a quiet space for more introverted students. But what happens when teachers don't have the controls they need to adapt the space for students—or themselves?

According to the study, surveyed teachers indicated they found the poor quality of their physical environment, including light, air quality, distractions, and inability to personalize the space limiting—while also generally disagreeing (2.36/5) that they had the ability to make better choices to regulate these parts of their environment for themselves and their students. Opportunities to adapt the space not only expands the potential of the classroom but also articulates its value of its greatest assets: the teachers and students inside.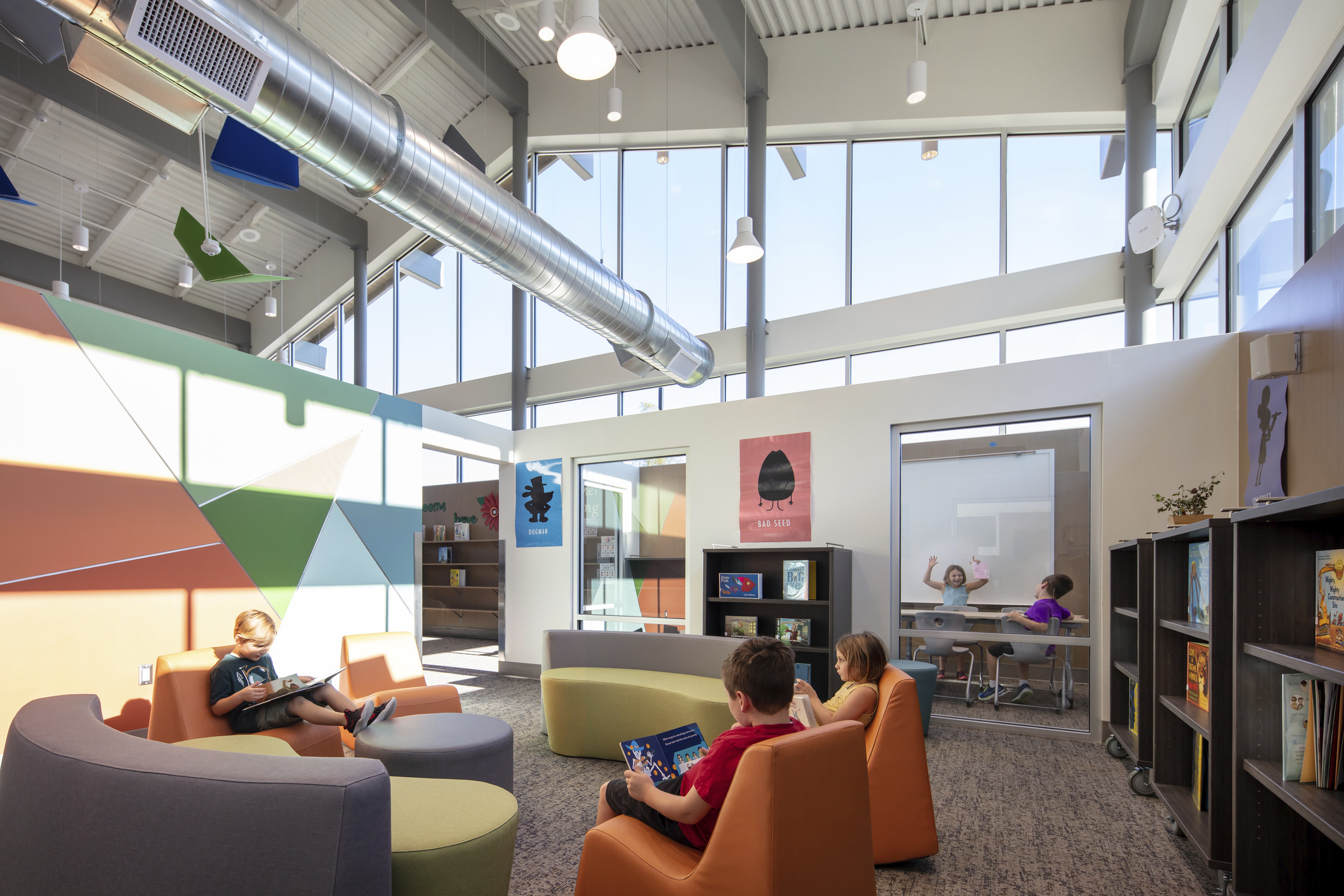 INSIGHT 3: Schools as a Workplace
The office is so much more than a desk, but for many teachers, there are often few spaces outside of their classroom desk that provide a reliable, desirable, and dedicated work surface. In a comparison between 2019 and 2022, teachers have remained dissatisfied with the design of teacher-focused spaces. It's why so few of them reported using the teacher workroom (15%) for responsibilities outside of teaching. Typically, these spaces lack the ownership and quiet teachers need for focused work, including grading papers and researching lesson plans. While trends from corporate workplaces to attract and retain talent while boosting productivity and engagement may not be replicable on school campuses, they provide inspiration for small interventions from the right ergonomics and professional settings to a variety of spaces and thoughtful amenities that can improve the work and learning environment for teachers.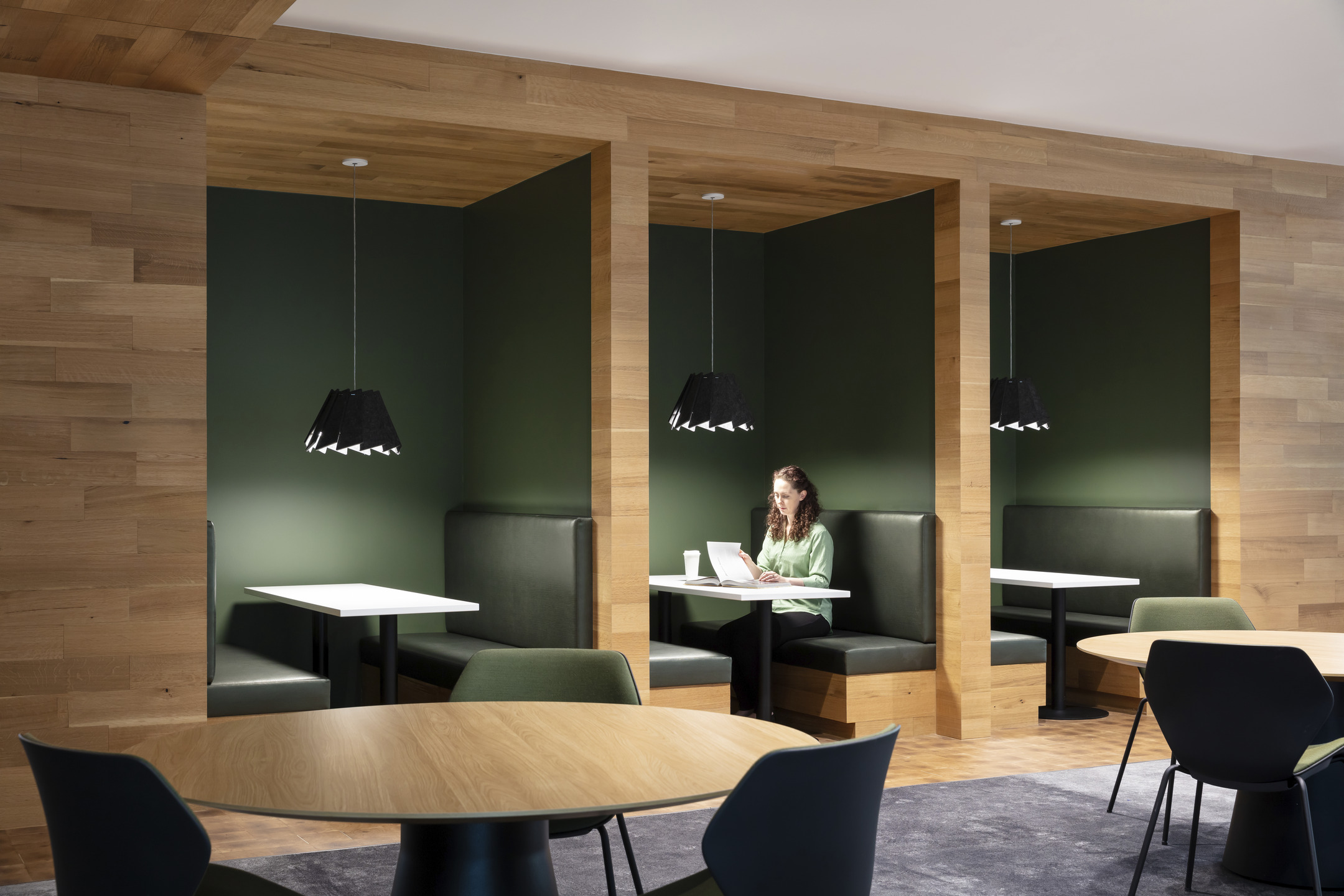 With an increasing importance on wellness, companies have been driven to re-evaluate their workplaces to ensure it's providing employees the support they need. But what about teachers? With growing demands and limited support, teachers need their workplace to take an active role in improving their health and wellness on campus. When teachers need a moment to themselves—to take a difficult phone call or work through a stressful interaction—many resort to their car (34%), the bathroom (32%), or even stay in their classroom (42%).

More prevalently adopted in traditional offices, the WELL Building Standard offers a data-driven design framework to help elevate teachers' health and wellbeing through ten concepts: air, water, nourishment, light, thermal comfort, materials, movement, sound, community, and mind.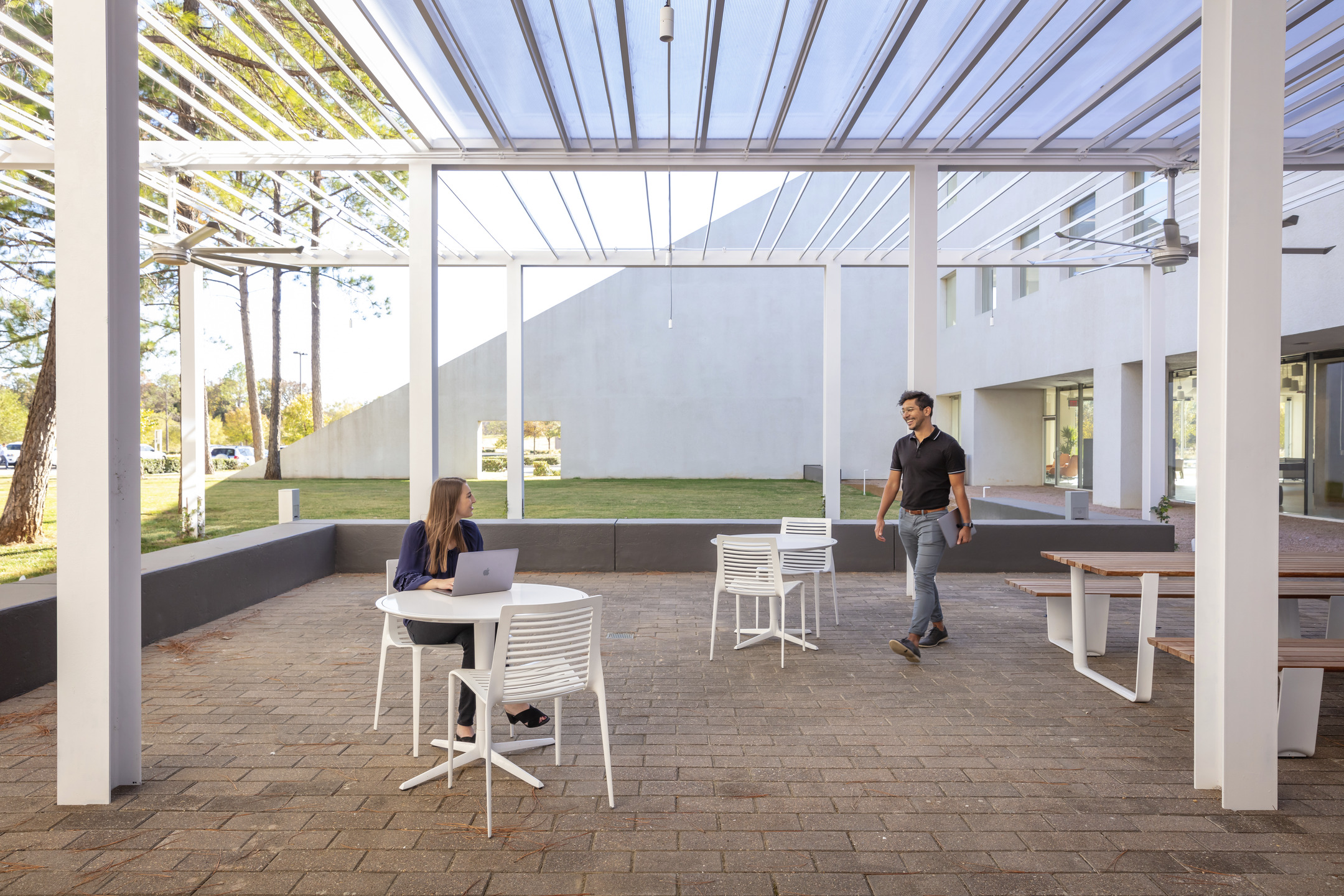 INSIGHT 5: Physical and Virtual Environments
While the sudden transition to virtual platforms during the pandemic— from on-demand healthcare to Facetime happy hours with friends— uncovered the promising potential of technology, it couldn't do everything. Forced to navigate a new world of virtual learning, the past two years worsened the learning gap between students, increased rates of depression and anxiety, and intensified equity issues. Rather than replacing the need for physical spaces, the virtual platform uncovered new values and expectations of these spaces.

Surveyed teachers rate technology-ready rooms to be of high importance but are only moderately satisfied with how it is currently integrated into classrooms (3.35/5). From creating opportunities for connection to allowing personalization not available on a singular platform, the physical space has the opportunity to meaningfully engage and integrate these new tools to offer students and teachers a more dynamic yet more human experience.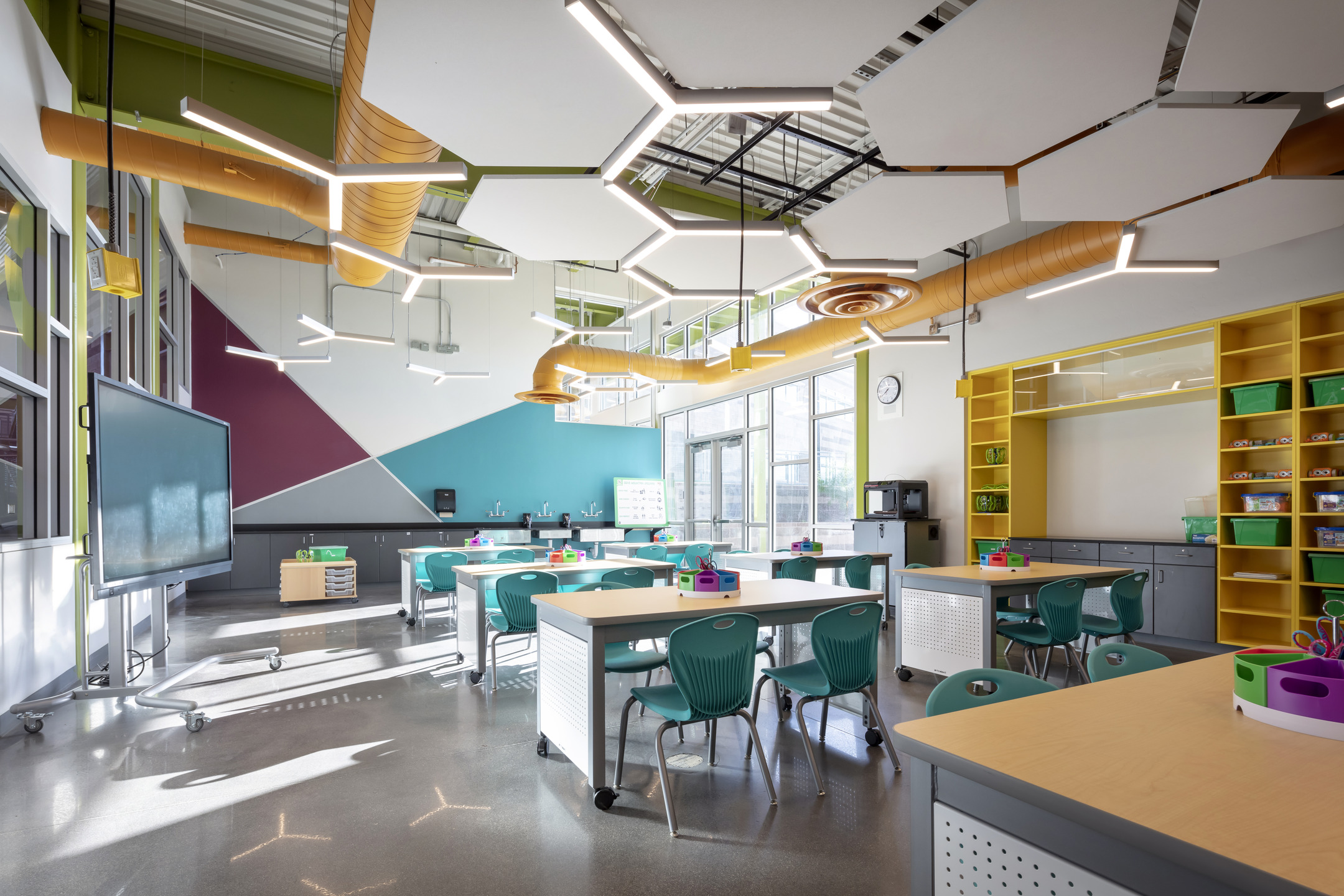 ---
In early 2022, three years and one pandemic after Corgan's original teacher survey, we wanted to understand how teacher perspectives, needs, and pain points regarding school design have changed over time. Using design research methodologies, Hugo, Corgan's research team, conducted 36 in-depth interviews and deployed a survey to 1,000 K-12 teachers in the United States. The survey allowed for both longitudinal comparison to the original 2019 study as well as offering new insights into the school as a workplace that is designed to better support teachers.
Hear more on TheSquare
TheSquare Ep #42 · Design Lessons From Teachers
Few professions were upended by the past two years as much as teachers. Met with immediate school shutdowns, technology inequities, and learning gaps, teachers must also navigate the more enduring changes in how we learn and work. While schools have been good at prioritizing improved student experience and performance, they have been, generally speaking, less successful in providing spaces that support those responsible for delivering those outcomes. Corgan's 2022 study, Design Lessons from Teachers, surveys 1,000 K-12 teachers from across the nation to uncover the challenges and opportunities in school design to better support teacher performance, satisfaction, recruitment, and ultimately, student outcomes. Since the firm's original study on teacher pain points and preferences in 2019, surveyed teachers cited limited learning environments as a primary source of stress—35%, up by 10% while also citing its increased importance in their ability to be a good teacher—71% compared to 38% in 2019. So, what do teachers need? Sangeetha Karthik, Associate Principal in Corgan's Education practice and Melissa Hoelting, Design Research Specialist in Hugo, Corgan's Research and Development team, share the top five lessons from teachers and what they need from school design.