News & Insights — Insights
Is Your School Sick?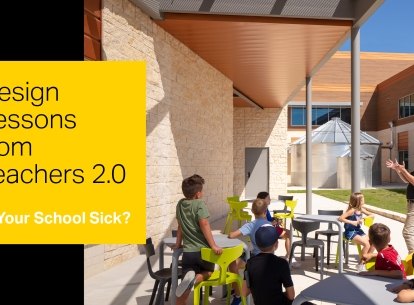 Sick teachers mean sick schools. Here's why: school health depends on more than preventing the spread of disease and viruses. It means supporting the mental and physical ability of teachers to provide a quality education, without which there is no school. On the heels of a global call to attention on our collective health, schools are tasked with not only responding to an emphasis on how the campus experience makes us feel and supports our overall well-being but also with protecting and promoting the health of its lifeline. At risk: continued staff shortages from teacher illness and worsening burnout, further disruption to learning, and ultimately student outcomes.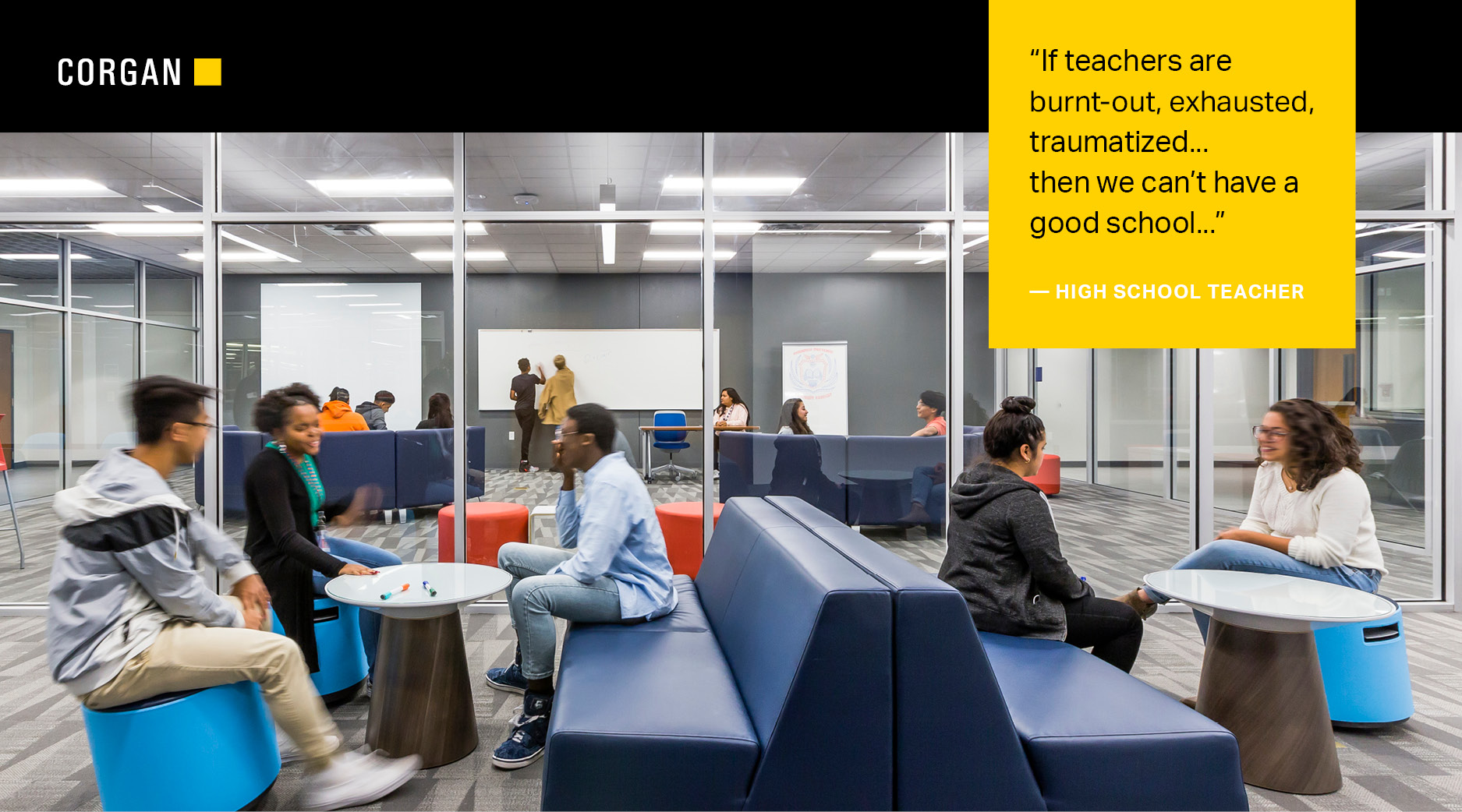 The Symptoms
While schools have often prioritized student results and experience, they have been, generally speaking, less successful in providing spaces that support the well-being of those responsible for facilitating those outcomes. Design Lessons from Teachers 2.0, Corgan's most recent survey of 1,000 K-12 teachers across the nation, explores how teacher pain points have changed since the firm's initial 2019 study on the topic and how design can help. The survey, in combination with in-depth interviews, finds that for teachers, largely unsupportive work environments intensify the pressures of the job and exacerbate common pain points, including not having enough resources and the psychological demands of around-the-clock responsibilities. The multiplied pressures of chronic underfunding, mounting stress from education reforms and nationwide staffing shortages are forcing teachers out of schools and taking their toll on education.

Compared to the number of educators in our public schools before the pandemic, the Bureau of Labor Statistics reports 567,000 fewer educators working in our nation's schools today (Jotkoff, 2022). These staff shortages can add up to heavier workloads for already strained teachers. In fact, 53% of surveyed teachers in 2022 cited increasing workload as a primary source of stress.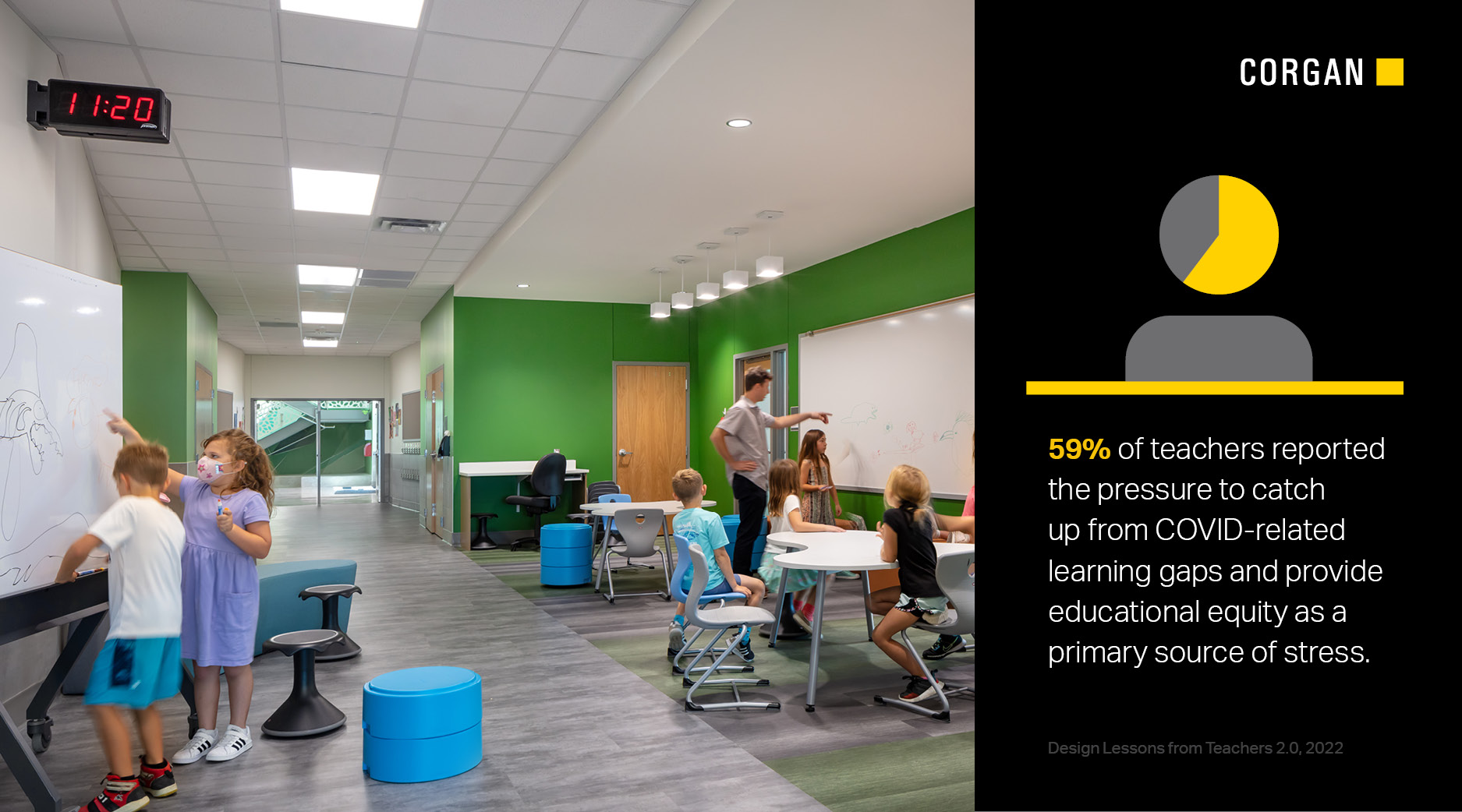 Pandemic aside, the expectation that spaces and experiences consider our wellbeing has been a growing trend especially for more recent generations. Each successive generation of both students and educators has a higher expectation for wellness support in their schools and workplaces than the generation before and will likely become increasingly more important for future ones. (McCrindle & Fell, 2020).

Traditional offices have responded to the growing expectation for human-centered spaces that promote our total health, and students have benefited from healthier food options, encouraged physical fitness, and opportunities for mindfulness on school campuses. For teachers, though, the response has been slower. Rather, the spike in post-pandemic responsibilities and plummeting staff resources comes with little progress in supporting their additional mental and physical needs—especially for the 12% of surveyed teachers who identify as having one or more mental or physical disability that affects their experience with physical space. During an in-depth interview, one high school teacher shared, "I just hope that the education system adapts to changes in the same way that corporate America has."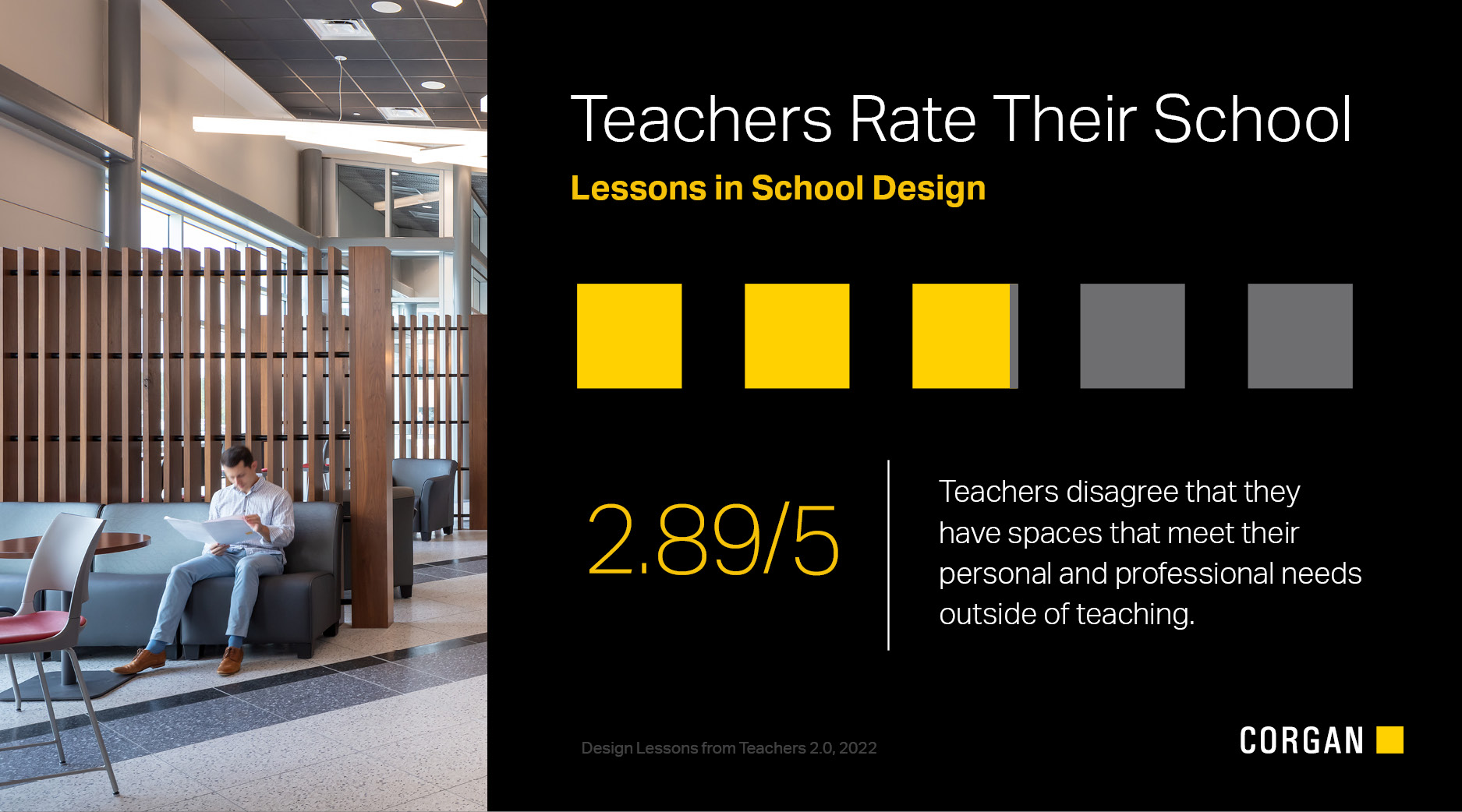 The Next Generation of Healthy Schools
The popularization of corporate gyms, wellness rooms, and biophilic materials that showcase our connection to nature comes as employers realize the connection between the health of their staff and productivity, engagement, and retention. While the same office perks may be difficult to mirror on a school campus, the benefits remain the same. Considering teacher well-being in the same way the school considers it for students provides an opportunity to meet everyone's needs more sustainably and meaningfully while better preparing it for the next generation of students and educators.

The evolution of healthier schools doesn't require an overhaul of campus design. It also doesn't mean adopting the same interventions as a corporate office. The real estate, cost, and practicality of on-site juice bars and fitness studios, for instance, maybe prohibitive to schools that need to balance budgets, adhere to strict codes and regulations, and keep the needs of students first. However, because the benefit of healthy teachers extends beyond the temporal threat of school shutdowns, the integration of small interventions can help recruit top talent and add up to a more consistent workforce with a deeper engagement in the success of its students.

The in-flight message from the attendant to put your own oxygen mask on first before helping those around you provides a helpful analogy. For teachers who are likely to find it counter-intuitive, ambient wellness and solutions that make it easy and encourage wellness are especially important.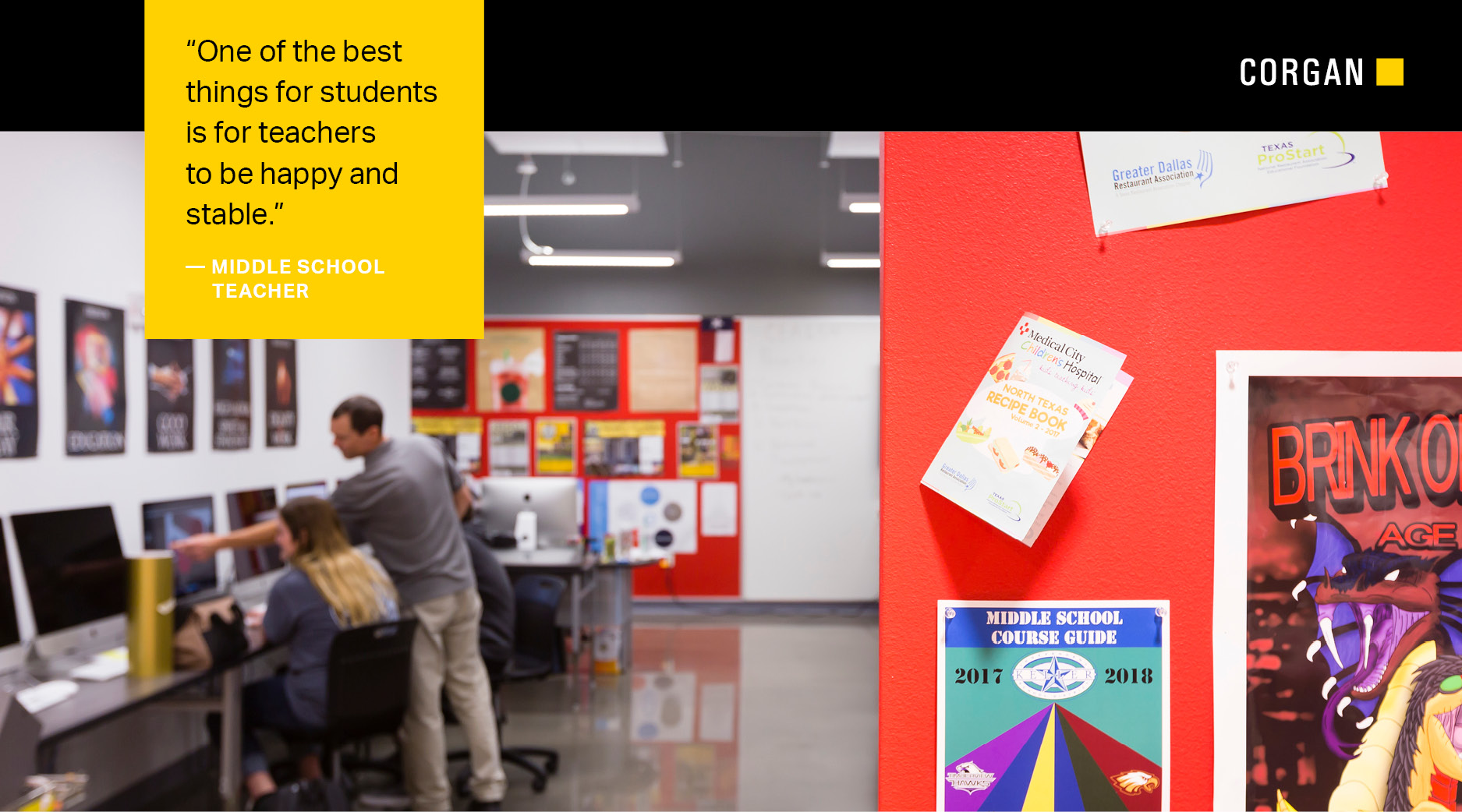 Enter: WELL Building Standards
More prevalently adopted in traditional offices, The WELL Building Standard is a performance-based system grounded in ten scientifically proven concepts to measure and monitor the impact of the building on occupant health and well-being.  A framework for data-driven design strategies, WELL provides a comprehensive approach founded on the principles of keeping people first, resiliency, and research focusing on: air, water, nourishment, light, thermal comfort, materials, movement, sound, community, and mind.

Teacher wellness extends beyond traditional notions of physical and emotional health and includes real and perceived safety for themselves and their students and a sense of community and belonging to the campus and their colleagues. However, drawing inspiration from the WELL concepts, schools can start to activate the campus as a partner in improving the health and performance of teachers, stabilizing their talent pipeline and recruiting new talent, and enhancing the experience for everyone.
Lessons in WELLness
Air and Thermal Comfort
For teachers who spend the majority of the day indoors, attention to air quality and temperature in built environments can mean more than added comfort. Recent studies have correlated the performance of nine cognitive functions to higher rates of ventilation that removed volatile organic compounds (VOCs) and CO2 from the air. The pandemic has also highlighted the role of air quality in mitigating the spread of pathogens and other chronic respiratory diseases. Practical interventions can help improve the classroom's air quality and thermal comfort. For instance, many schools have plans for yearly maintenance, however, a plan to check and clean the air filtration system every six months or quarterly combined with CO2 sensors can help better monitor, prevent, and respond to potential air quality issues. In addition to maximizing ventilation, evaluating the presence of chemicals in materials such as paint or floor wax or standard maintenance protocols such as pesticide management and cleaning identifies opportunities to reduce VOCs with nontoxic, minimally invasive, and healthier alternatives.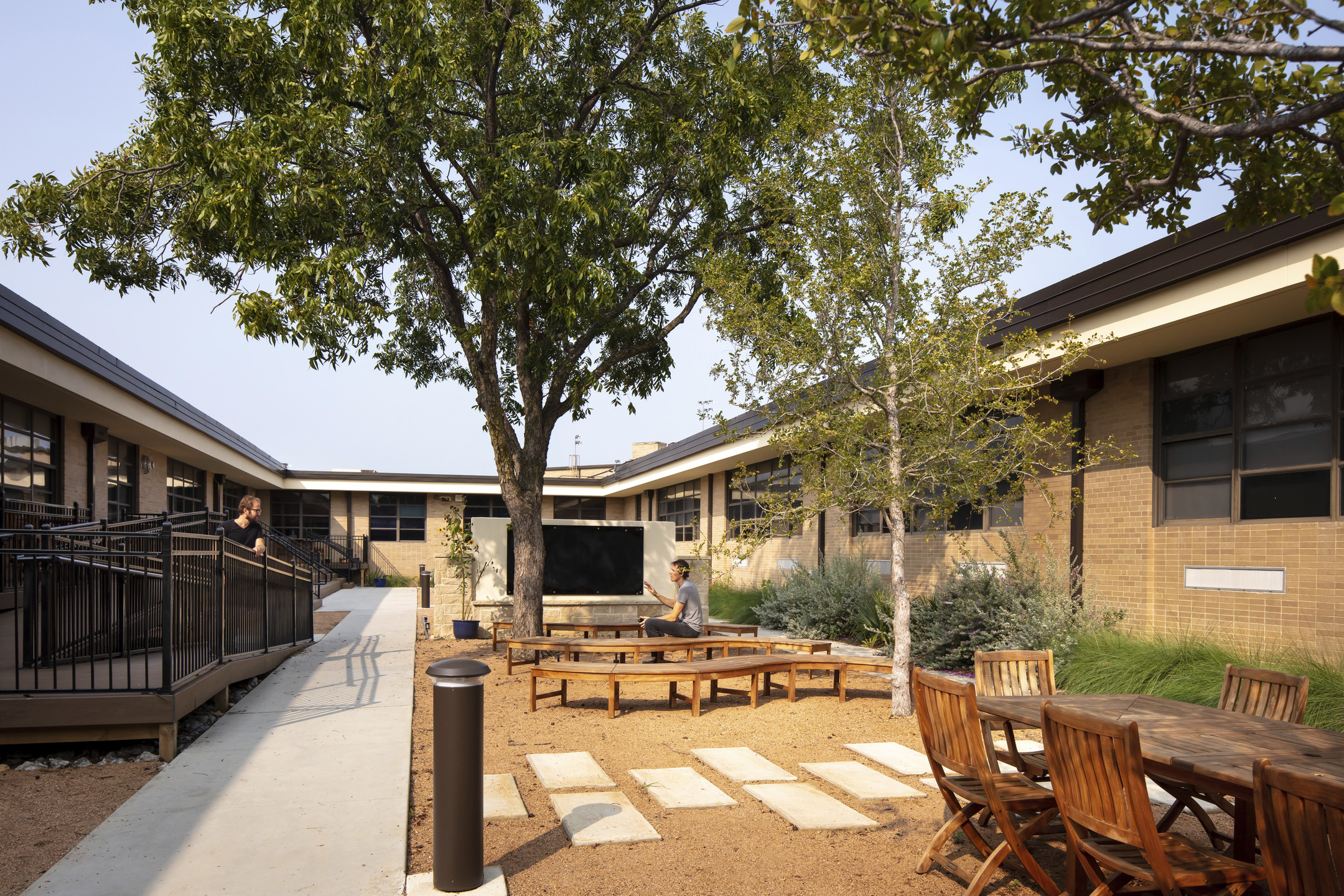 Thermal comfort presents a common distraction and frustration for teachers. Operable walls and doors can welcome the circulation of fresh air while adding a layer of temperature control that combines roller shades, fans, and window treatments. New building materials such as electrochromic glass that automatically tint windows to adjust for heat gain while still maintaining views of the outdoors. Checking and balancing HVAC levels can also help optimize heating and cooling to create comfortable spaces for teachers and students—minimizing distractions and the unnecessary frustration of being too cold or too hot to focus.
Light
Harsh lighting, which is rarely tuned to the distinctions our body needs to signal alertness in the morning or prepare for better sleep later in the day, can exacerbate the strain of long hours for teachers who are already stretched thin. These typical classroom lighting programs can disrupt sleep patterns, contribute to eye strain and headaches, and generally lack the settings to adjust to the activity or energy of a room.

In addition to providing optimal light levels and temperature to facilitate the task at hand—for instance, providing enough light for reading or considering glare and competing screens, natural lighting can tap into the power of biophilia to provide a more restorative experience as teachers and students move through the campus. And, when considering ebbs and flows in the amount of daylight, it provides the added benefit of helping teachers and students adjust to change in time while preparing them for transitions inside and outside the classroom.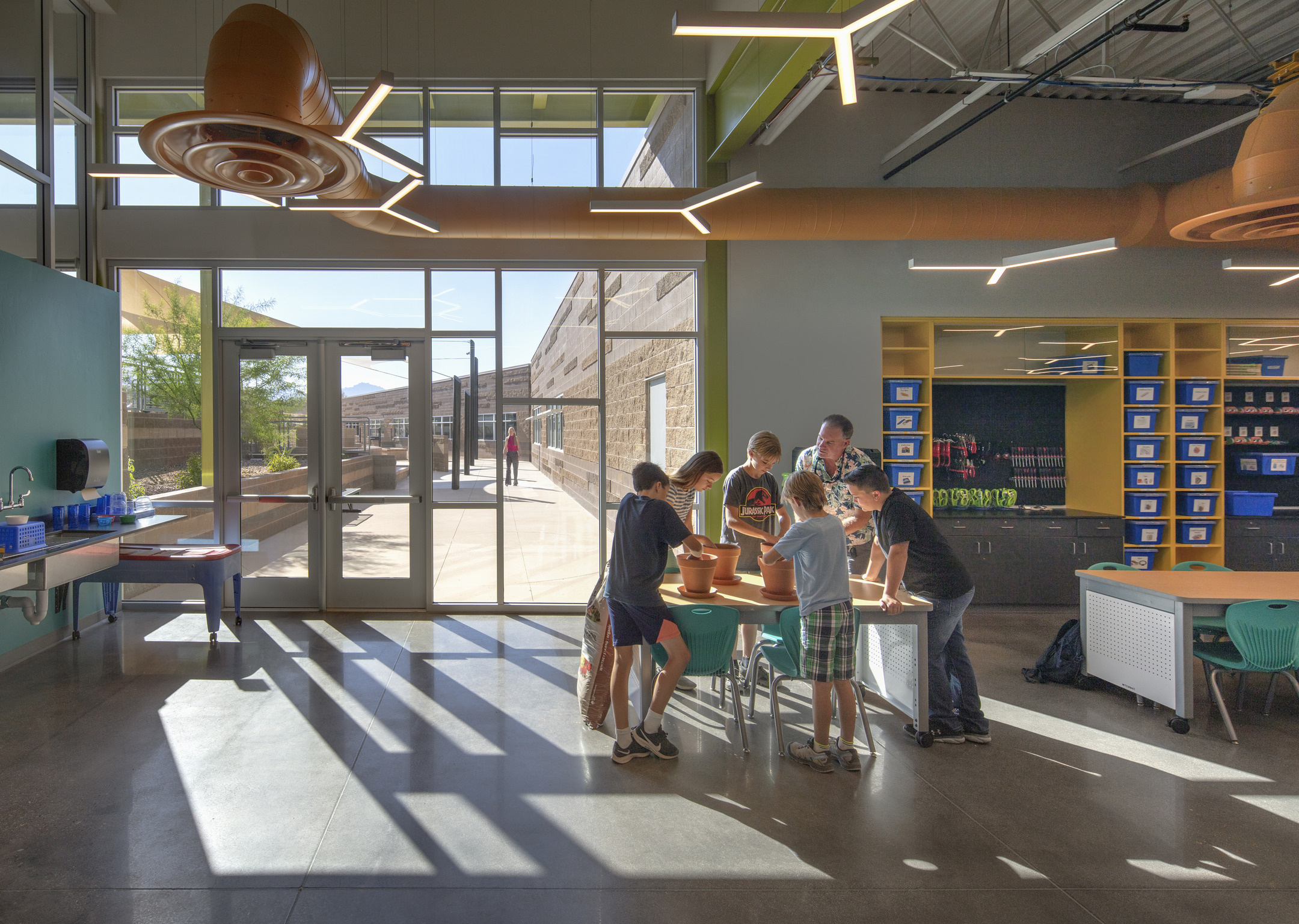 However, flooding a space with natural daylighting may not always be possible in every campus or classroom configuration. In these instances, consider checking light levels in classrooms and maintaining an average of 175 lux (16 f.c.) at 30 inches above the finished floor. Lighting should also be customizable to match the task at hand. Shades and layered lighting, including individual task lights and dimmable options, for example, can create calm or help facilitate the use of multimedia technologies and screens. Meanwhile, brighter lights can help reinvigorate a space or add extra lighting for particular tasks. Not only do these interventions add a layer of wellness and personalization, but they also collectively encourage a more pleasant experience.
Water and Nourishment
Too often, teachers spend the bulk of their breaks trying to make it across the campus and to the only designated teachers' space. When asked which facilities enhancements teachers most wanted, those related to refueling through the day or easing access to food such as complimentary snacks and beverages (58%) or catered lunch (34%) topped the list. While stocking a pantry may not always be feasible, smaller destinations, including coffee bars or micro-kitchens with refrigerators, microwaves, and utensils throughout the campus, can also create intentional and casual gathering opportunities while bringing convenient nodes to refuel closer to classrooms quickly. Placing a filtered water station at strategic points throughout the campus and trading traditional vending machine snacks for fresh fruits and vegetables keeps healthy options front of mind and easily accessible. Setting a culture of health and well-being encourages teachers to stay hydrated and make better nutritional decisions throughout their day—swapping coffee for water, for instance—improving their cognitive functioning and helping maintain the energy they need for the day.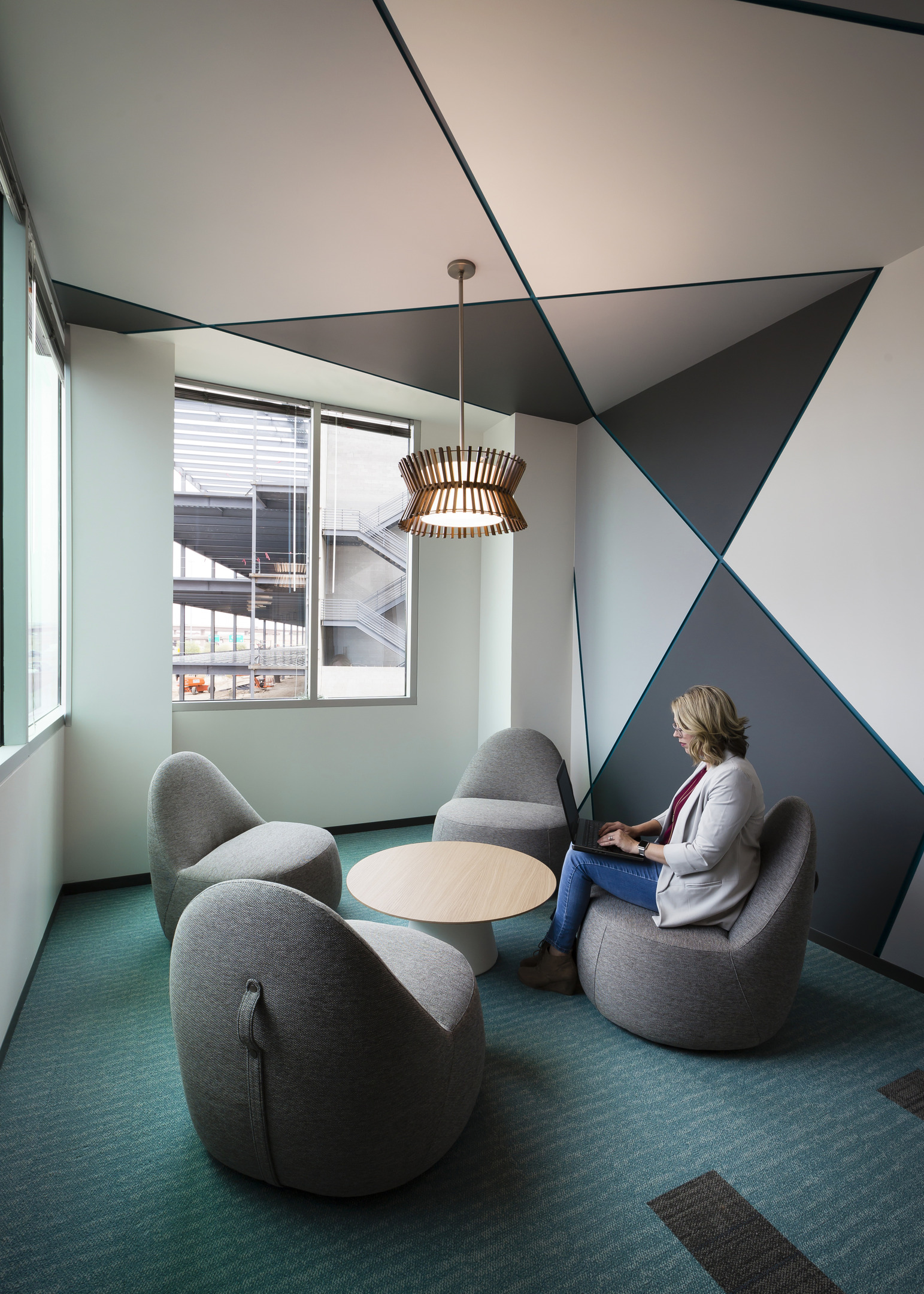 Movement
Time to get moving— students aren't the only ones who stand to benefit from physical activity. It can break through the mental fog to inspire new thinking or serve as a welcome break after a long day. Adding attractive landscaping to walkways, distance markers, or signage on central staircases can activate large circulation pathways for intentional fitness and encourage teachers and students to rethink how they navigate the campus.

When asked about the impact the physical environment has on their bodies, a 52-year-old middle school teacher replied during an in-depth interview, "Are you talking about how you're standing on a hard floor all day? And how you are usually given a crappy desk— a small desk, if you get a desk— and a very old, uncomfortable chair and that you're, you know, walking on hard floors all day? So yeah, that gets very tiresome on your legs."

Inside and during traditional school hours, sit-to-stand desks, wellness mats, ergonomic chairs can alleviate leg pain, provide a mix of postures, and more intuitively support the physical health of teachers. After school, programming a yoga class in the school gym or offering stationary bikes can invite teachers to take advantage of more convenient amenities that prioritize and improve their health. Bonus points for the extra team building!
Mind
Fifty-four percent of surveyed teachers feel their main source of stress is the pressure they put on themselves to help students succeed— this has risen by 23% since 2019. Moreover, as the list of responsibilities grows—creating differentiated lesson plans, grading papers, responding to parents and administration—the gap between what teachers must accomplish in a day and the amount of resources they need continues to grow.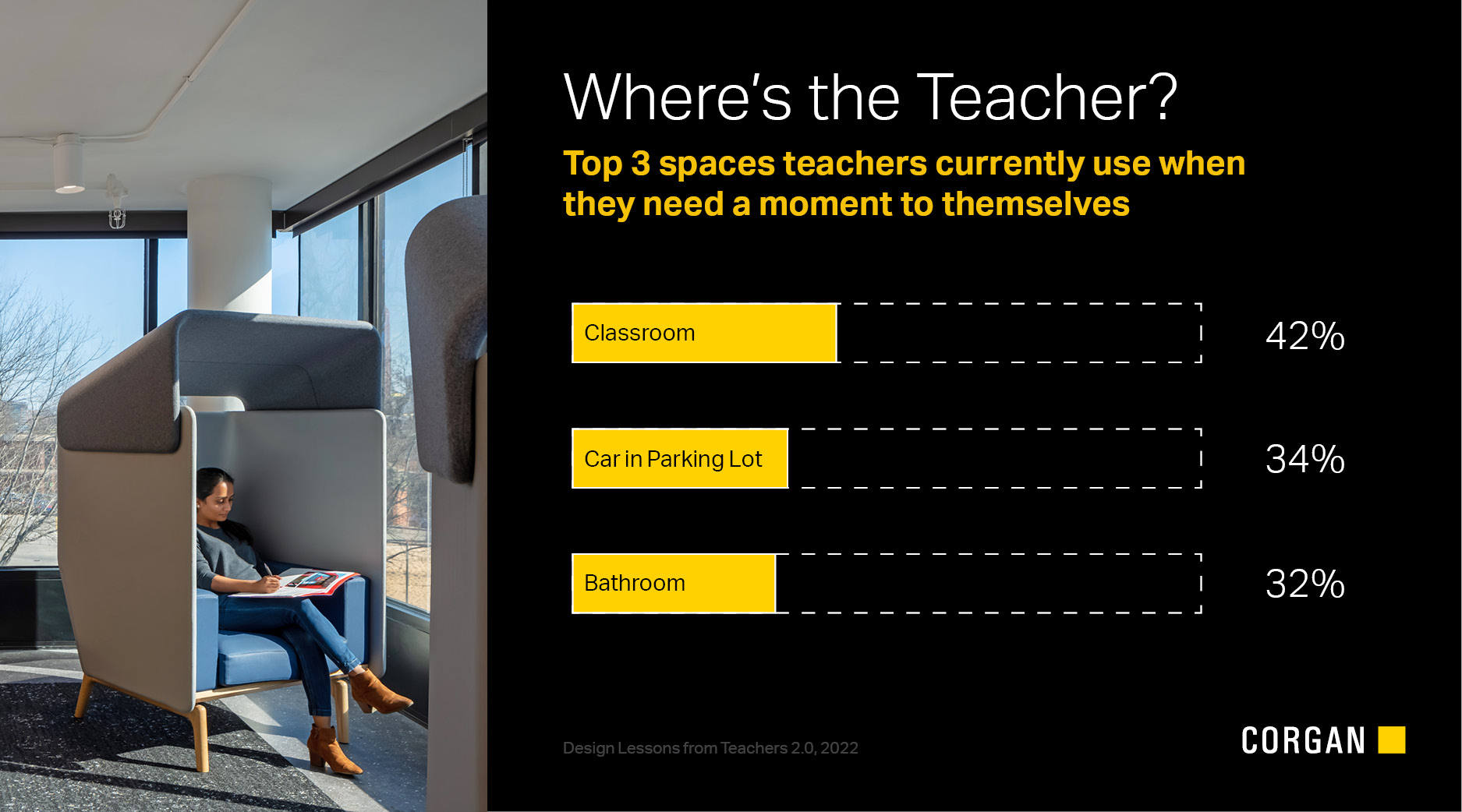 ---
In early 2022, three years and one pandemic after Corgan's original teacher survey, we wanted to understand how teacher perspectives, needs, and pain points regarding school design have changed over time. Using design research methodologies, Hugo, Corgan's research team, conducted 36 in-depth interviews and deployed a survey to 1,000 K-12 teachers in the United States. The survey allowed for both longitudinal comparison to the original 2019 study as well as offering new insights into the school as a workplace that is designed to better support teachers.