News & Insights — Insights
Activating the Whole Room: Flexibility in Teaching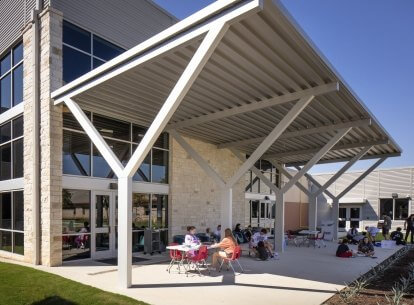 According to the 2018 Global Talent Trends study, 51 percent of employees wanted more flexibility from their workplace. From sit-to-stand desks and hybrid work settings to remote working options, flexibility is a non-negotiable for the modern workforce. Teachers are no exception. In fact, Corgan's recent survey of 1,000 K-12 teachers across the nation revealed 85 percent are lacking the flexibility they need from their teaching environment. 62 percent reported the design of their classroom and teaching spaces limited their teaching style—a common frustration for teachers who are often required to do more with less.

Curriculums quickly change and teachers are expected to quickly adapt. As their role in the classroom makes a shift from disseminator of information to facilitator of self-guided learning and exploration, education demands teachers to provide tailored teaching styles for a classroom comprised of diverse learning styles and preferences. Meanwhile, classroom resources remain notoriously limited—often outdated or incompatible with the evolution of lesson plans and new technologies.

Classrooms have come a long way from rows of desks and a chalkboard on the wall dubbed the "front" of the classroom. However, with the push toward customization, variety, and self-pacing for students, exponential changes in education challenges design to expand flexible applications—adding tools, resources, and settings teachers need at their fingertips. Exploring the possibilities of flexibility in the classroom, Corgan's education team found that teachers not only lack the control they need to personalize their environment according to their preferences and comfort but also struggle to activate their classroom for different learning styles and curriculums.

Popularizing sit-to-stand desks, remote working options, and a variety of settings and postures in the workplace, corporate offices have responded to the powerful impact of flexible design and culture in driving staff satisfaction, productivity, engagement, recruitment and retention. Similarly, flexibility in education design can limit or empower teachers' ability to teach. For example, according to our research, 86 percent of teachers reported they would do more hands-on activities if factors like space and resources were not barriers. Adapting appropriate flexible design solutions for the school setting, education design has an opportunity to equip teachers with what matters most so that they can be their best today, tomorrow, and for years to come.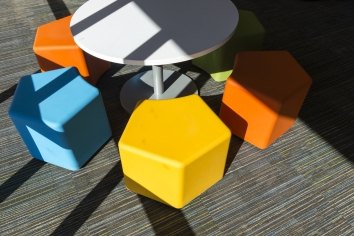 Furniture Strategy
Opting for light, moveable furniture instead of heavy desks and fixed storage allows teachers to find what they need within arm's reach to easily adapt the classroom for a variety of purposes throughout the day—small group work in the morning, for instance, and individual testing in the afternoon. Modular furniture systems that can be connected, stacked, grouped, and paired encourage teachers to find multiple uses with classroom's furnishings that are designed to complement and integrate with each other—offering a more cost effective way to reconfigure entirely new layouts and functions depending on the need or space. From soft seating, stools, and sofas to bean bags and traditional individual chairs, providing a variety of seating options and postures empowers teacher to create the right learning environment for themselves and their students.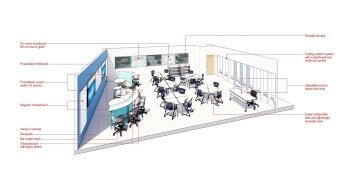 Activating the Classroom
In the age of collaboration zones and learning stairs, our definition of a classroom is changing. Rather, learning happens in many ways and in many places. The traditional classroom anchored with a singular "front of classroom" is incongruent with the continued proliferation of this kind of flexibility—limiting teaching and learning activities to a single stage. As schools pursue expanded flexibility for both students and teachers, activating all four walls of the classroom for different types of learning, subjects, and tasks multiplies the options teachers have available while maximizing limited supplies and space.

Retractable, moveable walls can be used to section the classroom or to expose new surfaces for instruction. Connecting the classroom to the outdoors or to adjacent break-out spaces invites teachers to take advantage of more interactive, casual, or collaborative settings without having to build these spaces into each classroom. Teachers can also extend their lessons outside of the classroom or group students in these areas while maintaining a line of sight to neighboring spaces. Creative use of wall finishes including dry-erase paint, projector walls, tack boards, and magnetic walls allows teachers to easily tap each corner of the classroom for tailored, responsive programming with minimal commitment and investment.
TECH-READY
The appetite for technology is almost insatiable. It is always changing, becoming more interactive, and offering students and teachers more advanced ways to learn, communicate, and stay connected. However, it's difficult to predict what the next iteration of education technology will introduce and how it might disrupt our current typologies and pedagogies. Part of the challenge of education design is to create a space that responsibly stewards the resources of school districts with a long-term, sustainable learning environment that anticipates and adapts to the technological shake-ups of an unknown future.

Recent advances in EdTech have stretched the flexibility of some learning spaces while rendering others incompatible. In our study, 59% of respondents agreed that the lack of flexibility in their classroom makes it difficult to integrate new technologies and trends into their teaching. Augmented and virtual realities and smartboards among a wave of new tech at student's fingertips raise new challenges in design—reducing glare, providing the right number of outlets in the right places, and having the bandwidth and infrastructure including WiFi or power to accommodate the new technology.

While strategic configuration of these underlying infrastructures continue to present a common challenge, identifying emerging technologies and understanding their potential application in the school setting may provide designers with the tools and solutions needed for a more fluid adoption of new tech. The push to future-proof our school design and plans requires recognizing the implications and possibilities of new technologies such as wireless power, which will free devices previously restricted to power outlets or 5G and WiFi-enabled lighting, which would revolutionize the horsepower of lesson plans and EdTech.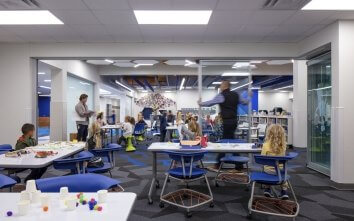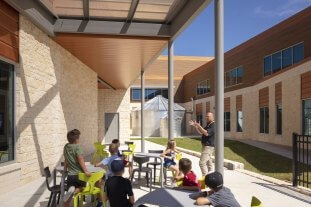 It's All About Choice
Classroom design is an area of pride for teachers. Teachers have always valued choice and flexibility. As a profession marked by their commitment to educating future leaders, teachers are often known for making a personal investment in customizing their classroom—spending days and weeks in preparing bulletin boards or adding the supplies and furnishings they need to make their space more comfortable and ready for their style of teaching. As schools compete to attract, retain, and support top teaching talent, flexible design solutions provide the modern educator with the tools and environment they need to feel valued and empowered. The evolution of school design requires removing common obstacles and frustrations; instead, providing the power of choice to those responsible for delivering improved student outcomes and equipping them with agile environment they need to succeed.