News & Insights — Insights
Lessons from Teachers: How Classroom Design Impacts Teachers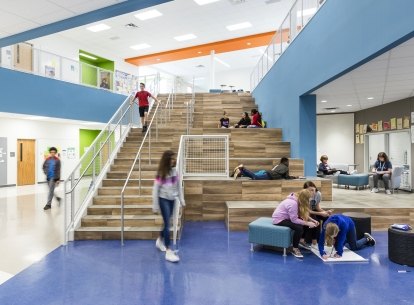 Pressure from parents, rapidly changing pedagogies, and tight budgets only begin to outline the daily pressures teachers face as they educate future leaders and develop the talent of tomorrow. Not unlike counterparts in other industries, a teacher's workplace can take a toll on well-being, job satisfaction, and most importantly performance. Schools, designed to promote learning and caring for the development of students, could often increase attention toward the holistic wellness and productivity of teachers. In fact, according to a recent Corgan survey, one in four teachers cite poor classroom design as a main source of stress—similar to the percentages that point to pressure from administration and lack of support from leadership.
In order to better understand the unique challenges and needs of teachers as it relates to the design of educational environments, Corgan's survey collected responses from 1,000 Kindergarten through twelfth-grade teachers from across the country. Reinforcing many of the best practices from workplace design and from visioning sessions with educators, the exploration also offered new insight into the relationship between school design and teacher satisfaction while providing practical ways to ease stress, drive recruitment and retention, and, ultimately, improve teacher and student outcomes.
Flexibility
Flexibility is a non-negotiable. Different teaching and learning styles combined with a marked shift toward individualized, self-paced curriculums and personalized learning models, the role of the modern educator is more facilitatory—requiring flexible resources and environments that are responsive to their quickly changing needs. Effective classrooms must also be agile and mirror the agility of the professionals that occupy them. From technology-ready spaces to modular furniture that intuitively accommodates collaboration and open discussion, flexible classrooms need to be able to adapt to both long- and short-term changes—embracing multiple learning styles within a singular class while welcoming the major shifts in future technologies.
Professional Settings
Surrounded by bright colors and themed bulletin boards, teachers spend the majority of their day in environments tailored to meet the preferences and aesthetics of children and youth. Intentionally integrating spaces that respect teachers as professionals empower teachers with a workplace that works as hard as they do and supports them throughout their day. While a ping-pong table or eclectic perks might be popular amenities in an evolved office setting, school design and budgets require less obvious and more practical, seamless interventions to respond to common teacher pain points. Wellness rooms, phone booths, and refreshment areas, for instance, add a positive and functional space that is dedicated to the real needs of teachers and offer quick break out spaces to regroup, while residentially inspired finishes speak to an innate affinity for quality design.
Collaboration
A hot topic, collaboration is often a key design principle for schools but is often focused on bringing students together for collective learning and exploration. Providing spaces geared toward collaboration between teachers, however, offers opportunities for professional development, social bonds, mentorship, and creative problem-solving. In addition to increasing communication between instructors, these spaces provide casual and intentional opportunities to share insights on student performance, create a sense of belonging among faculty, and share ideas with and learn from other educators across departments.
Personalization
A teacher's work is never done. From answering questions between classes and grading papers to monitoring the health and emotional wellbeing of their student body and preparing for parent-teacher meetings, the workday for teachers extends well beyond teaching hours. Their day is varied—changing every week, day, and even every hour. With a spectrum of work styles and tasks, today's educator needs the same level of personalization that the corporate workplace has recognized as a core driver of productivity, engagement, and satisfaction. The power of choice and the ability to tailor their lighting and temperature, or select the appropriate technology or desk height, allows teachers to choose the most appropriate setting for the job at hand.
Perhaps most importantly, Corgan's survey found that teachers are paying attention and that the implications of design are essential to the school and student body performance. The classroom is to a teacher what the office is to a corporate employee—profoundly shaping their work experience, talent acquisition, and school outcomes. Passionate about educating our youth, teachers want to work where they can be at their best, and as design proves to play an important part in their ability to be effective, more and more educators are weighing school design when choosing where to work. While competition heats up between districts to recruit and retain top talent, well-designed schools that consider the needs of teachers will continue to stand out as key differentiators. Though the challenge remains of salaries, teacher-student ratios, and family engagement, better school design offers realistic, practical solutions to reimagining the school experience for our students, teachers, and communities.

Our education blog series will dive deeper into these findings and reveal key learnings from our national survey to provide insight into the future of education design that maximizes efficacy, supports recruitment and retention efforts, and provides meaningful flexibility for our teachers.