Projects
FinTech Client Office Expansion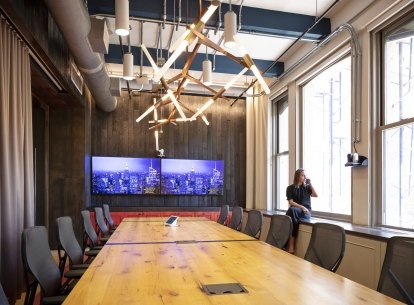 Project Stats
Location

New York, New York

size

19,500 SF

partners

Kuchar

Market

Expertise
A unique, industrial-chic trading environment.
This fintech client has always valued high-end environments for its international network of offices, and the New York office is no exception. The luxurious, hospitality-focused design takes on a unique industrial-chic aesthetic, while incorporating the latest integrated technology to support its dynamic workforce in a landmark midtown building. 
To realize the client's vision, the design centers around highlighting beautiful architectural building elements and creating special design details in all aspects of the space. High ceilings with exposed services and customized office fronts utilizing hand crafted steel glazing and wooden arch entry points are expertly detailed and coordinated. Each meeting space is unique, incorporating elegant wall finishes, acoustic cloud ceilings and moody spot lighting, creating a sophisticated, yet cozy experience in each room. Custom furniture complements the variety of high-end finishes throughout.
The juxtaposition of the industrial-chic aesthetic with the latest integrated technology provides a high-end workplace experience that reflects the company's unique culture.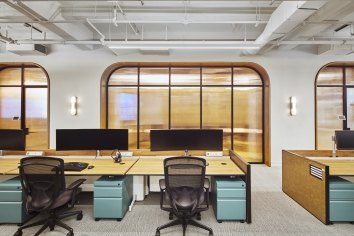 Open Trading Floors
With direct views over Bryant Park, this sleek office is planned around open trading floors with high performance sit-to-stand, multi-screen trading desks. Raised access floors throughout keep cable management out of sight.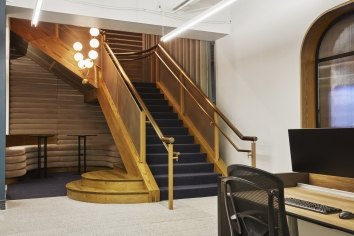 vertical connection
A new staircase elevates the workplace experience.
Between the two floors, vertical connection is made through a curved staircase with copper handrails, bronze mesh balustrade, and a double-height acoustic padded wall with built-in banquet seating below.