Projects
Chase Sapphire Lounge by The Club (BOS)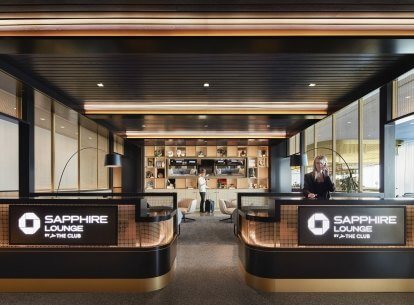 Project Stats
Location

Boston, Massachusetts 

Size

11,640 SF

Partners

ICRAVE

Market
Setting the Standard
The first of several Chase Sapphire Lounges by The Club, the design delivers a new kind of hospitality experience for passengers at Boston Logan International Airport (BOS). As the standard for their future clubs, the vision for an upgraded passenger journey is brought to life with reimagined amenities, a sense of place, and elevated finishes and appeal. A celebration of New England and the best in comfort, welcome into a thoughtfully curated destination designed to meet the needs of modern travel and capture the energy of its distinct destination.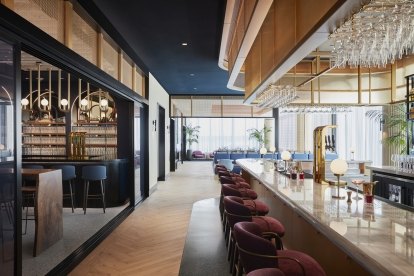 Local Design. World-Class Experiences.
Perched above the concourse level the lounge has a strong regional focus throughout. Opening to dramatic views of Boston Harbor, natural light floods the space to balance the warm jewel tones and showcase brass accents and fluted tambour millwork. The space becomes a destination of its own with a hallmark ceiling treatment and modern art from a Boston-based artist that creates opportunities for continued branding and engagement with customers.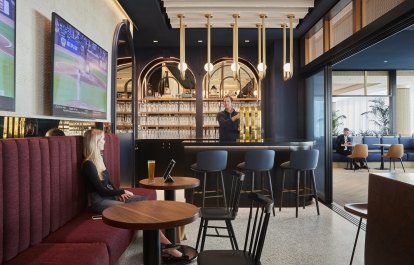 Inside, a tavern-inspired tap room with wood paneling, legendary sports memorabilia and the historic landmarks of the city invites guests to enjoy culinary local favorites, Boston ales, and specialty cocktails such as the "First Lighthouse" that honor the flavors and culture of the region.
Modern Design for Modern Travel
The residentially-inspired space is organized into several functional areas—for working, relaxing, and dining while empathetically responding to the needs of various traveler profiles. The space carves out these intentional zones to intuitively guide passengers but does so without dividing walls to preserve the openness and connectivity of the space.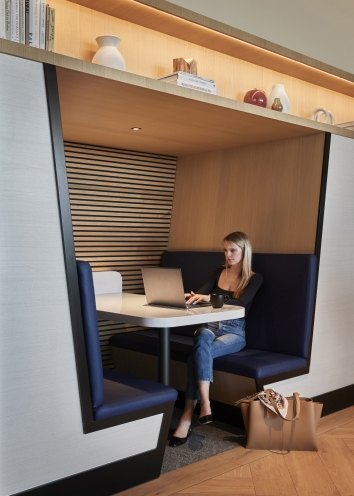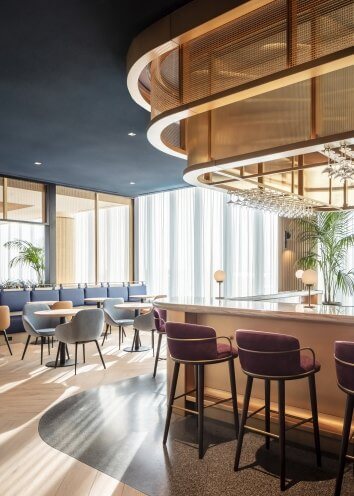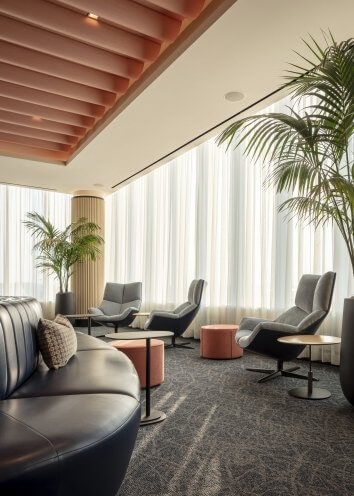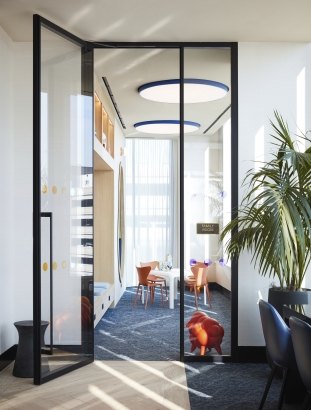 From families to those traveling for business, the lounge offers of mix of furniture types and arrangements—plush chairs and café-style tables to colorful poufs and reading niches—and amenities including shower suites, anti-gravity massage chairs in wellness rooms, a dedicated family and nursing rooms, and an on-demand food service to ease the passenger journey. Conversational areas, micro-living rooms, restaurant accommodations ranging from a buffet, bars, and taproom, and semi-private plug and play booths create a comprehensive package of spaces that keep passengers connected to each other, their work, and themselves while they take to the skies.
A new kind of travel
A heavy-hitter in the hospitality and club space, the Chase Sapphire Lounge at Boston evokes a spirit of New England and modern travel. Between anticipating the preferences and expectations among luxury travelers and the evolution of hospitality, the space is an integral part of the journey for passengers and now, those making their way through BOS have both a beautiful and smart space to take in all that area has to offer.