News & Insights — Insights
Airports Adapt: Lounges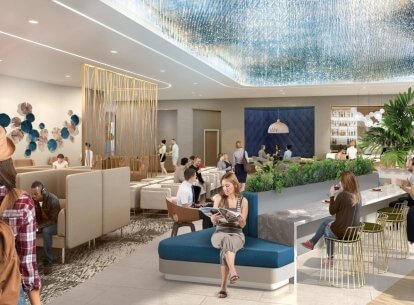 As frequent flyers take to the air again, like everyone else returning to work, school, travel, or other parts of our lives put on hold during the pandemic, travelers will look for spaces that reflect their new expectations and standards of safety and wellness. Lounge operators have an opportunity and responsibility to re-establish trust with their guests by implementing strategies and design interventions that support health, wellness, and cleanliness, while still delivering a memorable lounge experience. In a COVID-19 landscape, cleanliness is a new luxury.
Having a cohesive, system-wide lounge enablement strategy is crucial; however, it's also essential to review and respond to the needs of each individual lounge, looking at their limitations and challenges, as well as local jurisdictional requirements. As part of an enablement strategy, we encourage lounge operators to consider conducting a journey mapping exercise through each lounge to help identify common paths of travel, high touchpoints, and areas where temporary, transitional, or new, permanent solutions could be employed.
In keeping with most public spaces, adaptations and preventative measures will be highlighted throughout the lounge. Lounge operators should plan to provide frequent, transparent, clear, and consistent messaging to positively communicate both visible and invisible cleanliness measures and demonstrate their commitment to guests and their overall well-being and safety. This could be done by incorporating sanitization dispensers at touchpoints, graphics and signage to intuitively promote best practices for distancing and hygiene, one-way circulation paths in the lounge, and reduced lounge occupancy. Personal amenity kits with individual hand sanitizer, sanitizing wipes, masks, or gloves could be available for lounge guests. Additionally, guidance on changes guests can expect to encounter during their visit may be attractively formatted and printed on single-use cards or made accessible on mobile devices via a QR code.
STEP INSIDE THE NEW LOUNGE: APPROACH AND ACCESS
Check-In
Adaptations to the check-in process will focus on limiting exposure between agents and guests, and either sanitizing or eliminating touchpoints. Transparent acrylic partitions at check-in counters and guest service desks can provide separation between agents and guests. Incorporating boarding pass readers on the guest side of dividers will allow guests to self-scan their documents — eliminating another touchpoint.
An antimicrobial film can be added to existing self-check kiosks on touchscreens and sanitizing wipes can help maintain clean screen surfaces between uses. If kiosks are close to one another, they can either be disabled or relocated to promote proper distancing.
We can also expect an acceleration of biometric technologies at check-in. Already prevalent at security screening checkpoints, biometric check-in offers a contactless alternative to self-check-in. Biometric readers can be integrated at access gates and can be equipped with integral temperature scanning capabilities as an additional wellness measure in the lounge.
Working on Many Levels
For lounges located on multiple levels, operators must incorporate wellness strategies on all levels and at all major circulation paths, including elevators, escalators, and all entry and exit points. Touchpoints on elevators can be eliminated by placing elevators in "shuttle mode" (available as a retrofit in some models) or utilizing a touchless interface. Shuttle mode enables elevators to run continuously between levels while making stops at each level without pressing call buttons. Additionally, signage or graphics applied at the elevator entrance or floor of the elevator can be used to limit elevator occupancy. The handrail on escalators is a high touchpoint that should be frequently sanitized — using a retrofit installation of Ultra-UV devices provides ultraviolet germicidal radiation to continuously eradicates pathogens on handrails. Applying graphics or signage to the escalator steps could also be used to intuitively encourage distancing.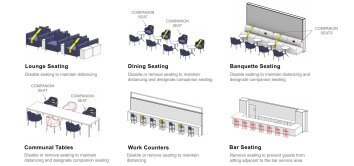 Seating
Lounge guests often spend the majority of their time seated. There are two primary strategies to support health and wellness at seating areas: promote distancing by disabling or removing select seats and installing wellness dividers between seats.
Give Me Some Space
Disabling or removing seating is an immediate, low-cost strategy to encourage guests to practice distancing and reduce density in compliance with local regulations. Seats in close proximity can be disabled with appropriate signage, seat covers, or decals readily available on the market. Pairs of seats at dining tables, worktables, or adjacent lounge seating can be designated as "companion seating" with a seat cover, decal, or signage to indicate that it is acceptable for use by traveling companions who do not need to distance from one another. If a separation is not installed between the guest and service sidebar, bar stools should be completely removed or disabled to prevent guests from dwelling close to the service areas of the bar.
Divide and Conquer
Wellness dividers between seats are a higher initial cost investment but can yield a higher density of seating than other measures. Wellness dividers range from lower-cost readymade options to more customizable options dividers can be sourced or made in a wide variety of easy-to-sanitize or bleach-friendly materials. In bar areas, a separation placed between the service side of the bar and the bar stools can help maintain bar seating in the lounge where local health regulations permit.
A Place to Call Your Own
More private seating options, including individual pods or enclosures for personal space, may see increased demand. As passengers opt for dedicated seats with the comfort and protection of high backs, for instance, over communal seating, lounge operators may need to reconsider their mix of seating options. Upholstery selections will favor non-porous and bleach-cleanable materials, and dividers will be integrated into furnishings or featured as decorative elements within the space. Designated zones with added safety precautions that meet the standards required for higher-risk or elderly guests may provide an additional in-demand amenity as passengers look to personalize a healthier and safer journey.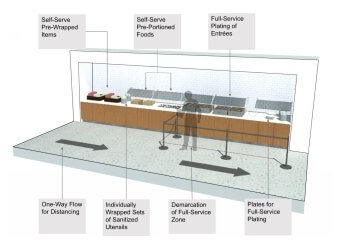 Food and Beverage
Food and beverage are two of the most significant contributors to guest satisfaction in lounges. Revised food service delivery methods can enable operators to implement wellness measures while utilizing existing food service infrastructure and maintaining a high level of experience for guests. There are a few effective food service delivery methods focused on eliminating touchpoints, such as sanitized pre-wrapped foods, pre-portioned servings, full-service plating of entrees, and in-seat delivery. Using multiple delivery methods allows guests to choose offerings that meet their comfort level and can be implemented with minimal design modifications to existing food service infrastructure.
Help Yourself
Existing wall-anchored, back-fed, and island-style buffets can be easily configured to facilitate adjusted food service delivery methods. Employing a mixture of food service delivery methods on the same buffet provides lounge operators with a high degree of menu flexibility and affords returning guests a range of choices. Sanitized and pre-wrapped items can be presented in baskets on open portions of counters for guests to help themselves. Existing hot and cold plates on buffets can be utilized to present individual pre-portioned servings for self-service as well. The pre-portioning method provides operators with the flexibility to serve food on dishware or in sustainable single-use packaging. Finally, a more traditional presentation of entrees at buffets can be achieved by sectioning off an area of the buffet with stanchions to designate a zone for service by a gloved attendant. All utensils should be wrapped as individual sets for guests or sustainable wrapped single-use utensils. Already increasing in popularity, in-seat delivery provides an alternate delivery method and can be accomplished with mobile app-based ordering or via an attendant with a trolley offering a limited food and beverage selection.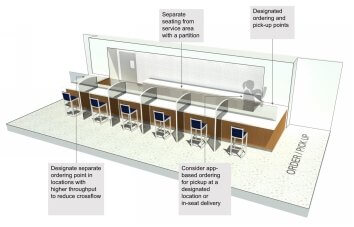 Beverages can be provided with touchless self-service dispensers or by a bartender. At bars, a separation can help protect the service area of the bar while dedicated ordering and pickup points at the bar can promote distancing between guests and eliminate bottlenecks.
Restrooms, showers, and wellness rooms
Well-designed restrooms, showers, and wellness rooms make all the difference in a guest's lounge experience, and finding balance among space, function, cleanliness, and aesthetics has never been more crucial.
So Fresh, So Clean
Several factors contribute to cleanliness in restrooms, showers, and wellness rooms. While proper cleanliness in these spaces is essential, the perception of cleanliness is equally vital. As a result of COVID-19, the selection of new finishes within lounges, particularly within the wash and wellness rooms, will feature cleanability as a primary concern. Looking to healthcare design for guidance, finish properties such as antimicrobial, biocidal, non-porous, bleach-cleanable, or copper-infused may be considered in the design process and as alternatives to existing finishes. Design elements, such as colors, patterns, and textures, in addition to reduced grout lines and surface area around sinks, will be a priority in the new wash and wellness rooms. Cleaning protocols may also utilize new methods to specifically eradicate viral pathogens include periodic anti-viral spraying, handheld UV-C wands and lighting, and robotic or automatic cleaning systems.
The Touchless Restroom
Even before the pandemic, incorporating touchless features within restrooms rooms was preferable. In addition to touchless toilets and faucets, there could likely be an increase in touchless soap dispensers, paper towel dispensers, and even hands-free door openers. And while not all elements can be touchless, simple additions such as readily accessible sanitizing wipes for wiping down touch-down surfaces or adding dispensers for baby station protective covers can help significantly for areas where touchless features are not an option.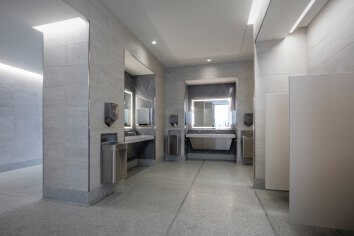 To Each Their Own
Future lounge design may look to incorporate single-occupancy restrooms as the new normal – offering more health-conscious guests a bit more privacy and separation, as well as giving lounge operators the ability to sanitize between each use.
Looking forward
Lounge operators have prided themselves on creating warm, welcoming, and luxurious spaces with curated experiences for the savvy traveler. The virus is challenging operators to rethink elements of the lounge environment, re-work lounge operations, and adopt new technologies to continue to provide a high level of service to guests and reimagine the future of the passenger experience. It remains to be seen just how much COVID-19 will impact travelers' behaviors and perspectives – and how all of it affects the future of lounge design. All eyes will be on the evolution of wellness and cleanliness amenities as travelers look to re-establish their trust in public spaces and return to the skies.