News & Insights — Insights
Workforce Blurred: Upskilling for a New Era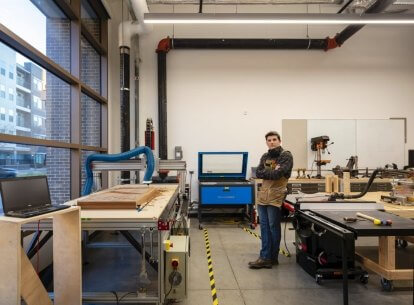 We know that it can sometimes take more than a paycheck to attract and retain top talent. From finding purpose and meaning to enjoying social connections and the corporate culture, job seekers often consider several factors when making a decision about their career or place of employment. In many ways, work-life balance, team culture, and organizational mission are core parts of evaluating the compensation and employment offer for potential candidates. As human resources and employers compete to not only recruit talent but also deepen engagement and build connection, Corgan's recent research, Workforce Blurred, offers insight into what new graduates want from the workplace and motivating drivers for their recruitment, retention, and increased performance.

Surveying and interviewing recent graduates and those planning a career change, Corgan's research gathered qualitative and quantitative data from job seekers across the nation to explore what most influences candidates' employment decisions. For a rising group of talent that are making the transition from their academic to their professional careers, it means opportunities for continued education and growth—not only for the benefit of their own future but also for the benefit it provides in doing their best work with the most current practices. These learning and development opportunities are essential in removing day-to-day friction points and empower employees to more confidently and seamlessly engage with their work and colleagues while contributing to their overall satisfaction and fulfillment.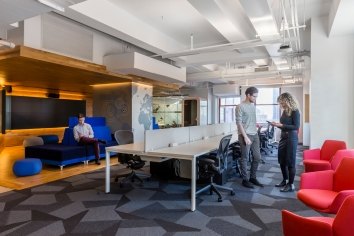 One recent advanced degree graduate shared, "opportunity for growth and advancement implies that the company has invested in learning, training, and contribution towards their employees." Office design and amenities including space types for learning and testing ideas such as creative innovation labs or town hall lecture rooms as well as fluid access to technology directly communicates how the company views its employees. It also demonstrates their agility in forecasting and responding to the most in-demand skills of the future. For the 150 survey participants in Corgan's study, the "campus" model was the most preferred work setting, perhaps indicating that these newest additions to the workforce value experiences that not only enhance learning but also facilitate social interaction and community building.

The study presented participants with hypothetical employment offer with varying degrees of flexible work options. The value of the office in providing a vibrant space for connection, personal and professional development, and collaboration also provides insight into why none of the participants opted for a fully remote option in the mock job offers. While appreciating flexibility, participants expressed concern about missing out on opportunities to build social capital within their organization with fully remote settings. Rather, this talent group depends on the social structures afforded by physical spaces for gathering such as academic campus settings to develop their network and gain access to social and professional opportunities.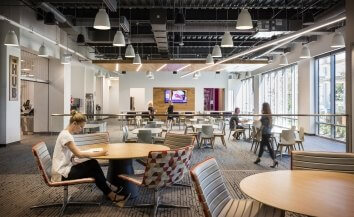 Feedback is a critical part of growth and learning for any career-minded employee—however, in the early stages of their professional lives, it is especially important to learning everything from trade best practices to corporate culture and etiquette.  While new technologies have expanded our ability to connect and collaborate with remote colleagues, it is not without its challenges. Participants shared that virtual technologies can make this kind of communication difficult and sometimes leave them feeling disconnected, bottleneck quick progress, or blur lines that can feel confusing. The office, in contrast, provides a platform for more meaningful, timely feedback and the additional context of nonverbal communication cues that expedite learning and exchanges while also deepening engagement. While formalized learning opportunities such as stipends for continuing education or on-site workshops, regular and personalized feedback is key to developing and retaining a motivated workforce.

As more and more of our lives including how we work become increasingly interconnected and complex, these insights provide important context for the future of the work—laying the groundwork for how we approach the office as an ecosystem of physical and virtual experiences. The emerging workforce has seen both the challenges and potential of remote settings in their academic careers and wants to feel connected again to their colleagues, peers, employer, and professional community. While expecting flexibility and ease from their building and physical setting, they recognize that some of that dexterity is also dependent on having the skills and tools to do their job. For employers, it is a profound opportunity to provide the products and spaces that respond to the ways that the workforce perceives and interacts with their work and a call to create human-centric spaces that speak to the deeper motivations of why we work in the first place.

Learn more about the insights and what it means for the office in the full report: Workforce Blurred.
---
Corgan's Workforce Blurred report is part of an ongoing investigation of the future of work. From how to tackle and incorporate new technologies to what lifestyle shifts and demands of a changing workforce mean for the office, Corgan's research explores the most pressing questions facing the workplace. Take a look at our previous report Work. Place. Blurred.—a study on how an increasingly mobile, fluid, and connected world is responding to the challenges and benefits of remote work to learn more about how our insights are shaping the future of work.
Check out This Episode of TheSquare
TheSquare Ep 20 · The Value of Place Part 2
Listen in as Lindsay Wilson, President of Corgan and Interiors Sector Leader, Emily Strain, Director of Workplace Strategy, and Tracy Brower, Principal of Applied Research + Consulting at Steelcase, dig into the issues of trust, belonging and mental health and discuss how the workplace impacts our well-being. Studies show that trust is built through proximity and familiarity with others— the more often we see and speak to others, the more trust we gain in them. While there is convenience in remote working, we may be missing out on one of the greatest values of the workplace: human connection. Listen in on how the workplace is reinventing itself as a critical facilitator of not only heightened flexibility but also of renewed empathy and belonging within the modern workforce.