News & Insights — Insights
Activating the Austin Workplace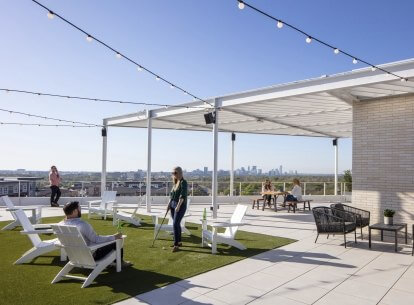 Recently, Corgan joined giants like Apple, Facebook, WeWork, and Google in expanding into the Austin market. Named the fourth best large city for a business according to Forbes and the best place to live in America for the third consecutive year, Austin has attracted more and more corporate relocations and expansions. More than three million square feet of commercial space is currently under construction to meet the demand.

Corgan has worked in the market for several years before making the city our 12th home and naming locals Jennifer Tart Thompson and Joe LaRocca Austin's Interiors Studio Leader and Office Director, respectively. Tapping into their deep expertise of the Austin market, Jennifer and Joe offer insights into what businesses moving into the area need to consider to compete for and attract top talent - activating their workplace as a local destination curated for local preferences, lifestyles, and cultural contexts.

While national trends such as hospitality and flexibility are non-negotiables, here's what matters most for the residents of the booming city.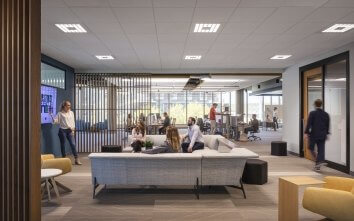 THE OUTDOORS
Austinite = outdoorsy, even if the temperature hits above 100 degrees for multiple months! Whether it's running or biking the trails, paddle-boarding on the lake, hanging out at Zilker park, or simply having a drink on a patio, we understand the benefit of fresh air and thrive on it.  Studies show that nature and connection to the outdoors help to reduce anxiety by decreasing heart rate and blood pressure and increasing happiness in the work environment. While employers are responding to the power of nature, offering tech-enhanced outdoor seating areas, greenspaces to decompress, and picnic tables for lunches or happy hour, we can expect to see the continued evolution of these spaces with more dedicated trails, outdoor ping pong tables, volleyball, basketball, or bocce ball courts, and dog parks that tap into Austin's love of the outdoors.
WELLNESS
Being an active city, popular national trends in wellness and mindfulness initiatives are especially important to Austinites. Research such as the Access Perks Ultimate Collection of Employee Benefits database, report wellness opportunities help employers recruit and retain top talent by as much as 80%.  From incorporating dedicated or adaptable spaces to host group fitness classes, onsite health screenings, or yoga and massage breaks to investing in break rooms and social spaces that bring staff together with healthy snacks and mindful eating, respite, and socialization, emerging and future talent look for workplace signals that reflect their same values of health and wellbeing. Ergonomics also offers a powerful tool to seamlessly integrate wellness into the workday and has evolved beyond specialized chairs and sit-stand desks to include circadian-tuned lighting and biophilic design—collectively creating a holistic and ambient wellness environment for staff.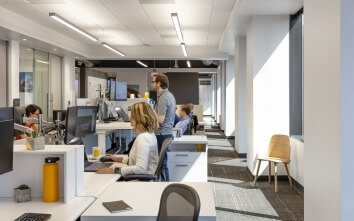 SUSTAINABILITY
Sustainability has been important to Austin building owners for many years. We see that many of these features are becoming more important to the workforce as well. Employees take pride in working for companies that minimize their environmental impact and carbon footprint. Solar power, rainwater collection, recycling, and minimization of materials that are sent to the landfill are increasingly more important to a growing portion of the workforce. Charging stations for electrical vehicles and access to scooters or public transportation are also enjoying growing popularity as they reflect the values and lifestyle shifts of the Austin culture. These nods to sustainability and additional provided amenities assist in recruiting and retaining employees in the area.
LOCAL CULTURE
Companies setting their sights on Austin face the common balancing act of authentically adopting the regional identity while also honoring their corporate brand and voice. With a more discerning eye looking for a workplace that mirrors their personal values and proudly celebrates their hometown, the emerging workforce is upping the pressure on branding and design. In fact, statistics from Randstad Workforce Insights show a significant correlation between employee recruitment and retention and brand image and marketability. In addition to environmental graphics and local naming conventions for conference rooms and amenities, creative programmatic integrations that speak to core local influences—music and art, for instance—can help strengthen the office's muscle as a contender in the race for talent. Art installations from local artists, interactive graffiti walls inspired by the city's iconic skyline, or a stage for live music on Friday afternoons help to welcome the Austin culture into the office in unexpected ways while extending local values and preferences throughout the space and day.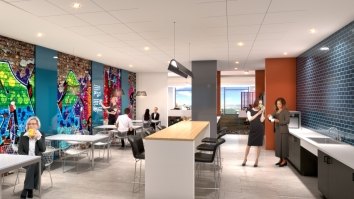 COWORKING CULTURE
Entrepreneurial in spirit, Austin has quickly adopted the coworking and remote working movement. With the escalation of rent and decrease in vacant or available spaces coupled with the continued boom and increased traffic, remote working and coworking options are especially attractive to a market pressed for time, space, and convenience. Not soon to slow, the trend demands Austin-based companies to provide workplaces that reinforce culture and offer valuable opportunities to create a sense of belonging and community. Rethinking the purpose of the workplace shifts its role from singularly functional to one that can promote connectedness and engagement - designing amenities, programming and, perhaps most importantly, flexibility into the workplace creates a destination that competes with the comfort and convenience of home. For those in the office, mirroring the inviting benefits of working from home or remotely through a variety of settings and postures, private nooks and focus spaces, and more social, casual amenity-driven spaces such as coffee shops can provide the balanced flexibility Austin talent demands.