News & Insights — News
A Workplace Designed to Support Working Parents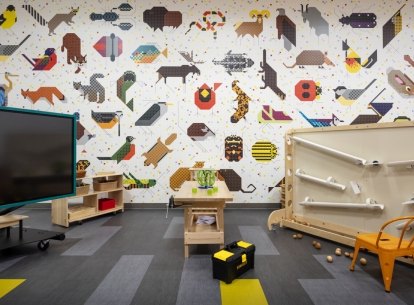 Women left the workforce in droves as the weight of the COVID-19 pandemic fell heavily on their shoulders. According to the National Women's Law Center, women's participation in the workforce has dropped to 57%, the lowest rate since the 1980s. For working moms in particular, the effort required to juggle childcare, household responsibilities, and full-time jobs took a toll on their wellbeing.

While this is certainly a women's issue, it also speaks to a larger issue among working parents as traditional notions of office work are incongruent with new patterns of work and family life that have emerged since the pandemic. We can expect that as parents return to the office, they will bring with them a new set of expectations for how the office fits into their lives. As a result, we now have an opportunity to rethink this paradigm as we develop new workplace strategies that better support the needs of working moms and dads.

Nursing rooms are important, but what challenges do working parents face as they return to the office, and more importantly, how can we redesign a more thoughtful workplace to support new flexible policies and address these obstacles—transforming the office from a hindrance to an advantage?
CHALLENGE: ACCOMMODATING FAMILY NEEDS
For parents in the corporate world, one commonly cited benefit of the work-from-home experience has been the flexibility to manage kids' ever-changing needs. Scheduling a same-day pediatrician appointment or taking the kids to a swim lesson no longer disrupts the entire workday as it once did, but rather lends itself to a more fluid blending of work and family life. This flexibility has been a boon to working parents and many would like to see it continue post-pandemic. In fact, according to Microsoft's 2021 Work Trend Index Report, 73% of workers would like to maintain flexible remote work options as a long-term approach.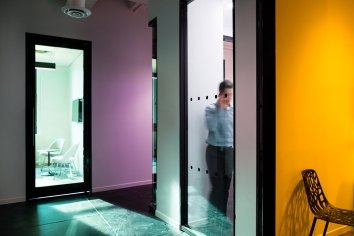 With this in mind, many companies are considering new strategies for flexible and remote work. For some, this means a 3-2-2 schedule, while for others, it means coming to the office for collaboration and team-building activities. Each business will require a unique approach, yet all will need to evolve their office environments in response to these new ways of working. With hybrid workers on the rise, offices can look to incorporate features such as seat sharing and room reservation systems, along with enhanced spaces for video conferencing, teaming, mentorship, and social activities—or even a more convenient, private place to take a call from the pediatrician or daycare. While these activity-based design strategies have been around for some time, they will likely become more widespread in the coming months and years.
CHALLENGE: NOT ENOUGH TIME IN THE DAY
The deluge of childcare responsibilities can feel overwhelming for working parents, who often struggle with finding time to run errands or accomplish personal goals—while blurred traditional work boundaries mean emails and reports bleed onto the dining table and into the final hours of the day. For those with older kids participating in after-school activities, the kids' schedules often take priority. As one working father noted, "My biggest challenge is balancing schedules. Between pick-ups and drop-offs and other activities, there's always something."

As businesses look to bring working parents back to the office, one beneficial strategy is to create an amenity-based workplace that provides access to resources they don't have at home. For busy moms and dads, this may be a strong incentive if the amenities can help streamline their lives. Imagine being able to pick up dry cleaning, a pack of diapers, and a healthy frozen meal for dinner, without leaving the office.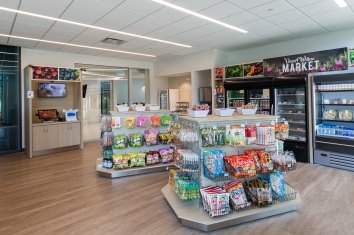 Businesses may consider some of the following workplace amenities geared towards working parents, which can be in-house offerings or building amenities open to the public.
On-site Childcare: Full time or drop-in daycare, nursery care, virtual learning hubs
Food & Beverage: Heathy food offerings, coffee bars, pre-prepared frozen meals or meal kits parents can bring home for dinner
Services: Amazon lockers, banking/ATM, pharmacy, laundry, hair salon, retail shops
Health & Wellness: Fitness center, nurse practitioner, eye doctor, dentist, massage therapist
CHALLENGE: EMOTIONAL BURNOUT
The struggle of balancing home and work life can take an emotional toll on parents – particularly mothers, who often take on the brunt of caretaking responsibilities. During the pandemic, the problem was exacerbated and magnified as some parents had the impossible job of caring for kids at home while working full-time. For one California-based marketing manager, the competing demands are taking a toll both personally and professionally. She explains, "I wasn't giving my son the attention he deserves, but I also wasn't giving work the attention it deserves. It's really hard."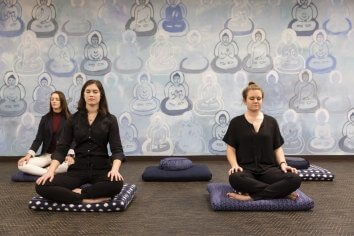 For parents like this, returning to the office can serve as a reprieve from household distractions and may even provide opportunities for self-care. Having a clear separation between work and home life can help reduce the mental load of managing both worlds simultaneously. Moreover, the future workplace can provide spaces designed find reprieve and focus. This may include library-style quiet spaces, focus rooms, and even meditation rooms where parents can practice mindfulness. Biophilic design can play a role, too. By providing connections to nature, such as organic forms and materials, greenery, and views of the outdoors, the office may help reduce the stress and mental fatigue faced by parents.
CHALLENGE: FEELING ALONE IN YOUR STRUGGLES
With so many competing demands for working moms and dads, it can feel overwhelming and isolating at times. We know one of the primary reasons employees want to return to the office is for the face-to-face connection and camaraderie with their colleagues. Many look forward to catching up over a cup of coffee or sharing lunch with coworkers again. As one working mom noted, "When's the last time I ate a hot meal that wasn't leftovers from my son's highchair?"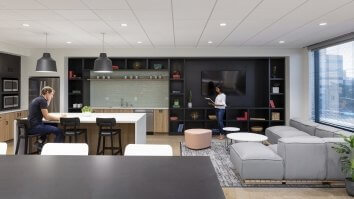 Going forward, we have the opportunity to refocus our attention on creating communities in the workplace – places for support, peripheral relationships, mentorship, and personal networking – places where working moms and dads can share resources, like recommendations for nannies or SAT tutors. Offices can support these interactions by creating warm, inviting places where workers can congregate, collaborate, and share a meal together. Spaces like coffee bars and work lounges will become more important than ever to build these communities.
AN OPPORTUNITY FOR CHANGE
The challenge of juggling work and home is not a new one. Rather, like many other aspects of our world, the pandemic cast a harsh light on things that no longer work and accelerated trends that were already gaining momentum. Working parents have long called for more flexibility and better work/life balance. Now we have an opportunity for change—especially as the race for talent heats up again and employers compete to attract and retain talent.

The office of the future has an important role to play in this change. It is not only a platform to put into action corporate values and culture but can also tangibly improve the experience of working moms and dads by providing flexible workspaces, time-saving amenities, opportunities for respite, and social areas designed to support communities. With these new design priorities in hand, the future office is uniquely positioned to meet the needs of working parents.
Check out This Episode of TheSquare
TheSquare Episode 19 · The Value of Place Part 1
COVID-19 continues to force the speedy evolution of places. As we limit the number of places we regularly visit, those spaces are challenged to quickly respond to their changing place in our lives. In this episode of TheSquare, we explore the future role of the office as workplaces become one of our safe places to anchor our life, community, and work. Lindsay Wilson, President of Corgan and Interiors Sector Leader and George Kahler, Corgan's Interior Studio Leader in New York, make their predictions on how office spaces will not only need to up their investment in workplace wellness but also need to support the emerging fluid worker and our changing expectations of places. From outdoor amenities to onsite food services and Amazon deliveries, the future of human-centered design provides a glimpse into a new kind of office that meets employees where they are.