News & Insights — Insights
Workforce Blurred: What New Graduates Want From a Changing Workplace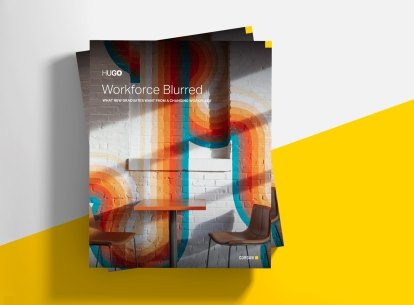 The workplace is changing as are the perspectives of recent graduates and the future workforce. These candidates bring a new set of perspectives to their career needs and goals shaped by more than a year of remote learning and pandemic life. As employers navigate how to respond to the immediate shifts in workforce preferences, the outlook and attitudes of these candidates will play a key part in shaping how companies support work in a post-pandemic world.

Corgan's Workforce Blurred report uncovers essential insights from survey responses and in-depth interviews with graduates across the nation and from seasoned professionals planning career changes on their ideal work environments and offerings. Backed by both quantitative and anecdotal data, the study outlines the impact of the past year on recent graduates, the preferences of current job seekers, and the emerging opportunities to attract and retain talent.

Entering the workforce or preparing for a career change during a pandemic, challenging remote experiences, and sometimes discouraging economic news, this workforce marks both a shift and amplification of preferences, needs, and expectations surrounding the workplace. As architects and designers, there is a unique opportunity to create a thoughtful and empathetic workplace that supports this incoming generation of workers.
INSIGHTS
The Office as an Amenity
Where workplaces once competed in a war on amenities, the office has become an amenity itself. Our findings show the majority of study participants want the option of physical space. As a stage for socialization, collaboration, focused work, and evaluation and advancement, the office space is a key benefit even remote and hybrid workers. Read more here.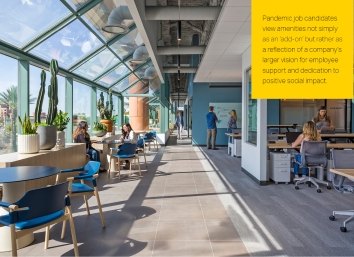 Green Matters
For a generation that commonly shares their personal values on social media—proudly donning virtual badges for social causes and promoting responsible brands, where they work is just as important as where they spend their dollars. Research participants not only ranked green practices as a priority but also shared the secondary benefits of outdoor green spaces—citing their comfort and ease as attractive places for a "brain break" or casual collaboration.
Inclusivity and Exclusivity: The Challenge of Remote Environments
Fear of missing out becomes more than trending generational shorthand when it means potentially missing out on opportunities to build social capital or recognition at work. Removing the social structures they were accustomed to in academic settings, recent graduates described completely remote work as "scary" or "uncomfortable". When starting their careers or pursuing new ones, the office provides access to opportunities that may be more difficult if entirely remote.  Dynamic and multifaceted, flexible work may in some cases inhibit opportunities for many of the things we value from our workplace including in-person mentorship, learning, and professional growth and development.
Communication in Flex Work
It's more than just the design of the office that's changing. Alternative and flexible arrangements have ushered in new technologies to keep us connected and surrounded by a new set of expectations and etiquette. From frequency to the types of deliverables and formats, remote settings have introduced new pain points in how we communicate.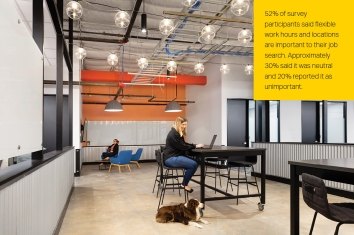 Flexibility, Motivation, and Trust in Hybrid Work Environments
Though flexibility has always been in demand, a recent spotlight has now moved it into a place where it is an expected benefit. Rather than an amenity, it is an expected part of the workplace culture—one that authentically communicates trust, encourages flexibility, and in turn, reinforces motivation.
Upskilling for a New Era
Learning and development opportunities can make or break acceptance decisions for new and recent graduates. As a reflection of how the company views its employees, these opportunities are especially important for those who not only want to cultivate the future of their own careers but also empower them to do their best work. For most survey respondents, a campus environment mirrored the fluidity of collaboration and learning on academic campuses.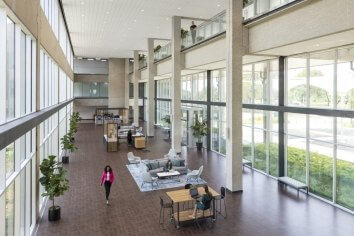 As the world and the ways we work becomes even more connected, the different ways in which people perceive, engage with, and approach their built environments provide important insight into how to create responsive, effective, and human-centric spaces. From personal spaces and ecosystems that connect the physical and virtual world to mindful products and buildings that facilitate a connection between occupants as well as the community, the report explores the impact of these insights in shaping the future of work.

Learn more about the insights and what it means for the office in the full report: Workforce Blurred.
---
Corgan's Workforce Blurred report is part of an ongoing investigation of the future of work. From how to tackle and incorporate new technologies to what lifestyle shifts and demands of a changing workforce mean for the office, Corgan's research explores the most pressing questions facing the workplace. Take a look at our previous report Work. Place. Blurred.—a study on how an increasingly mobile, fluid, and connected world is responding to the challenges and benefits of remote work to learn more about how our insights are shaping the future of work.