News & Insights — Insights
Bridge to the New Normal: Transitioning Back to the Workplace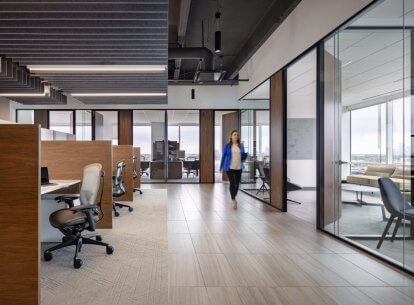 It seems as if everyone is hesitant to make any predictions about our "new normal." The only certain thing about our future is uncertainty — unanswered questions about what it will feel like to reenter public spaces, when we will go back to the office, and how to reestablish confidence. The foundation, however, of good design and the enduring benefits of putting people first remains the same, underscoring the relevance and importance of flexibility and remote options, community and collaboration, wellness, and space adaptability. As the workplace searches for nearer-term response to protect the returning workforce and longer-term, evidence-based design solutions that demonstrate an ongoing commitment to safety and wellness, the steps toward embracing these spaces are less of a "new normal" and more of an affirmation of design priorities and insights that have been with us for some time now.

Preparing for the social, mental, and physical reclamation to the office has expedited the implementation of these design principles as part of an essential effort to support safety, to reestablish comfort, to dispel fear, and begin our rediscovery of social space.

 
MANAGING CHANGE
Managing the spread of this virus and balancing the priorities of resuming life and business while keeping citizens safe has proven a layered and complicated challenge. The immediate next steps and subsequent phases don't promise to alleviate any of that complexity. Employees who face the prospect of leaving the safety of their home, comforts of new routines, and the flexibility and balance of remote work will look for continued communication to establish confidence and clarity for what's ahead. Thoughtful, early planning and direction for a gradual transition will be vital in demonstrating the health and well-being of staff is not being treated casually and that the next steps are not premature.

The office may never be the same. New protocols, behaviors, and changes to the physical space require communication and strong engagement from all levels of management. Allowing room for honest and transparent feedback can help tailor a response plan that meets staff where they are and provides a road map for what to expect and how to better prepare.

Simple gestures such as a sign in the building lobby and a welcome kit with protective gear can go a long way toward making the transition a positive and welcoming experience and showing employees that wellness is top of mind. Providing the visual cues and supplies needed to promote best practices—face masks or computer software, for instance—is not only a tangible statement of intent but also educates and reinforces appropriate behavior and empowers staff to buy into a collective goal.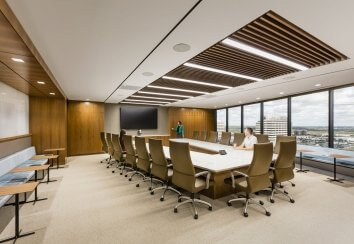 Alignment between human resource policies, facility modifications, and technology updates is essential in this initial transitional period. Designating a response team with representation from HR, IT, facilities, and communications for a surround-sound approach holistically addresses concerns while offering staff a definite resource to ease fears and increase confidence.
 
BEHAVIORAL READJUSTMENT
Without a vaccine and before a better understanding of the conditions for immunity, we can expect and benefit from an abundance of caution and heightened sensitivity. Reducing occupancy levels is a natural first step and an extension of continued social distancing. As best practices turn into new cultural norms, visible safety measures encourage and reinforce the benefits of CDC recommendations from avoiding touching your face and frequently sterilizing high-touch surfaces to promoting face masks and regular hand washing. Keeping staff safe and healthy is only part of the new challenge for employers — staff need to feel safe. In the initial return to work, these more visual efforts provide a much-needed sense of security and peace of mind in navigating the unknown.

General operational measures will include increased and thorough cleaning and a reduction in person-to-person interactions. Journey mapping and choreographing flow in the lobbies and other shared spaces can further mitigate the risk of high-traffic touchpoints. For instance, designated "in" and "out" travel, temperature sensing, and occupancy control at queuing areas, no-touch interfaces at doors and elevators can manage the movement and volume of users in support of new person-to-person etiquette.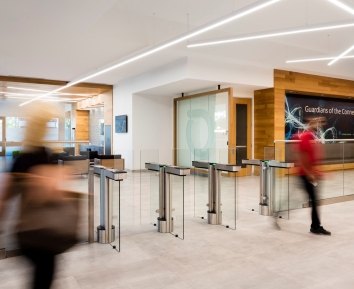 In addition to continuing to heavily support work from home options, individual building tenants will need to devise policies for phased office reintroduction for staff to find the appropriate balance and distancing within the office. Changing behavior to adapt to new limitations such as reduced amenities and use of meeting rooms as well as a new use of spaces will require strategic and regular communications. Room postings, pop-up sanitation stations, and an increased sense of personal domain provide the visual cues needed to reinforce new space guidelines. Over time, strategies toward safe practices and gradual reoccupation will develop as occupants and operators trial ways to optimize them.
 
ADAPTING SPACE
Flexibility will be crucial through reoccupations that are likely to involve multiple stages of change. From increased workforce support and upgraded technology to flexible furniture and fixtures, workplace infrastructures will be challenged to quickly adapt to a new framework. The effects of this pandemic have reshaped the workplace — from how we practice collaboration to traditional work hours and everything in between. An agile, nimble design supported by policies and tools that enhance capacity and mobility for diverse team needs can continue to evolve as these programs are evaluated.

Adaptable, pathogen-resistant furnishings within the tenant and shared spaces, promoting fewer occupant densities, and a shift to hoteling or other strategies allow for more efficient space cleaning and turnover between occupants. Social distancing will require not only redirecting traffic in primary corridors and entry points but will also require consideration of the purpose and capacity of shared meeting spaces. Smaller collaboration spaces can be reconfigured as temporary individual workstations while in-person collaboration can be reserved for areas large enough for adequate distancing.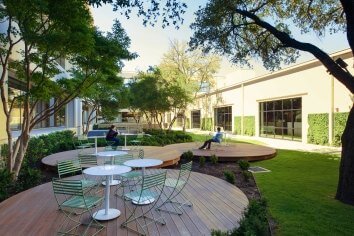 Because of the increased demand for the few large capacity or open spaces, smaller meetings, or remote dial-in could ease the burden on these spaces. Owned technology contains the transfer of potential pathogens otherwise spread through shared audio-visual devices in meeting rooms. Easily moveable outdoor furnishings invite staff to enjoy sunlight and fresh air while also activating additional square footage and space for appropriately distancing meetings.

There are no easy answers. The next step and likely the several others that will follow will be marked with trial and error. However, a human-centric workplace—one that values open and transparent communication, empowers everyone with the appropriate tools they need for their work and well-being, and is flexible to anticipate and respond to cultural and behavioral shifts—provides a foundation of good design both during this uncertain time and for years to come.

 
---

Cheyne Brown is the Director of Workplace Strategy in Corgan's interiors studio in Phoenix. Contact Cheyne at cheyne.brown [at] corgan.com (cheyne[dot]brown[at]corgan[dot]com).