News & Insights — Insights
Workforce Blurred: Green Matters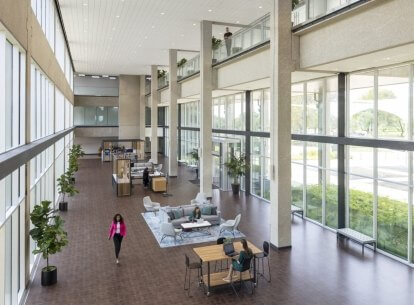 This new generation has witnessed transformative societal changes in their lifetime; however, one monumental challenge that lies ahead for them is climate change. From rising sea levels to more frequent natural disasters and toxic air pollution, climate change presents a complex societal challenge that will require substantial effort from both individuals and larger entities alike.

Corgan's recent report, Workforce Blurred, uncovered numerous insights on what freshly minted graduates and seasoned professionals looking for their next step are looking for from the future of work. The study combined quantitative data from more than 150 surveys and qualitative data from in-depth interviews with graduates across the nation and those making a career change to understand the preferences, needs, and expectations of the emerging workforce. Marked by a historic global pandemic accompanied by an economic downturn with high unemployment, those entering today's workforce have been forced to quickly adapt to changing landscapes while wrestling with career anxieties. Thus, it is a ripe opportunity for architects and designers to respond with an empathetic, human-centric design that thoughtfully supports this incoming generation of workers.

These new workers recognize that while individual contributions to climate change can have a significant impact, they also believe a large portion of the responsibility is systemic and, therefore, driven by industry stakeholders. This will require businesses to make major changes, like offering and supporting cutting-edge green practices at the workplace. Additionally, this incoming generation of workers projects their personal identity — or personal brand— through the goods they purchase, the media they consume, and the social issues they feel passionate about. Where they choose to work is no exception. And a cutting-edge green workplace creates a future-forward identity they can relate to.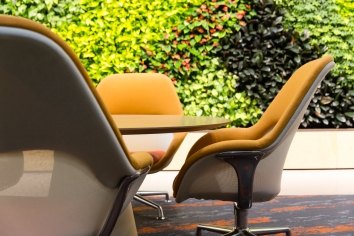 Green practices and outdoor spaces
During in-depth interview sessions, participants explained that having cutting-edge green practices on-site makes them feel proud of where they work and what their company stands for. These green amenities don't serve the traditional purpose of an amenity, in that, they are not just for individual use. Instead, these green amenities reflect a more significant social impact and the greater good. This mindset is best demonstrated by individuals who expressed interest in amenities like electric vehicle charging stations even when they don't own an electric car themselves.

In our survey of 150 upcoming and recent grads, "outdoor green space" was the second most popular option for on-site workplace amenities, and "cutting-edge green practices" ranked as the fourth most popular option. In our survey, 42% of respondents preferred a campus office setting, and 76% selected green space and nature as a workplace asset they are looking for.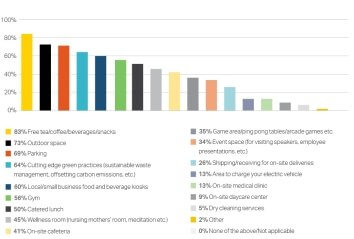 According to research participants, having access to greenery makes work feel "easier and more comfortable." Outdoor green spaces allow them to make the most out of their often-limited break time, which is important to them. Research participants are also looking for walking trails and green areas to spend their time during the workday for things like walking meetings and brain breaks. Many participants also said the pandemic reminded them how effective an outdoor walk could be for recharging throughout the day. Others said it has always been an essential part of their daily routine.
Impact on the workplace
As the world becomes more interconnected and complex, it's essential to consider the different ways in which people are interacting with and perceiving the built environment. With this new generation of workers, facilities with green design and practices will be an expectation. Companies should consider environmental impacts and promote green practices in all aspects of the organization like reusable serving ware, specific recycling practices, and electric car charging stations.

Organizations can provide an environmentally friendly work environment by incorporating green design features, such as natural light and water savings. They should also consider the wholistic impact decisions have, such as shorter commute times, reducing carbon emissions, or providing reusable coffee mugs to prevent waste. Products and design are only the start to green practices; companies need to ensure the right programs are implemented and staff is trained to maintain the intent.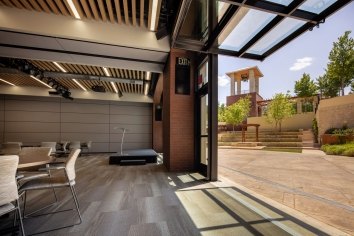 Throughout this research, we heard from students of all backgrounds and interests. We learned that work is not just a place you go — it's a thing you do. This next-generation workforce wants the right cultural fit and values organizations that holistically support their employees. As the workplace continues to evolve, we look forward to identifying new opportunities that support a 21st-century workforce.

Learn more about the insights and what it means for the office in the full report: Workforce Blurred.
---
Corgan's Workforce Blurred report is part of an ongoing investigation of the future of work. From how to tackle and incorporate new technologies to what lifestyle shifts and demands of a changing workforce mean for the office, Corgan's research explores the most pressing questions facing the workplace. Take a look at our previous report Work. Place. Blurred.—a study on how an increasingly mobile, fluid, and connected world is responding to the challenges and benefits of remote work to learn more about how our insights are shaping the future of work.
Check out This Episode of TheSquare
TheSquare Ep 14 · Branding in the Virtual & Real World
Corgan's Emily Strain and Paige Terrell sit down with Eric Thoelke, founder and president of TOKY Design to explore what brand means for companies and why it's important to their success. What if there was no logo? What if there were no company colors? Paige and Eric are charged with helping clients articulate what makes them unique — looking beyond a website, company collateral, and those things that are often immediately associated with a brand and tapping instead into the power of the physical space as a single but powerful touchpoint within the larger brand strategy. Aligning the design of an office, school campus, or even a hospital with its core identity, branded environments explore what the physical space can say about an organization, the experiences and emotions it creates for the people that move through it, the unifying culture it establishes, and its potential to transform public perception. Even through the great experiment of 2020 where we can work from anywhere and learn remotely, there is no such thing as not having a brand. Rather, our new normal has created a greater demand for places to come together and celebrate our unifying brand and culture.