News & Insights — Insights
The Great Rebound: Belonging and Brand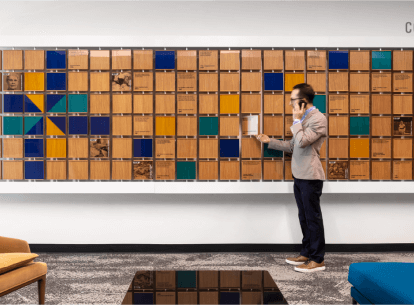 If you've ever paid admission to a theme park, your wallet has felt the draw we have to places that tell a story—that transport us and immerse us in fantasy. Between cleverly staged concession stands to theatric rides, these places create more than a unique, memorable experience—rather, we are willing to stand in hour-long queues and readily hand over our credit cards because these places make us feel something. They are more than a place. They are emotional connections, significant and often sentimental moments in our lives.

While the primary function of most places including schools, offices, and retail spaces is different than that of a theme park, they all share the desire to promote a sense of belonging—loyalty even, in support of a common goal. For the classroom, it means inviting students into a safe place where they feel connected and supported so they are free to explore, learn, and discover their identity. Loyalty is hardly a mysterious concept in the retail setting—from reward programs to branded merchandise, shopping and dining is perhaps the biggest champion of telling brand stories. And, as virtual and hybrid platforms reshape how we experience these parts of our lives, everyone from employers to educators is challenged with recreating those encounters and everyday moments that build belonging, connection, and ultimately drive engagement.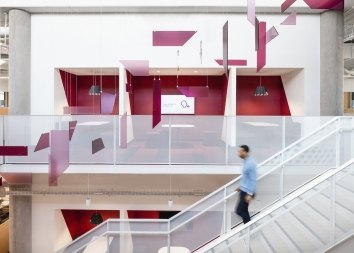 Enter branded environments: the art and science of uncovering the opportunities of the physical space to tell a story, create a culture, and foster belonging. Leveraging physical spaces to tell a story, branded environments use the language of brand and design to tell the unique story of each space and organization. Successfully branded environments create emotion, influence perception, establish a personality, and bring to life culture through two and three-dimensional features including imagery, interactive and digital experiences, sculptural features, and timelines. Rather than relying on literal interpretations, the environment showcases creative expressions and interpretations of elements such as logos, maps, mission statements, values, products, services, processes, and people. Ultimately, the brand is enhanced by engaging all the senses—exploring the possibilities of sound and smell alongside traditional tactile and visual executions. 
The Value of Branded Environments
Bemoaning a lost sense of camaraderie or culture, many employees report a drop in employee buy-in. A global study from Gallup found that engagement levels sit at just about 20%--an expensive toll on already strained employers looking to recruit and retain talent. A lack of productivity, spiked turnover, and lost profits mean improving engagement and connection has never been more urgent.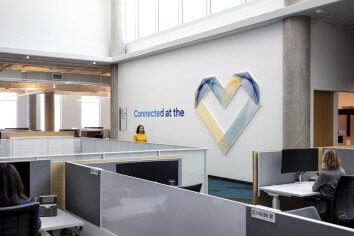 So, what to do? Rather than depend on a finite meeting behind a screen, office design has the potential to create an immersive environment—not one of the fantasy characters and thrill-seeking rides, but one that showcases a collective mission, highlights shared values, encourages ownership, and activates participation. Recruiters and managers know that the way someone perceives or experiences this corporate brand begins before hiring and extends beyond a set time and place. However, the physical design shapes and reinforces positive sentiment, pride, and belonging—more than a visual backdrop and more of a visual amplification of the messages, interactions, and work that thread their day. Whether dispersed across office locations or balancing a hybrid workforce, the elements of branded environments and graphics have the power to cohesively and seamlessly connect not only our individual experiences but also the larger, corporate body. Functionally, environmental communication sets the tone for user experience—as a stage for easy wayfinding, calling out purposeful moments within the space, and facilitating casual and intentional moments for collaboration and socialization. 
CASE STUDY
After merging in 2013, Baylor Scott & White Health became the largest not-for-profit healthcare system in Texas and one of the largest in the United States. In 2018, the decision was made to consolidate their administrative operations into 300,000 square-foot new headquarters adjacent to their flagship hospital in Dallas. Housing 2,000 employees in a state-of-the-art facility, the design was guided by the principle of belonging and connectivity and the goal of visually articulating a story that created a unified identity. Regardless of their role, employees needed to feel an emotional connection to the patient as well as to each other and the BSWH brand message "Better Together" began coming to life throughout the space.

The challenge in branding such a large space with limited walls was creating a cohesive look and feel that complimented the interior finishes while still keeping the brand top of mind. We also needed to keep the story consistent while adding enough variation to keep employees engaged, focusing less on the medical aspect and more on the reasons for being a part of the BSWH system.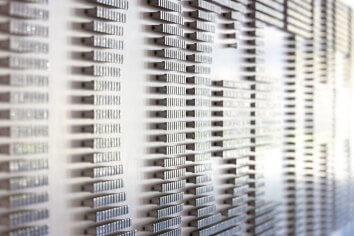 Helping bring to life and support the brand message "Better Together," the themes of connection, placemaking, and art were strategically placed throughout the space. To connect employees to the mission, to the patient, and to their coworkers, the design team used a variety of dimensional mission statements, super graphic patient photos paired with their stories, an interactive timeline celebrating significant milestones throughout the company history focusing on their innovations in healthcare, and a unique digital display of each employee's commitment statement.

We also used the logo throughout the space to reiterate the brand's identity while creating a sense of place and wayfinding. In the lobby, it was important for visitors and employees to know they had arrived at BSWH, so we created a beautiful glass chandelier statement piece, created by local glass artist Carlyn Ray, which uses over 340 glass rods to form the logo. The symmetry of the logo allows it to be seen from outside as one enters the building, or from underneath once inside. The wayfinding strategy also incorporated the angular forms of the mark in hanging acrylic mobiles above each connecting stair, in wayfinding graphics, and even as details in the signage. Using the functional visual elements as a platform for branding, the staircases are wrapped with healthcare messaging that works in tandem with each zone's color story.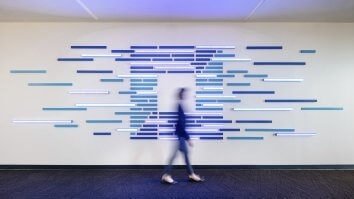 Art is another way to engage the users in a meaningful way and add visual interest beyond the logo. In addition to BSWH commissioned art pieces inspired by patient stories, our team designed attractive installations with signature components such as a piece that incorporates each of the 50,000 employee names, a collage of paintings by patients in the Cvetko Center, and a lenticular wall with illustrations by Mark McGinnis commissioned to illustrate diversity and community. Elsewhere, 6,300 lapel pins form the word "TOGETHER" as a large installation—a memorable wayfinding element that also reaffirms the employee experience and corporate mission.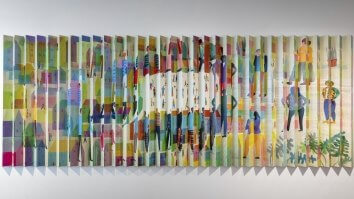 There's a reason we go to theme parks or visit places. And, that while technology has opened new doors for us to connect on-demand and instantaneously with clients and colleagues around the world, friends, and family we miss, or even access resources that were otherwise out of reach—it will likely be a hard sell to visit some of our favorite places virtually with the same affinity and connection. That's because whether a theme park, retail space, or corporate office, engagement, connection, and loyalty are seldom built behind a screen. Brands tell us about who we are and where we belong. Born out of thoughtful storytelling and human-centric design, branded environments transform places into experiences that change us, connect us, and make us feel something—a task that in our hybrid and virtual world is harder, but more important to do.
Check out This Episode of TheSquare
TheSquare Ep #36 · Leadership and Workplace Design
Meet Lindsay Wilson, President and Interiors Sector Leader at Corgan, focusing on corporate interior design, the firm's culture, and brand development. During her 20+ year career in workplace design and strategy, Lindsay has worked with countless clients to understand how their workplace can reflect their culture, challenge conventional thinking, and transform their business. Her reputation for understanding business and project drivers, creative problem solving, and identifying the "hot buttons" make her a go-to resource for her team, clients, and the broader real estate community. Her collaborative leadership style and vision have been not only instrumental in the growth of the firm's interiors practice but also in corporate architecture.