News & Insights — Insights
Bold Investments in the Future of Work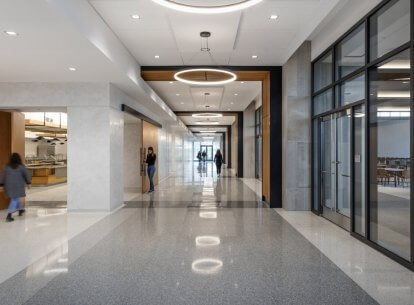 As the pendulum of trendy headlines swing from extreme to extreme — from some of the nation's biggest names in business emphatically vocalizing their distaste of remote work to offices reopening to workers anxious over losing flexibility — one thing is clear: the office holds a powerful space in our cultural dialogue about how we work and the rhythm of our lives. Most recently though, big names including Google, Facebook, and JPMorgan have leaned into the enduring value of the office and started to roll out their respective plans to return to the office.

For companies wrestling with the future of the office, corporate headquarters, an emblematic and established representation of culture, collaboration, and connection, offer insight on the ways the office may evolve to keep pace with changing needs and preferences, meet the core needs of an increasingly dispersed workforce, and articulate the critical benefits of the office in business. Ranging from 250,000 to more than 2 million square feet, take a look at how some of the Corgan's large headquarters projects makes a bold investment in the value of human-centric design. While many may be considering smaller footprints, these spaces offer inspiration and key takeaways on fundamental human behavior and connectedness, how teams and culture can accommodate a variety of worker types and support the future of work.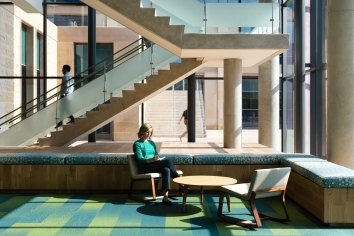 CONNECTEDNESS AND FLEXIBILITY: TOYOTA NORTH AMERICAN HEADQUARTERS
2.1 Million Square Feet
The Toyota North American Headquarters is comprised of multiple office buildings, data centers, and a high-bay specialty building. The campus consolidates more than 6,500 of Toyota's team members who make up the sales, marketing, and distribution dedicated to the North American market.

From the onset of the project, the goal was "Connected." The design of such a large campus must encourage and entice team members to use the full campus to gain the benefit of residing together. The design team incorporated elements to intuitively draw them together, on both a large and small scale. Designed around a central courtyard, popular amenities are located along a central loop and supported by additional dining, a juice bar, knowledge center, medical clinic, and retail throughout the campus.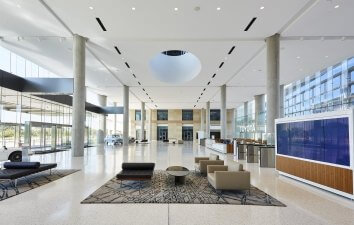 At the heart of each building is a central interconnecting stair within a generous light well, and break areas, and other casual and comfortable meeting areas to encourage easy team collaboration and relationship building. Each floor features various sizes and types of group-focused spaces, all outfitted with technology, and a 'hackable' collaborative area, where teams can customize a variety of flexible furnishings to support their style of work and task.

Overall, the campus-wide approach to space adopted a 50/50 approach — half the space is dedicated to department-specific use, workspaces, and support while the other half is shared for flexible work, visitors, meeting, socializing, and refocusing.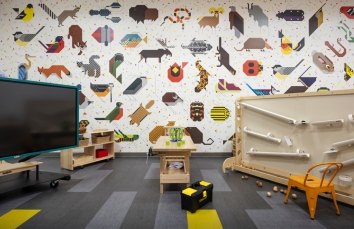 EMPLOYEE WELLNESS: PIONEER NATURAL RESOURCES
1 Million Square Feet
Pioneer Natural Resources, a quickly growing oil and gas company, decided a custom-designed, newly constructed building would best suit its business needs, forward-thinking corporate culture while bringing together its employees in one building. From a children's play area to biophilic inspired design, traces of transparency, family, wellness, and collaboration, guided by Pioneer's values are weaved throughout the space.

Encouraging communication across departments, the design facilitates flexible working and meeting styles, employee interaction and engagement, and provides ready access to nature as part of their everyday work environment. Located on a 35-acre property, the interior was designed to allow for more than 90% of the occupied spaces to have direct views of the outside, showcasing the lush mesquite trees, lake, and sweeping landscape. A roof garden connected to the building's conference rooms was also incorporated, allowing office workers to enjoy nature or have a team meeting in the fresh air.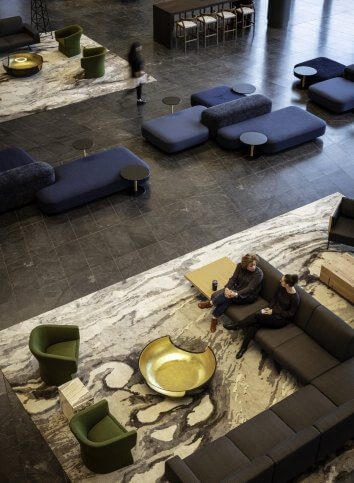 Supporting Pioneer's commitment to the safety and health of their employees and the sustainability of the earth, the building interior was designed to optimize acoustics and light reflectance with Rockfon ceiling systems. Demonstrating its collaborative, innovative, and efficient operations, the 1.1 million-square-foot headquarters recently earned LEED® Gold certification from the U.S. Green Building Council. The over one-million-square-foot facility features a glass curtain wall and stone façade, fitness center, employee cafeteria, town hall, and daycare, along with a seven-story parking garage.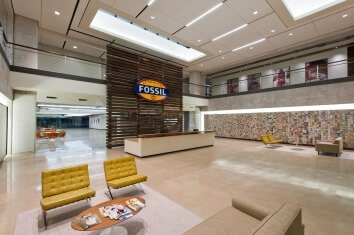 BRAND AND ESTABLISHING CORPORATE CULTURE: FOSSIL GLOBAL HEADQUARTERS
535,000 Square Feet
Brand loyalty isn't typically built behind a screen. That's because physical space is essential to the human experience — we need to touch, smell, and feel to be engaged. While virtual technologies now play a bigger role in many spheres of our lives, places become even more important to how we experience a brand. Spatial design speaks to the whole human — shaping our mood, behaviors, choices, and sentiments. For clients like Fossil with 1,400 employees across 64 departments, the physical design provides a platform to connect staff, partners, and visitors to the brand vision and mission.

Fossil's global headquarters puts on display the ways design can work for a corporate culture and create a cohesive brand experience, solidify belonging, and deep engagement. The design is built on a collaborative approach that explores the ways design can articulate what was most important to the culture and bring their brand to the forefront. The project combined two buildings adding a café, auditorium, and library that are now the heart and soul of the campus. Guided by the principles of authenticity, the design celebrates the beauty and grounded simplicity of midcentury modern design in its light fixtures, furniture, and through several design details throughout. Reclaimed wood from a textile mill connects the campus while providing a unifying wayfinding element. Meanwhile, a central greenspace courtyard provides a dynamic connection point as glass conference spaces increase visual contact and serendipitous meetings.

These spaces tap into a fundamental human desire to experience spaces that excite the senses. Tapping into the power of graphics and environmental branding, the space incorporates more than a company logo to strengthen team spirit and a sense of pride. Signature colors punctuate the space, memorable artwork creates a sense of place, and environmental graphic installations honor the brand heritage to encourage belonging and engagement.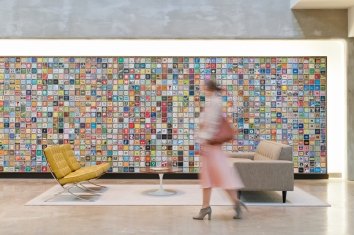 As we consider the evolution of work, these spaces underscore those features central to supporting engaged, productive, and happy teams. From outdoor spaces and natural light and amenities that speak to our work-life balance to attractive, ergonomic spaces and flexible tools and settings, these spaces highlight the lasting importance of human-centric design in sustaining the ways we work, live, collaborate, and celebrate today and in the future.