News & Insights — Insights
Workforce Blurred: The Office as an Amenity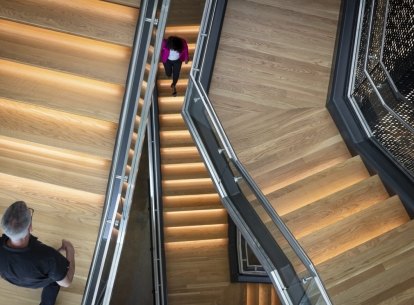 "When we're in person, it's easier to see the larger purpose and feel connected to the purpose of our work," shared a job seeker in the middle of making a career switch. It's just one of the insights Corgan's recent report Workforce Blurred uncovered on what freshly minted graduates and seasoned professionals looking for their next step are looking for from the future of work.

The study combined quantitative data from more than 150 surveys and qualitative data from in-depth interviews with graduates across the nation and those making a career change to understand the emerging workforce's preferences, needs, and expectations. Marked by a historic global pandemic accompanied by an economic downturn with high unemployment, those entering today's workforce have been forced to quickly adapt to changing landscapes while wrestling with career anxieties. It is a ripe opportunity for architects and designers to respond with an empathetic, human-centric design that thoughtfully supports this incoming generation of workers.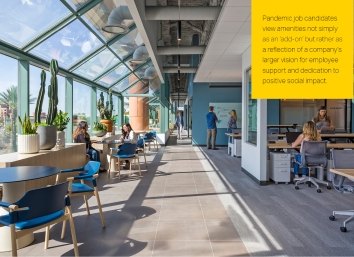 How has a year of remote learning shaped their experience? What are their perspectives and outlook on their career goals? As employees grapple with providing more responsive, personalized, and flexible options for their workforce, Corgan's design methodologies shed light on the perspectives of recent graduates to help companies understand how they can sustainably support employees in a post-pandemic world. While many have focused on where employees work, this research focuses on the people who work there—exploring the modern workforce's pain points, sentiments, and innovations.

Charged with articulating the corporate culture, the office has often been challenged to invite employees, visitors, customers, and prospective candidates into a space that captures the core values, work styles, and the heart and soul of an organization. From dynamic and energetic open spaces to comfortable residentially inspired spaces for focused work, the workplace has been both an opportunity to communicate the brand DNA while supporting the needs of its employees. In its continual evolution to meet changing expectations, lifestyle shifts, and trends, hybrid work offerings have welcomed a new place for the office in our lives and the ways we work—making the shift from a place with amenities to becoming the amenity itself.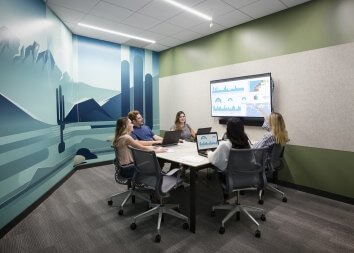 Our study found that an overwhelming majority of respondents want the option of a physical office space, even if mostly working remotely. Where playground perks like ping pong tables reigned before the pandemic, the past year has placed a premium on socialization, effective collaboration and connection, a respite from distractions, real-time feedback, and advancement opportunities. Amenities that promoted comfort and convenience for work topped the list of most in-demand amenities. As we reimagine the future of the office, its primary call will be to facilitate interaction, support focus, and encourage consensus around a common goal. It makes brainstorming and ideation smoother, communication easier, and work more productive, but most importantly, the office gives purpose to work—creating a space for shared meaning and belonging.
When presented with hypothetical job offers with a spectrum of flexibility, participants underscored the need for remote and flexible options coupled with opportunities to connect in person. Whether providing a break from distractions of home, providing structure and routine to the day, or an opportunity to showcase their talents and contributions, the office, for many, continues to be a critical tool for work, personal development, and professional growth.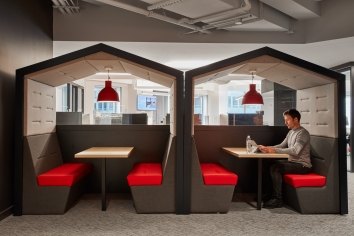 For employers, the office has always been a tool to attract and retain top talent—showcasing a fun, vibrant work culture, a commitment to wellness and sustainability, or integrating cutting-edge technologies that enable quick, agile communication and collaboration. The next generation of talent demands that the workplace aligns with their core values and is the right cultural fit while providing a stage for them to succeed individually and in their work. As pressure mounts to compete for talent and keep pace with the future of work, the office has an opportunity to support the unique preferences and needs of today's employees. From digital and physical ecosystems that create a seamless end-to-end experience for workers and connections to the surrounding neighborhood to personal spaces with complimentary refreshments and outdoor gathering spaces, our definition of the workplace is changing. It's not just where work happens or a place where employees have to be. Rather, it's a tool and an added benefit to a job—a place where even remote workers want to be.
Learn more about the insights and what it means for the office in the full report: Workforce Blurred.
---
Corgan's Workforce Blurred report is part of an ongoing investigation of the future of work. From how to tackle and incorporate new technologies to what lifestyle shifts and demands of a changing workforce mean for the office, Corgan's research explores the most pressing questions facing the workplace. Take a look at our previous report Work. Place. Blurred.—a study on how an increasingly mobile, fluid, and connected world is responding to the challenges and benefits of remote work to learn more about how our insights are shaping the future of work.