Projects
Methodist Midlothian Medical Center Hospital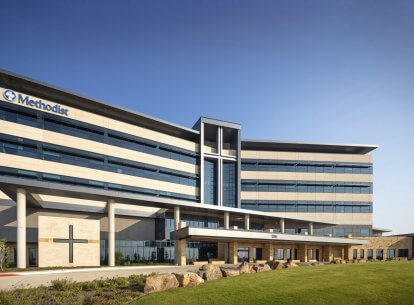 Project Stats
location

Midlothian, Texas

Size

185,000 SF

80-bed hospital

Awards

ENR, Texas & Louisiana, Merit Award

Market

Expertise
Design strategies to support a healing environment today and in the future.
Methodist Midlothian Medical Center is a $91.5M, 80-bed hospital designed to support the needs of a growing community. With the swift population growth of the region, many of the rural towns around Dallas/Fort Worth are trying to keep up with the sprawl. These developing cities are in high demand for any level of healthcare service. The initial project began as a 10-bed micro hospital, located behind a local grocery store chain, but upon further investigation of the region's needs, the program grew to an 80-bed general hospital.
The 30+ acre greenfield site is nestled just north of a major access thoroughfare providing easy access for the users, and just south of the city center encouraging engagement from the community. Moving from a "treatment" to a "wellness" approach, the team's design includes several public, community-driven amenities including education and conference spaces designed for meetings and events, landscaped walking paths, a community garden and outdoor recreation spaces, as well as a destination dining experience.
Master Plan
Future-focused.
To support the hospital's future growth, the design team carefully considered the size of current operational models to plan for an effective, simplified expansion. The master plan includes considerations for a second hospital, new medical office buildings, and additional parking.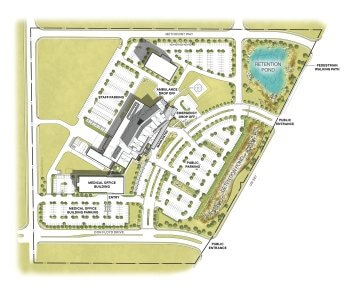 Current master plan.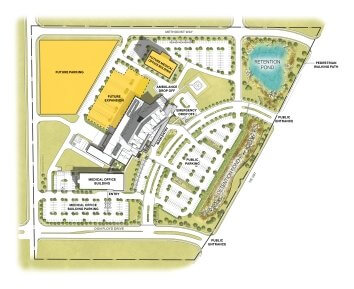 Future expansion master plan.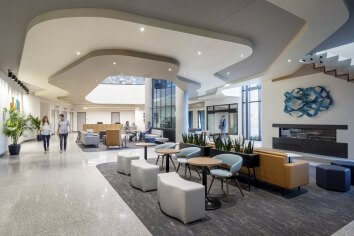 Wayfinding
Reducing decision-making for patients.
Reducing the amount of decisions a person in distress must make limits additional stressors caused by the experience of a new environment. The hospital cradles a single, curving boulevard and uses lighting and massing to simplify wayfinding for users new to the campus. Ease of wayfinding continues throughout the interior of the hospital in both private and public spaces. Upon entering the building, a centralized elevator core within the patient bed tower reduces steps to vertical circulation. The contoured ceiling acts as a wayfinding device, connecting several services, while lighting is used to highlight key spaces, such as the front desk.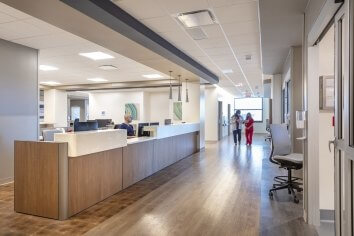 Wellness
Prioritizing care and wellbeing of staff.
Both centralized and decentralized nurse stations minimize steps. Centralized nurse station "pods" include a variety of work areas and private respite rooms offer a place for nurses to decompress without having to travel far from patients.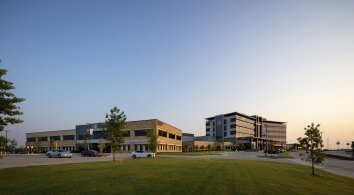 One-stop shop.
The medical center incorporates inpatient and outpatient services on a single campus, with the hospital assuming inpatient and emergency services, while the medical office building hosts an assortment of disciplines and outpatient services.