Projects
Parkland Health Hospital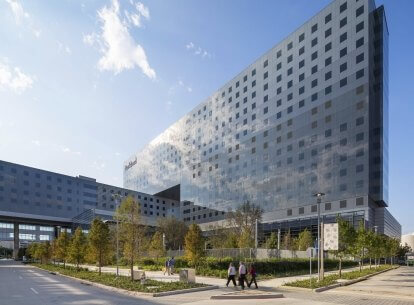 Project Stats
Location

Dallas, Texas

SIZE

1.9M SF

Partners

HDR, Inc.

Awards

American Society for Health Care Engineering (ASHE), Vista Award

Texas Society of Architects (TxA), Design Award

National Award of Excellence, Post-Tensioning Institute 

AIA, Dallas Honor Award, Unbuilt Category 

Building Design + Construction, Building Teams Gold Award

Greater Dallas Planning Council Urban Design Award, Dream Study Award 

Topping Out, M/WBE Community Impact Award

Certification

LEED Silver

Market

Expertise
Designing a civic anchor for Dallas' urban fabric.
From its inception, the design of Parkland Hospital was about connection. Multiple modes of public transit as well as linear parks and a central spine establish a strong developmental framework for the overall master plan.
A partnership between HDR + Corgan, the landmark campus is one of the busiest public hospitals in the nation and serves more than one million patients per year. The design and integration of public spaces as well as non-clinical support spaces, nutritional services, pharmacy, lab, central sterile, and logistics spaces provide a holistic experience for patients and families. Efficiencies in patient unit clinical support spaces, medication rooms, nourishment, and equipment spaces mean that patients get the right care, faster. The development of a program controls manual for the team with outlined policies, performance, and procedural requirements aided in a standardized workflow for the project team, creating space for meaningful innovation, more flexibility in the spaces, and ultimately an elegant, forward-looking hospital.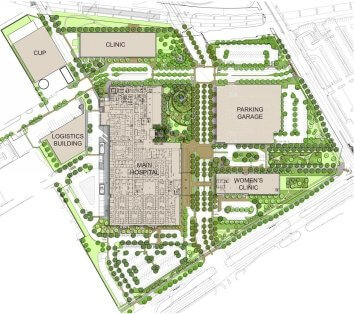 Master Plan
A transit-oriented, multi-building campus.
The master plan for the new Parkland Hospital was rooted in strategically orienting the site and buildings to establish a sense of place, integrate the landscape, and supporting a transit-oriented facility.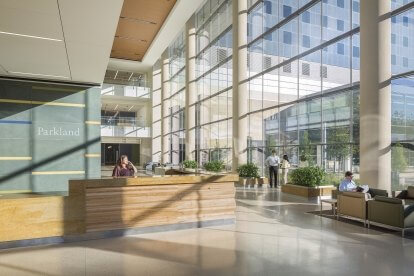 A landmark medical campus that will serve the community for decades into the future.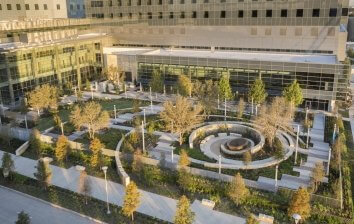 Sustainability
Emulating a nurturing environment focused on well-being of all users
Parkland Hospital achieved LEED Silver certified through features such as daylight harvesting; building orientation to efficiently manage and control solar heat gain; adjacency to the DART Green Line station and bike paths to maximize access to public transportation; rain water collection system; and using recycled, local building materials.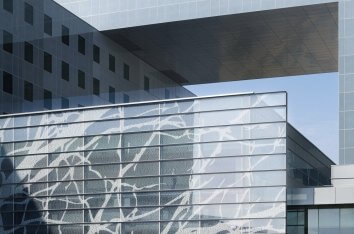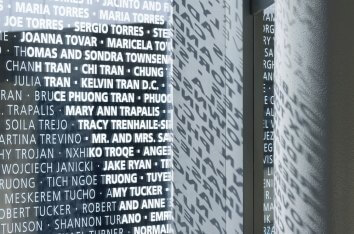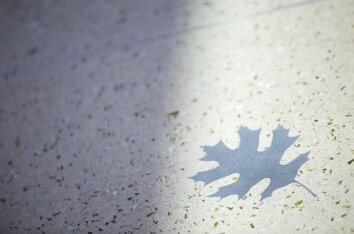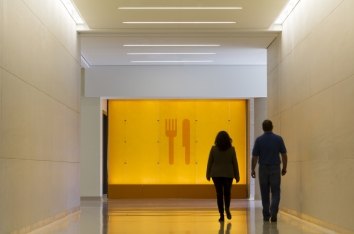 Branding
Symbols that connect us all
Planned to reflect the history of the site — formerly a park, then a hospital sited on a large lawn filled with trees — the building marked its place as a green setting through the landscape and an expansive graphic on the curtain wall. Parkland's green history and their mission to serve its community is expressed architecturally through this graphic, which is representative of the local foliage. The large branches stretch along a section of the building, and are comprised of the names of the taxpayers of Dallas County. Smaller nods to greenery are dotted along the walkways of the hospital. Large, intuitive graphics and wayfinding help guide visitors, and reduce the anxiety many feel in a healthcare setting.