Projects
HCA Healthcare Behavioral Health Prototype and Hospitals
Project Stats
location

Fort Worth, Texas
Austin, Texas

size

Fort Worth: 65,600 SF
Austin: 68,000 SF

Market

Expertise
Destigmatizing care through a resort‑style facility.
Corgan was brought on to design the prototype for HCA Healthcare in collaboration with our long‑time construction partner, Whiting‑Turner. 
Stale, clinical design has been the norm for behavioral health facilities across the nation. When tackling the design of a new national behavioral health hospital prototype for HCA, Corgan's aim was to remove the perceived stigma around behavioral health care and the buildings the care is delivered in.
The resulting design meshes cost‑friendly building materials with welcoming colors, graphics, and textures. Actively distancing the facility from the bare-bones, institutional feel many healthcare facilities present, the hospital promotes flexibility for patients through provided activities and the environment. Integrating into the community is key both as an education and a care asset, as HCA offers outpatient care in addition to inpatient. The importance of wayfinding and signage is emphasized throughout the facility. 
Architectural forms defining function and reducing stress by establishing expectation.
Simplifying forms and highlighting entries with hierarchy define the functions within even before entering the facility. As an example, flat roofs mark areas of activity, evenly sloped roofs denote rest and relaxation, while an asymmetrical slope symbolizes places of gathering.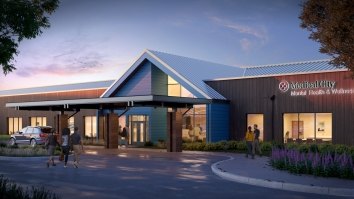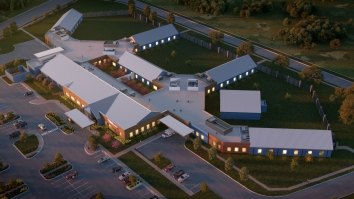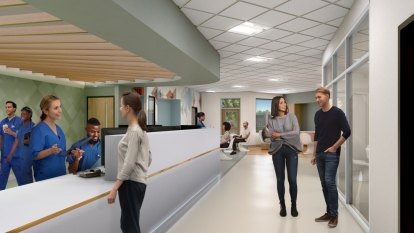 wayfinding
Promoting care and independence through intuitively designed wayfinding.
Patients are empowered through clear direction and pod‑like layouts, offering a sense of independence and assurance as they journey from space to space. Graphics, colorful forms, and textures help guide patients through the environment.