Projects
Gaston Medical Office Building and Ambulatory Surgery Center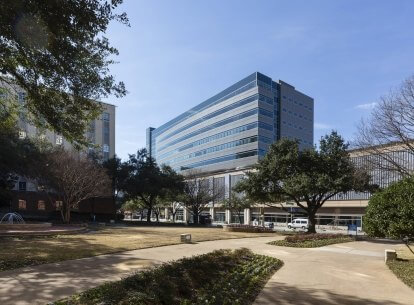 Project Stats
location

Dallas, Texas

size

750,000 SF

Market

Expertise
A flexible, modern, multi-tenant medical office building.
Corgan designed a new medical office building located on the Baylor Scott and White Downtown Campus. Taking advantage of the vertical space on a tight, urban site, the 12-story building consists of 200,000‑square‑feet of medical office atop six levels of above-grade parking. Built in a U-shape around the Baylor Medical Center's power plant, which serves the Baylor Scott & White hospital across the street. The Gaston facility also features a series of tunnels that connects it to the adjacent hospital. As the project developed, our team amended the design and the Plan Development (PD) multiple times to create an efficient, spacious final design that met both the client's and the city's specifications for large office buildings in the urban core. The building design organized a busy urban space through a series of organizing tactics. The design featured two building entries, a valet drop off and multiple one-way and two-way entries. 
Along with the designing the shell, Corgan managed the space planning and interior architecture for the 20 building tenants to determine optimal adjacencies. The ground floor engages the community with retail options and opens up to the street level for an urban, pedestrian-friendly design.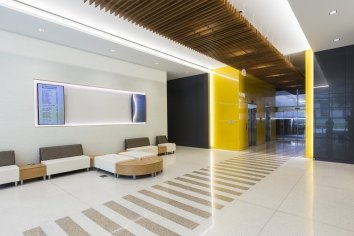 First impressions.
Whether entering from the street or garage, the design team carefully planned for the medical office building to engage pedestrians and visitors, whether approaching from the pedestrian level or garage. The bottom floor features a coffee shop, sandwich shop, and banking that opened up to the street level for a pedestrian-friendly design. Built over the retail level, the parking garage entry uses color, floor graphics, and ceiling baffles to guide visitors to the medical office.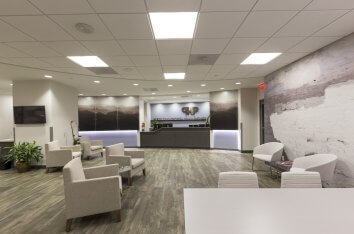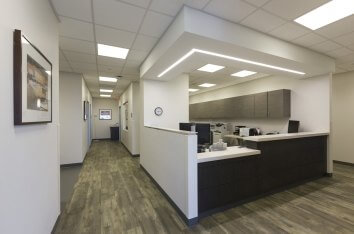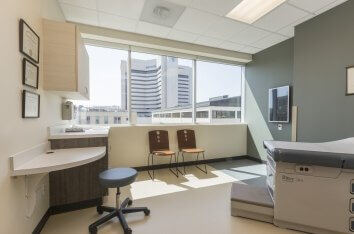 Maintaining a flexible design to accommodate new tenants.
In addition to site and neighborhood considerations, Corgan determined organized the building's constantly shifting 20 tenant layout throughout the design and construction phases. As new tenants joined, the team devised a flexible floor design that best served all the tenants' needs. The tenants include radiology, laboratory, concierge medical suite, a drive-through pharmacy, various clinics, and physician offices.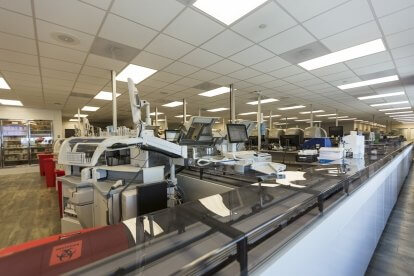 Let there be light
Strategically moving a typically isolated, dark lab to access natural light.
Unlike many lab spaces, this lab is located on the 6th floor of the medical office building and placed on the external facing part of the building for access to natural light. 
The 10,000-square-foot automated laboratory includes blood draw and supporting office space and serve not only the tenants within the building but as a regional reference lab for medical providers on campus.