Projects
Catalyst Health Rx Pharmacy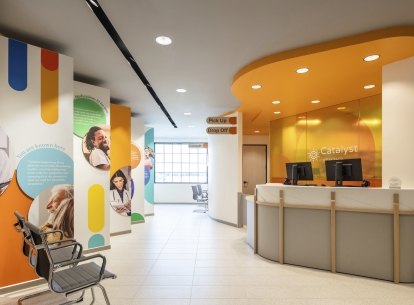 Project Stats
Location

Frisco, Texas

Size

3,600 SF

Market

Expertise
A commitment to patients demonstrated through branding.
Situated in a growing region, Harrod Healthcare's medical office building (MOB) was established upon a central theme of providing users in the community a one-stop-shop — from check-ups to specialty services. Catalyst Health Rx quickly established their retail pharmacy within the MOB as a welcoming, simple, and rich pharmacy experience that complemented the services of other tenants. Whether stopping by to pick up a prescription or having something prescribed while visiting another physician or specialist in the MOB, Catalyst Health Rx's space offers patients a seamless experience through an easily navigable space.
To supplement the signage and wayfinding and convey their mission, Corgan's branded environments team guided Catalyst Health Rx through an intensive branding process. Key to their mission is their dedication to their patients, and woven throughout the pharmacy through color, graphic design, and testimonials are their stories. By highlighting this commitment to their patients, new and existing customers can feel reassured that their health and experience is in good hands.