Projects
Waxahachie Mixed-use Development Master Plan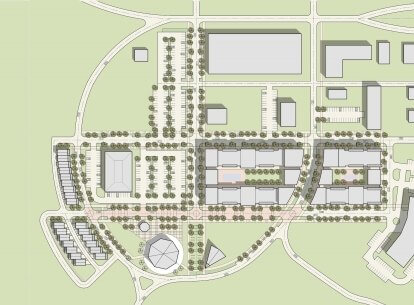 Project Stats
Location

Waxahachie, Texas

Size

33 acres

Market

Expertise
Bringing activity and density to the Getzendaner Park neighborhood of Waxahachie, Texas.
Sited southwest of the city's historic downtown, the existing area was dotted with single family homes, vacant sites, and parking lots. An injection of energy is created through a careful integration of boutique office, entertainment venues, townhomes, multifamily, and retail additions.
Historically cherished, the Chautauqua Auditorium is an on-site performance hall that was built in 1902. Corgan's master plan calls for a complete hall renovation and integration into the park landscape. A re-imagined community park and surrounding development  draws the community together to celebrate the renewal of a once again thriving neighborhood.