Projects
BNA Vision: Terminal & Landside Area Planning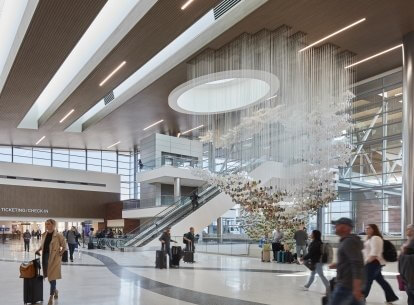 Project Stats
Location

Nashville, Tennessee

Size

4,250,000 SF

Awards

AIA Middle Tennessee, Merit Award

Design-Build Institute of America, Merit Award 

Southeast Chapter of the American Association of Airport Executives, Commercial Airport Architectural Project of the Year Award

Certifications

LEED Silver 

Market

Expertise
Gateway to the Country Music Capital of the World
One of the Top 10 fastest-growing metropolitan cities in the U.S. with record tourism, Nashville called for an extensive airport expansion to keep pace with the city's population growth and popularity. To meet increasing demands for domestic and international flights, The Metropolitan Nashville Airport Authority enlisted Corgan as the principal architect to orchestrate the BNA® Vision. Welcoming visitors to the Country Music Capital, the fitting design draws inspiration from the rhythm and creativity of Music City and embodies the vibrant energy of its communities and people.
The multi-pronged renovation and phased construction maintained full operations of the terminal and included a terminal lobby with a lower-level International Arrival Facility (IAF), additional gates and parking garages, an expanded concourse, concessions and retailers, and a luxury hotel.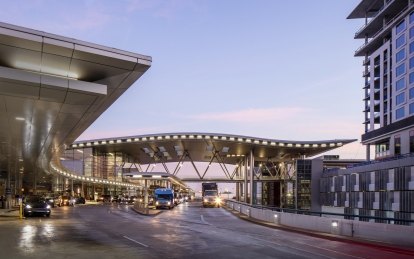 Welcome to BNA
Nashville's Front Door
An airwave roof canopy over an escalated pedestrian walkway leads to a dramatic 'front door'─ a fifty-foot glass box opening to an airy, spacious lobby. Light floods into the space through an oculus and clerestory highlighting a suspended sculpture by Hashimoto and providing direct sightlines to the airfield.
Sights & Sightlines
Wayfinding
To ease the passenger experience, the design prioritizes transparency and connectivity. With increased capacity for passenger flow, a comprehensive and strategic wayfinding package, expanded security lanes, and upgraded IAF, travelers maintain line of sight to key destinations in their journey and popular amenities. Removing common friction points in favor of open spaces, natural light, double-volume spaces, and glass walls, BNA offers passengers a more comfortable and seamless experience.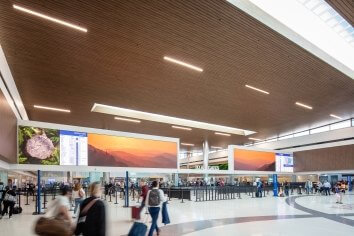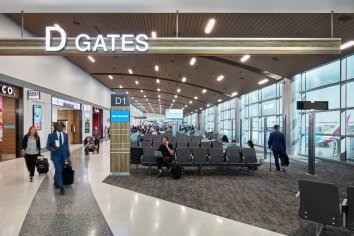 Gather 'Round
Indoors & Outdoors
As a cultural destination, the design pays tribute to the iconic culture and history of Nashville. Honoring Tennessee's natural parks and forests, an outdoor plaza activated with tree-lined pathways greets passengers and adds a sense of warmth and nature inside the terminal. The gathering hub or "Marketplace" features branch-inspired wood ceilings over a mix of restaurants and bars—with a vision to meet up with friends and colleagues before a flight or take in the aromas and flavors of the city.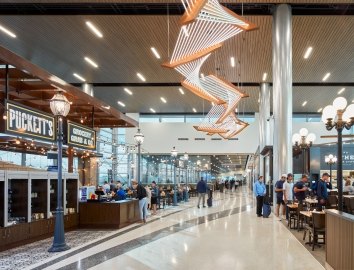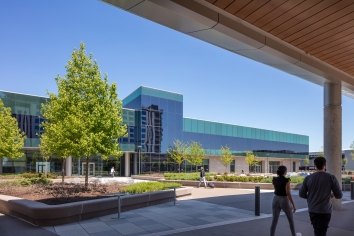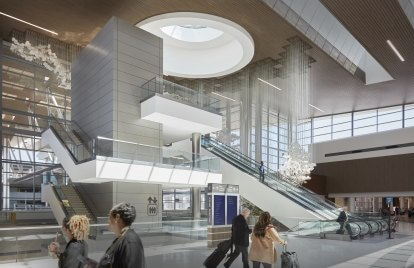 Music City Influences
The Oculus
Finding influences in the city's reputation as a music destination, guitar-inspired baffle ceilings fretted with repetitive skylights punctuated by a sound hole oculus infuses the space with natural light while curved wood-toned ceiling structures create intimate spaces throughout the terminal, and an ivory and ebony pallet provides a sense of texture and continues the musical theme. In step with the rhythm and sounds of Nashville, five performance stages with rocking chairs and café style seating treat music aficionados to live entertainment around the clock.
Passenger Experience Reimagined
An experience in itself, the terminal not only reimagines how we travel—but what it feels like, offering the modern traveler an experience marked by culture, connectivity, and comfort.