Projects
Northwest Village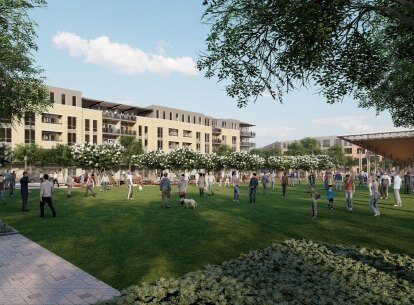 Project Stats
Market

Expertise
A Modern Interpretation of Historic Fort Worth
Woodfield Real Estate's master plan in northwest Fort Worth included a robust mixed-use development offering office space, restaurants, and retail as well as a large entertainment venue. However, to bring their vision for the urban community to fruition, the developer needed a conceptual design for a mid-rise apartment complex to meet the preferences and needs of the modern lifestyle, attracting families and professionals to the community.
The developer enlisted Corgan to design Northwest Village comprising three wrap-around apartment buildings totaling 485 units and a cast-in-place concrete parking structure with a connecting sky bridge. The design includes an adjoining park and streetscape within walking distance to area shops and restaurants as well as strategically placed amenities -- large central courtyards, rooftop terraces, co-working meeting rooms, fitness centers, and simulated golf areas for residential use.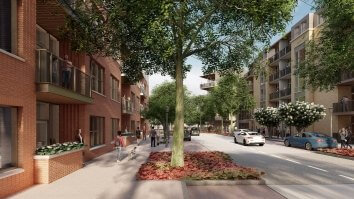 Activated Living
While contextually honoring the region's vernacular heritage, the village serves as a modern interpretation of historic Fort Worth. Articulated wood-framed brick buildings punctuated with large operable windows provide natural daylight deep into each residential unit. Spacious balconies overlook choice views of either the community park, interior courtyard, or streetscape below.
The activated pedestrian-oriented streetscape provides a two-lane road with parallel parking alongside a gracious tree-lined sidewalk interspersed with residential patios and seasonal planting for residents to connect with the neighborhood.
Promoting Communal Connection
Outdoor spaces within the central courtyards feature swimming pools, fireplaces, arbors, seating areas, and trees, providing an attractive gathering destination to socialize and entertain. The park is activated with shade trees and green space to walk dogs and connect with people and nature.
Northwest Village honors the area's heritage in a fresh way, contributing vital components for residents, and offering a modern lifestyle experience with modern conveniences in an attractive and thriving urban community.