Projects
McKinney East Mixed-use Development Master Plan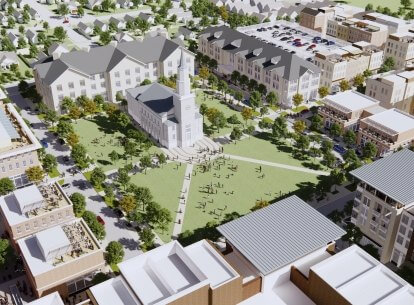 Project Stats
Location

McKinney, Texas

Size

32 acres

Market

Expertise
Revitalizing an underused development into a thriving city hub.
Situated in a bustling North Texas city, the vibrant 32-acre mixed-use McKinney East development establishes a new destination center by connecting the thriving historic downtown area to a previously disenfranchised section of the community.
The core development establishes a walkable, bikeable, livable community uniting two existing natural neighborhood parks with a new interior community park located deep within the development. An iconic chapel, restaurants, multi-family residences, offices, hotel, retail, and conference center buildings activate the park, providing a vibrant place for social community gathering and strong connections to the community.
An additional 28 acres flanking the site are reserved for future development and parks.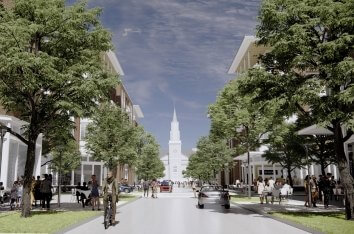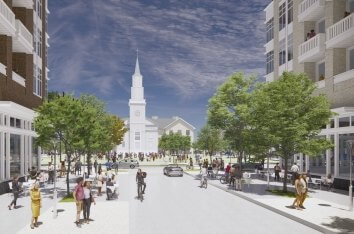 Pedestrian Friendly Development
Architecture character, detail, proportions, and materials evoke historic city charm while establishing a compelling village complete with activated tree lined sidewalks and inviting storefronts. Public outdoor spaces are sculpted to encourage photographic moments.
Streets are defined to minimize vehicular impact to the pedestrian experience providing inviting places for gathering, living, and recreation.