Projects
Toyota North America Headquarters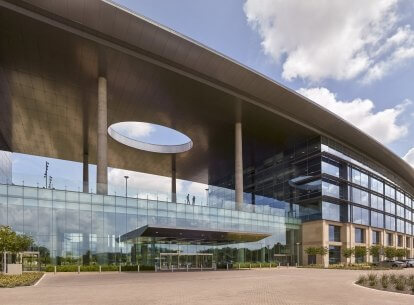 Project Stats
Location

Plano, Texas

Size

2.1 million SF

Awards

Urban Land Institute, North Texas Chapter, Excellence in Execution and Sustainable Design Impact Award

ENR Texas and Louisiana, Best Office/Retail/Mixed-Use Development Project Merit Award

TEXO, Distinguished Building Award

CoreNet North Texas, Black White & Blue Workplace Strategy, New Construction Award 

Illuminating Engineering Society Dallas Chapter, Environmental Lighting Design Illumination Award

Project Management Institute, Dallas Chapter, Project of the Year

DCEO, Community Impact Deal of the Year Award

United Masonry Contractors Association, Golden Trowel Award

Certifications

LEED Platinum

Market

Expertise
A central theme of connectedness permeates the campus.
The primary concept behind this campus design emerged from a vision of workspaces arranged around a central courtyard, naturally sculpted from the contours of a creek bed. Honoring the natural landscape and site features, the campus celebrates the special placemaking qualities of the original ecology. Internally, the seven-building campus incorporates a network of connecting paths, interstitial courtyards, green roofs, and shaded loggias that intersect at public spaces, fostering a connected, pedestrian-friendly environment.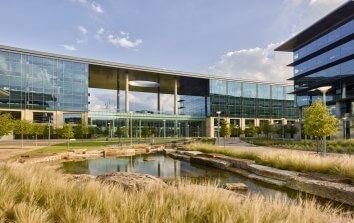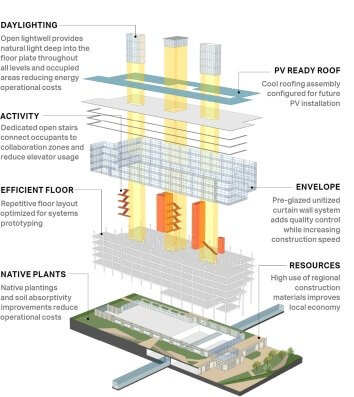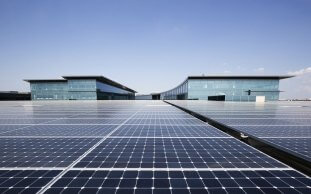 Sustainability
Generating enough on-site electricity to power 1/3 of the campus.
The LEED Platinum campus incorporates an 8.8 megawatt photovoltaic canopy, including over 20,000 individual solar panels, which stands as the largest corporate installation in the State of Texas. And through the combination of a 400,000-gallon rainwater collection system, fixture efficiency, and drought tolerant native plantings, the campus conserves approximately 20 million gallons of water each year.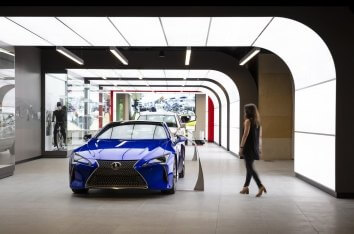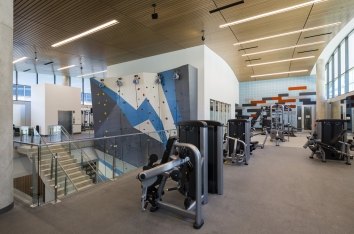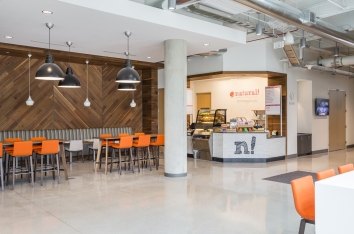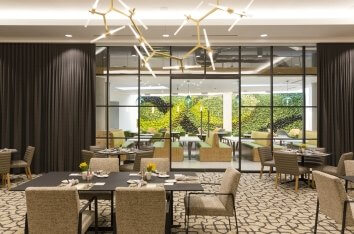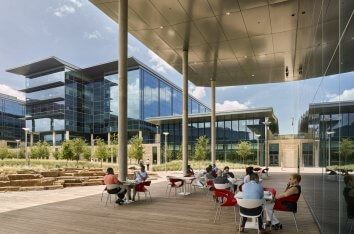 Amenities
All the things employees could want and need.
The amenity-rich campus features an 850-person dining commons, 22,000-square-foot fitness center, 36,000-square-foot multi-purpose center, 500-person  gathering space, experience center, healthcare clinic, pharmacy, and parking structures to house 10,000 cars. The major amenities are supported by additional dining, juice bar, knowledge center, and retail. 
Connectedness
Further building on the idea of "connectedness," employees are intuitively drawn together indoors.
At the heart of each building is a central interconnecting stair within a generous light well, with break areas and informal meeting areas arranged nearby the encourage team collaboration. Each floor features various types of group-focused spaces, all outfitted with technology, and a 'hackable' collaborative area is located on every level, where teams can arrange various furnishings to support their style of work.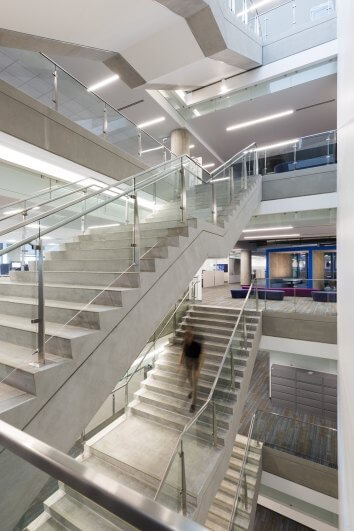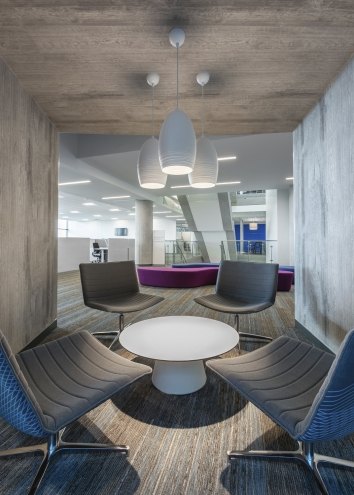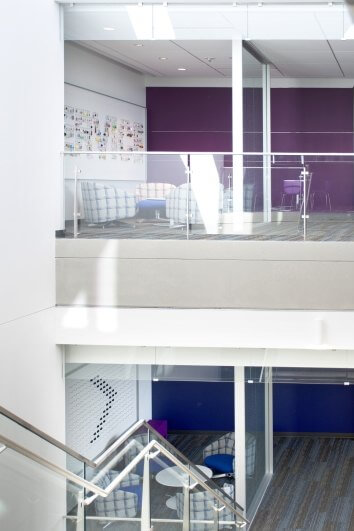 Furniture Strategy
Using a kit-of-parts for maximum flexibility.
Being focused on continuous improvement, which includes being able to flex and change as their business evolves, Corgan created a typology of work styles specific to Toyota. We developed a 13-piece, reconfigurable kit-of-parts which could be customized for eight different work styles. 
Toyota opted to narrow down the offering to four types: 
1 — Universal, for most team members.
2 — Storage, best for work groups requiring paper, like HR or legal.
3 — Collaborative, ideal for groups that need access to adjacent team members, like sales.
4 — Object, for groups that have objects or parts, such as engineers.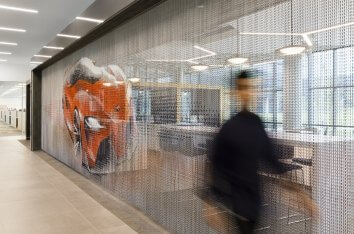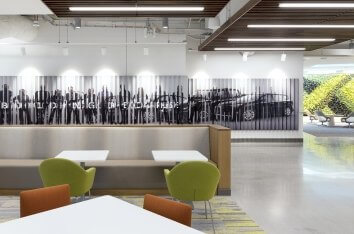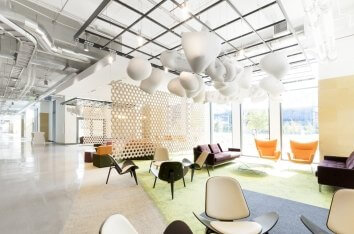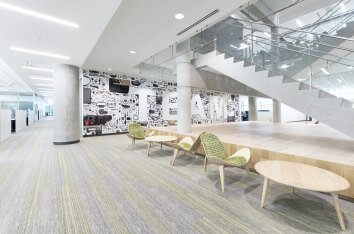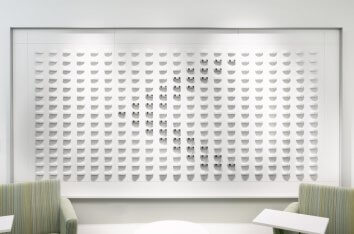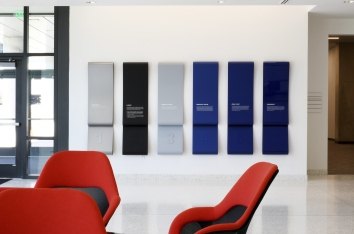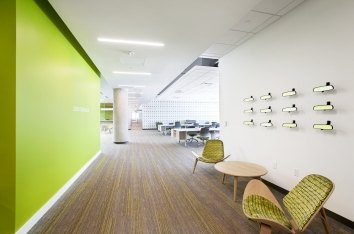 Branding
Infusing Toyota's employee-focused culture and future-forward vision through environmental branding.
Toyota was going through a corporate reorganization while simultaneously building this new headquarters campus. The company knew there was strength in bringing employees from across the country together under one roof. The vision: One Toyota — one location, one culture, one brand. Corgan partnered with Brand Hatchery to integrate elements to drive this vision, to energize employees, to create loyalty, pride, and to promote innovation through connectedness.