Projects
SK Battery America Office Renovation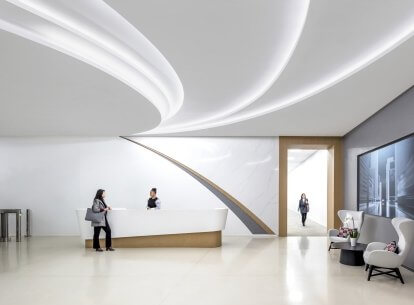 Project Stats
Location

Commerce, Georgia

Size

100,000 SF

Market

Expertise
New office space takes flight with innovative concepts inspired by Korean nature. 
SK Innovation has been leading Korea's energy manufacturing industry for over 50 years. When SK Battery went through a corporate rebranding, leaders wanted their office space to reflect the new branding and emphasize their core values. The firm engaged Corgan as a partner to help them achieve their vision by focusing on a workplace design that encourages flexibility and connection, stimulates creativity, and fosters innovative thinking, health, and happiness.
Variety of Spaces
Learn & Collaborate
The space includes a multi-tiered auditorium with advanced media technology for presentations and a collaborative lounge area with long tables for meetings and project-based work. A quieter space with sit-to-stand workstations offers privacy for heads-down work. The tearoom, a nod to their cultural roots, was created out of the client's need for a comfortable and flexible space to encourage connection during break times and lunch.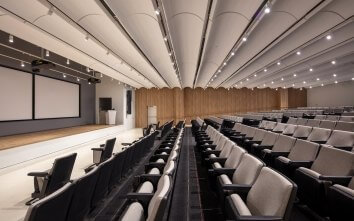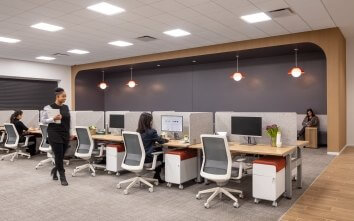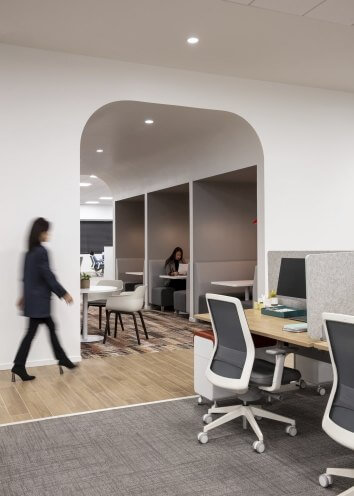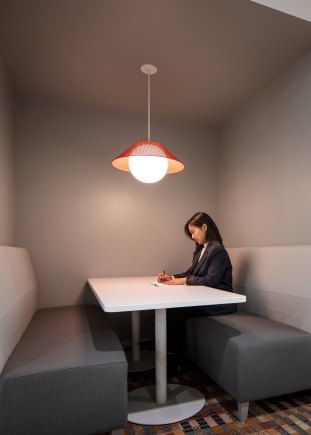 Sharing SK Battery's Story
Branding the Space
The design infuses creativity and functionality in the open space to encourage circulation and collaboration. Corgan drew inspiration from both the client's butterfly logo as well as their value of nature, with flowing lines, earth tones, pops of red against white monochromatic backgrounds, and biophilic elements. Branding and environmental graphics further customize the space with interactive elements and storytelling to support and refresh the brand's identity.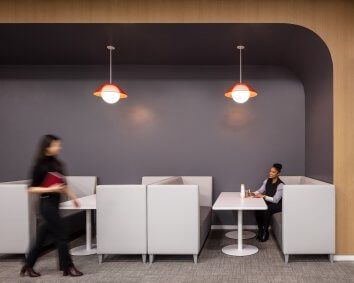 SK Battery's Vision
Corgan worked closely with the firm's leaders as a fully integrated team to plan and execute the vision that embodies Korean culture while providing a workplace that increases innovation, promotes collaboration, and celebrates happiness and health.