Projects
SK Battery America Office Renovation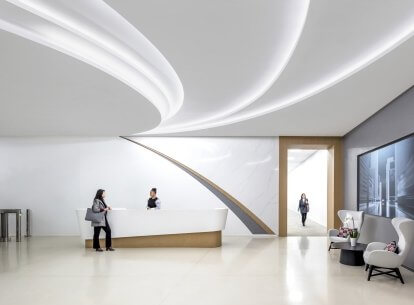 Project Stats
Location

Commerce, Georgia

Size

100,000 SF

Market

Expertise
New office space takes flight with innovative concepts inspired by Korean nature. 
SK innovation has been leading Korea's energy industry for more than 50 years. When SK went through a corporate rebranding and needed an office space that reflected its new values, it engaged Corgan as a partner to help achieve its vision. SK's core values focus on a workplace that fosters flexibility, stimulates creativity, innovative thinking, and happiness in the workplace. Corgan used the butterfly logo as an anchor for the design, reflecting on Korean nature with patterns and pops of color and native Korean plants as inspiration. 
SK wanted spaces that infused creativity, so an open concept office space became the basis of the design with a floor plan encouraging circulation and collaboration. The tea room was created out of the client's need for a flexible space where people can casually interact and have a place of comfort for work and dining. Use of branding and environmental graphics further customized the space with interactive elements and storytelling of the brand's identity.