Projects
Project Bobcat Mixed-use Development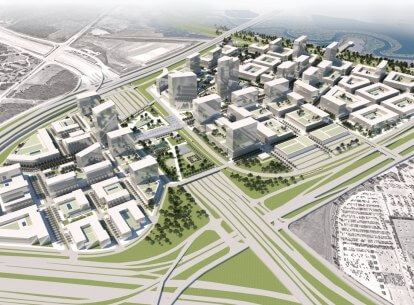 Project Stats
Location

Dallas, Texas

Size

9.5 million SF — Office

10 million SF — Residential

800,000 SF — Hotel

200,000 SF — Retail

Market

Expertise
An underutilized urban area redeveloped into a vibrant community. 
Envisioned as an integrated live, work, play environment anchored by a major corporate user, Corgan was engaged by multiple developers and city officials to design a vibrant neighborhood sited on the grounds of a neglected industrial zone north of downtown.
Capitalizing on pre-existing site conditions, a river was constructed using the remnants of an existing drainage canal, becoming an activated element of the development. Restaurant and entertainment zones emerge along the riverfront, and a community draws residents and visitors together while also serving as a remedy to the chasm produced by the adjacent sunken highway. 
The total program encompassed 9.5 million square feet of office space, 10,000 multifamily units, three hotels, and abundant restaurant, retail, and entertainment opportunities to create a highly desirable community in a historically undesirable area.