Projects
Professional Services Firm Office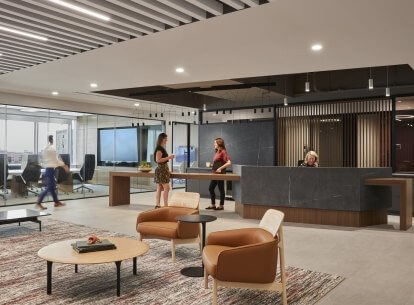 Project Stats
Location

Tempe, Arizona

Size

66,000 SF

Market

Expertise
An entirely flexible (and fun) workplace.
Located in the heart of the Mill Avenue District, this office features panoramic views and celebrates the local flavor of the desert. Predominantly focused on centralizing the firm's executive administrative roles, the office needed to support hybrid work to collaborate seamlessly. As a completely unassigned environment, this firm was adamant about eliminating single-use spaces. Therefore, flex-offices double down as small meeting rooms, the breakroom is fully tech-enabled, all-hands meeting space and numerous meeting rooms feature various seating options within a single-space — easily adapting to each unique meeting style.
The client and design team embraced the spirit of challenging the status quo — experimenting with new solutions, especially when it comes to hybrid work. The office serves as a testing ground for new ideas and technologies. Tech-enabled spaces is key to success in a hybrid work environment and is seen throughout, including a full-service IT help desk, inclusive of a tech vending machine. People are drawn to this consulting firm for their thriving culture, where they build life-long connections.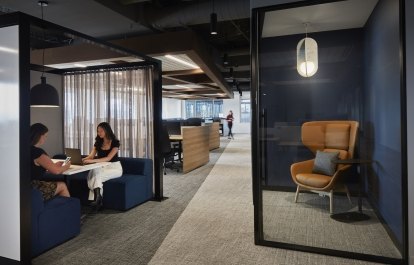 Color Palette
Embracing the Rich Tones of the Desert
The design features a sophisticated desert palette, embracing the rich tones of the desert, including cactus apple plum and agave blue tones.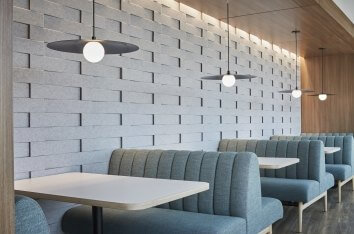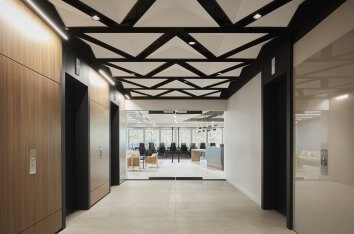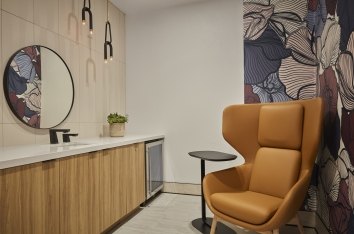 The palette is rooted in rich neutrals keeping a tailored appearance.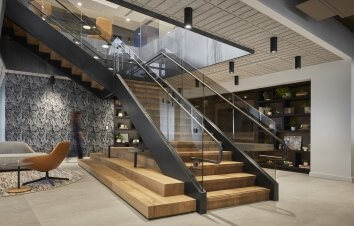 A Refined Appearance
Neutrals come through materials such as raw steel, caramel leather and soft woodgrains. Refined comfort defined the furnishings working in softer edges, mixed materiality, and various seating postures.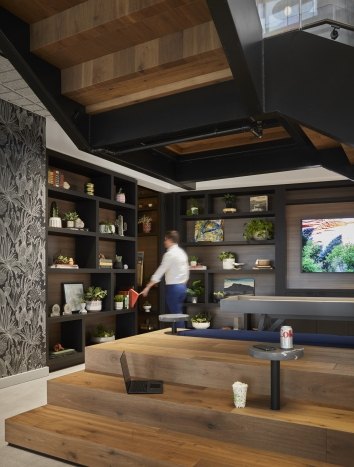 A Cohesive Work Environment
Greenery is intentionally planned within the architecture further enhancing the tailored palette while adding visual softness.
Curated art and accessory selections add the final touch for a warm, hospitable environment. 
A speakeasy at work?
Hint: Pull the red book!
Hidden just beneath the monumental stair, accessed through a secret bookcase door is a moody lounge space for employees to get away and unwind over cocktails.