Projects
LAX West Gates at Tom Bradley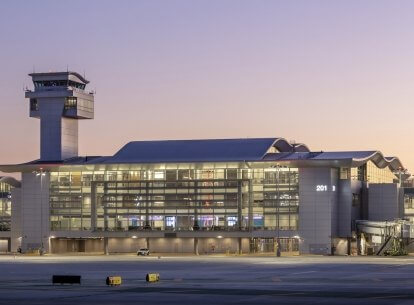 Project Stats
Location

Los Angeles, California

Size

880,000 SF

Awards

Design-Build Institute of America, Merit Award 

Los Angeles Business Council, Civic Award

Partner

Gensler
Associate Architect

Certifications

LEED Gold

CALGreen Tier 1 

Market

Expertise
Enhancing the Gateway to the City of Angels.
This new 15-gate concourse was the largest design-build contract in the State of California at the time of award and the first ground-up construction project at LAX since the 1980s.
The overall $1.4 billion project increases operational capabilities and efficiency at one of the world's busiest airports. The design of the new 5-level, 1,700' long facility carefully balances a "mid-century jet age" modern simplicity with the dynamic oceanic "breaking wave" roof theme of TBIT, the complementary Tom Brady International Terminal, to which it connects via tunnels beneath two active taxiways.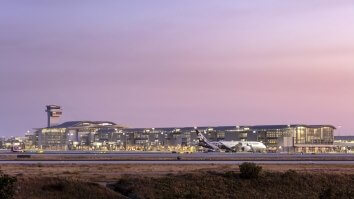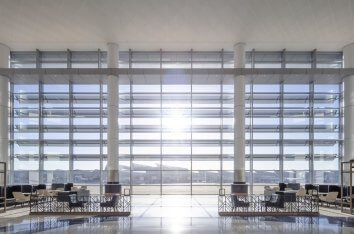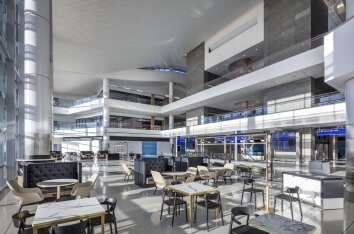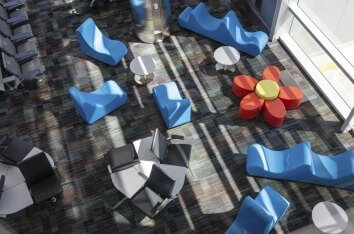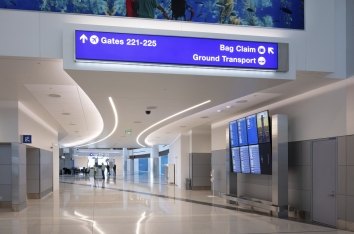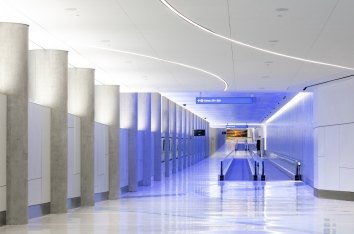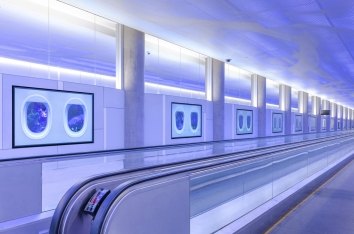 Elevating the passenger experience
The design caters to all ages, abilities, and group sizes.
The main entry to the concourse features a large multi-level atrium filled with daylight that becomes a hub of activity. Arriving passengers can clearly see TBIT in the distance through a 3-story glass façade. This arrival space is an active ecosystem of quick-serve, luxury sit-down, family and bar dining options.
The concourse provides a myriad of seating, children's play areas, and integrated tech, such as interactive displays and real-time flight info.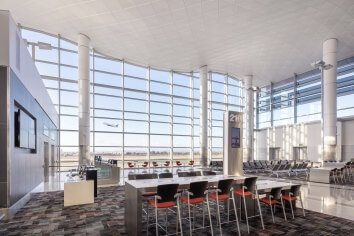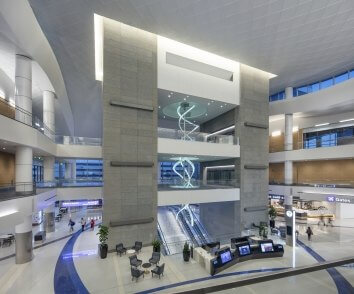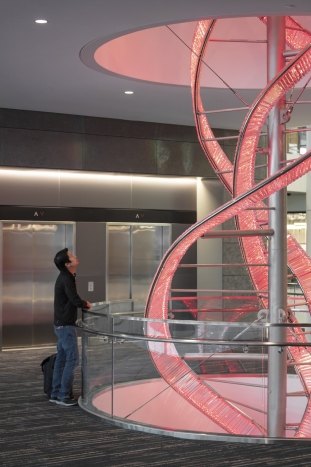 Art Integration
Preciosa's Crystal Swell
The design features a dynamic and dramatically lit art installation that spans three levels.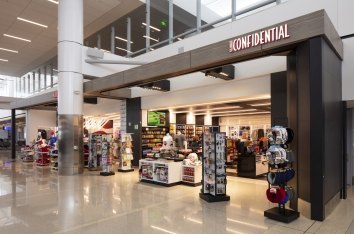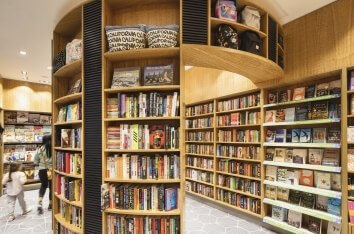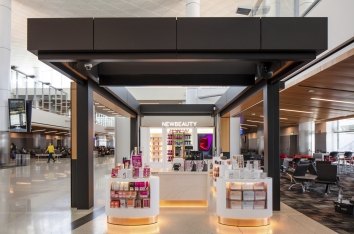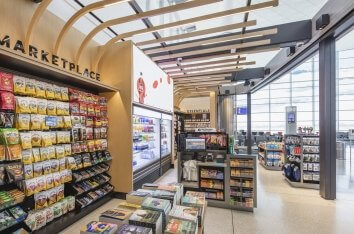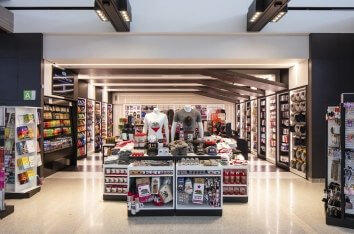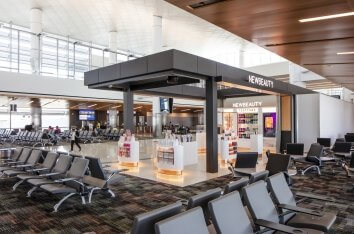 Concessions
A wide selection of retail and food and beverage options.
A robust concessions program features over 40,000 square feet of retail, restaurant, and grab-and-go food offerings.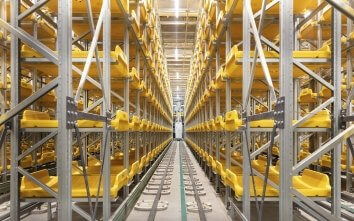 LAWA decided to incorporate an individual carrier system for the baggage handling system after the design had begun. The team assisted in finalizing the facility requirements to accommodate the system. To further resolve limitations of the original international terminal, a new, underground transition facility was included to accommodate the BHS exchange as well as the development of a standalone baggage sortation facility to allow expansion of the CBIS in the Tom Brady International Terminal.
 
Planning
LAWA asked Corgan to evaluate and determine if we could provide narrow-body parking for domestic operations on a terminal that was originally intended for international flights only. This impacted the location of the passenger boarding bridges, where boarding doors would be located inside the building, and how to provide the same level of IATA standards to accommodate these new aircraft operations. Additional scopes of work included meeting MARS requirements in our planning efforts and conducting planning for GSE staging, storage, and charging of GSE Equpment.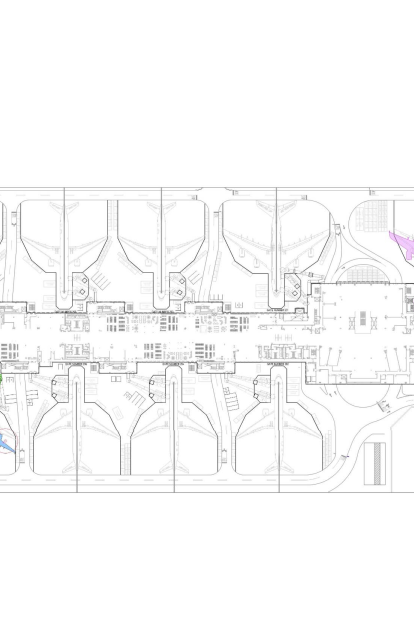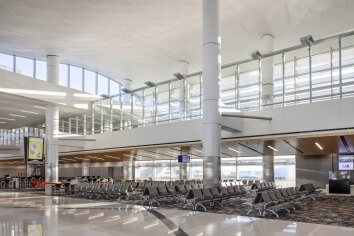 Three gates were designed to accommodate a MARS configuration, allowing two Group III aircraft in lieu of a single Group V aircraft. The design scope also included dual boarding bridges at each gate along with hydrant fueling to support a range of aircraft types, GSE, and building access layouts, as well as aircraft parking ramps and new taxiway pavement.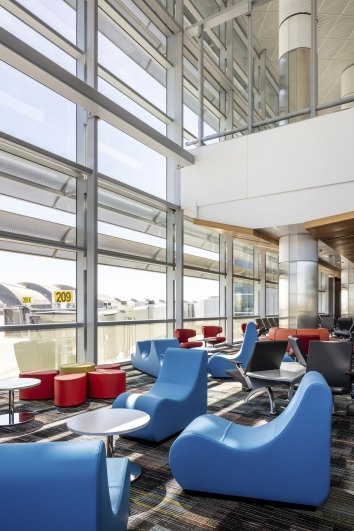 Sustainability
The CALGreen and USGBC's LEED Rating System guided design and construction strategies leading to highly sustainable results and certfications for CalGreen Tier 1 and LEED Gold.
— HVAC and lighting systems use 29% less energy than comparable buildings.
— Plumbing uses 41% less water than similar projects.
— Over 75% of construction waste was diverted from landfills.
— More than 20% of materials are from recycled content.
— Installed 66 charging stations for airport and airline equipment.