Projects
Kubota North American Headquarters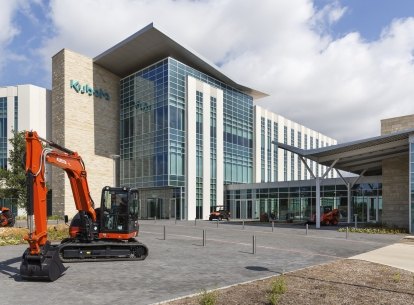 Project Stats
Location

Grapevine, Texas

Size

199,000 SF — Total

136,000 SF — Office

60,000 SF — R&D facility

103,000 SF/300+ cars — Parking Garage

Certifications

LEED Gold

Market

Expertise
Pushing the boundaries of tilt-wall design.
Kubota merged several existing office locations into a central North American headquarters to house 550 employees. Their existing spaces were private-office heavy, dated and generic. The goal of this project was to create a centralized location that reflected Kubota's brand, promoted internal interaction, and that built company pride among employees.
The project includes a tractor storage/maintenance area and research facility. Accessible by a connector, this facility serves as a testing ground and training center, with a large training unit that overlooks the center of the work bays.
The overall campus works together with a focus on blending with nature through a variety of sustainable initiatives. A key feature is the water collection system that captures rainwater and is used for irrigating on-site vegetation. Paying tribute to the Japanese culture, natural light floods the space, and a zen garden is located between the R&D facility and office space, serving as a place of respite.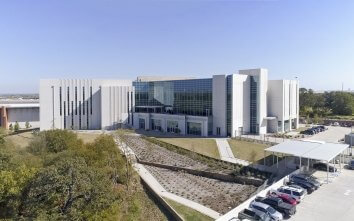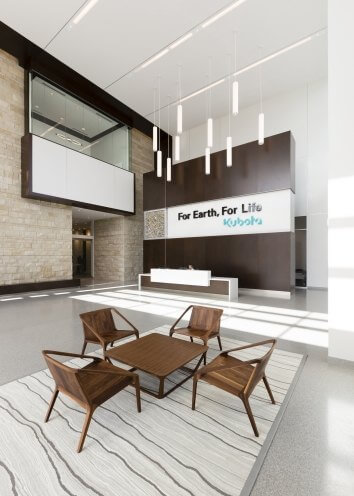 Sustainability
"For Earth, For Life"
Upon entry, guests are greeted with Kubota's message "For Earth, For Life." This drove many decisions, including becoming LEED Gold certified.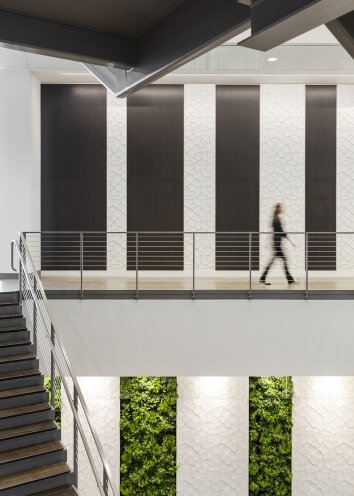 Corgan translated that message into the design throughout the space, bringing the outdoors in through elements like the living wall. The wall serves as a reminder of the company's message and as a tool for wayfinding, transitioning floor to floor, from live plants to various levels of earth. 
Connection
Design that encourages physical and visual connection.
With a desire to focus on collaboration, dedicated spaces for interaction include a gym, café and coffee areas, and multiple gathering spaces. The large café serves a variety of purposes outside of the lunch hour, providing an area for meetings, individual work, and all-hands gatherings.