Projects
Keurig Dr Pepper Headquarters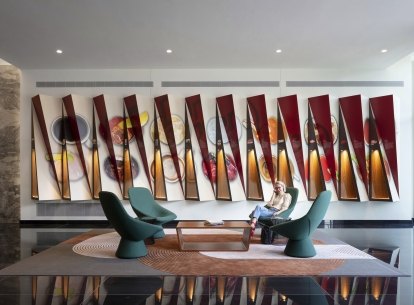 Project Stats
Location

Frisco, Texas

Size

350,000 SF

Awards

Interior Design Best of Year Award Honoree

Certifications

LEED CI Gold

Market

Expertise
A highly branded workspace centered around the employee experience.
Featuring the vast array of Keurig Dr Pepper products, the design of KDP's new headquarters honors the history of the diversified company and shines light on its authentic, innovative spirit. The design concept centered on the idea of "Balanced Recharge," creating a place for more than 1,100 employees to feel energized to put forth their best work, where they are encouraged to mingle, socialize, and collaborate with fellow coworkers.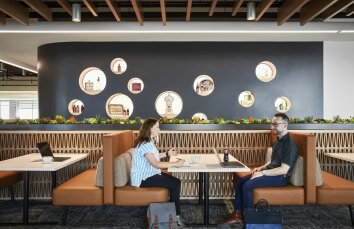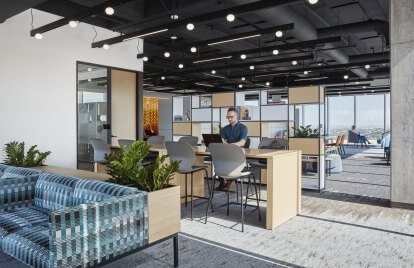 End zone work lounge areas are located at the ends of each floor — these collaborative work zones are designed with multi-functional furniture options to promote solitary, small group, and team-based working. Enhanced by warm, refined, and textural materials, the casual and comfortable environment captures the authenticity of Keurig Dr Pepper. 
Branding
Focusing less on advertising specific products and more on the lifestyle of enjoying KDP beverages.
The essence of the brand is highlighted both in architectural details such as lighting, shape, and pattern, as well as in a robust integration of branded elements throughout the space. Key branding elements anchor various destinations in the building including a show-stopping lenticular wall display in the main reception lobby as well as a two-story bubble-inspired glass sculpture over the monumental stair.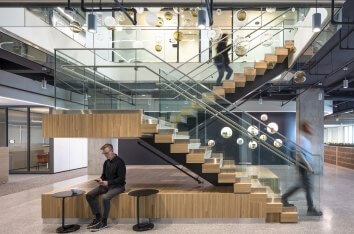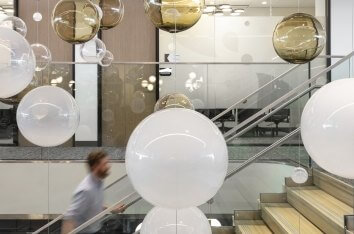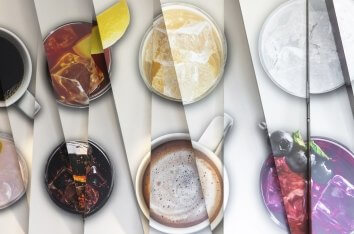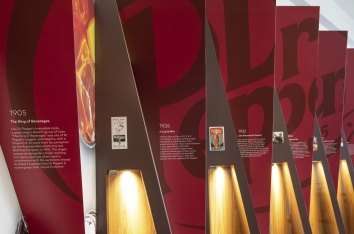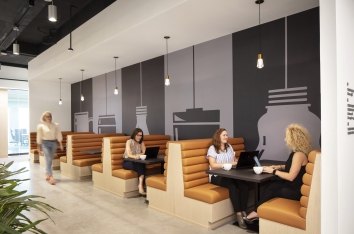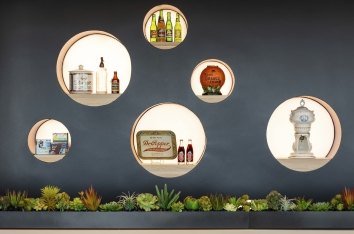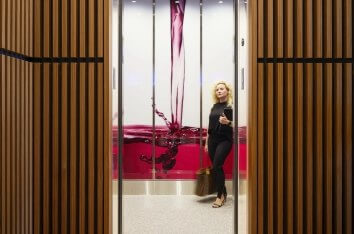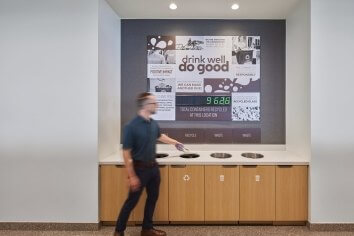 Sustainability
Through the design process, Corgan and Keurig Dr Pepper worked collaboratively to explore solutions to infuse the recycled and reused KDP products into the space. Repurposed glass from Keurig Dr Pepper's own A&W and Snapple bottle glass bottles can be found within the countertop aggregate throughout the break areas. Repurposed K-cup filter paper are showcased within the artful resin panel dividers at each end zone. The focus of personal impact on recycling is highlighted through metrics as a ticker display continuously updates cans diverted from landfills as employees toss away empty containers.