Projects
Kennesaw State University, Center for Social Research Building Renovation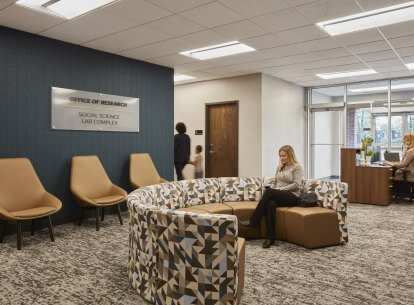 Project Stats
Location

Kennesaw, Georgia

Size

6,000 SF

Market

Expertise
A Science Lab Prioritizes Comfort and Durability
The Social Science Lab Complex (SSLC) at Kennesaw State University (KSU) supports research and education through the advancement of KSU's strategic goals and mission to recruit world-class faculty, elevate the quality of graduate education, and strengthen research innovation. The facility is intended to bring together educators and researchers from the STEM disciplines to tackle university-wide research themes including biomedical and health services, safe and sustainable communities, human development and well-being, and computing and technology. To accomplish this mission, Corgan overhauled a vacant building on campus in a short timeline on a limited budget.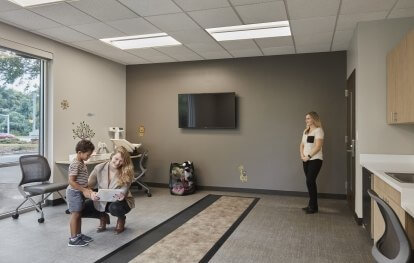 The multi-disciplinary space features five labs strategically designed to be flexible in nature to accommodate future social science and human subjects research opportunities. One lab is dedicated to the use of sensitive equipment while the remaining four labs operate as unassigned spaces which can be reserved through the SSLC website on an as-needed basis by researchers from across all KSU campuses. Ample storage for research equipment is available for researchers' convenience and to facilitate the smooth transition from one use to another.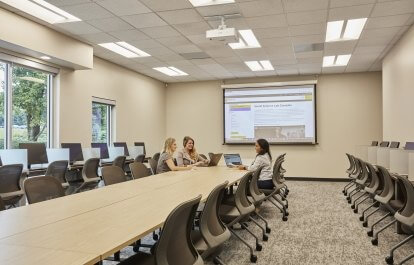 An Empathetic and Human-Centric Space
The building is also used as a swing space for research labs and remains flexible with reconfigurable workstations and moveable furnishings. The accommodation of observation rooms with one-way glass allows the faculty to conduct focus groups and education. A video conference room is acoustically enhanced to conduct private conference calls, record lectures, or produce videos for research. Largely focused on medical and behavioral testing for the elderly, babies, and children, the clinical space is ADA-inclusive and designed to be both comfortable and durable with an inviting lobby, warm neutral tones, and windows for abundant natural light and outdoor views. Large-scale photos of faculty and students engaging with patients create a human-centric space where people feel connected and safe.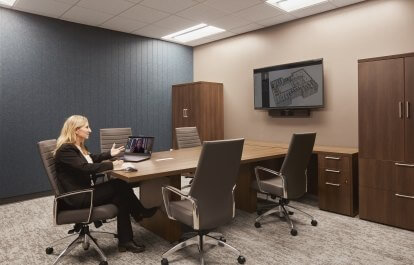 Since the project proceeded on time and below budget, designers were able to include additional upgrades to the existing restrooms, the breakroom, and other spaces. Supporting cutting-edge research with lab spaces and technology, the Social Science Lab Complex serves as KSU's foundation for supporting innovative research and education activities for the 21st  century.