Projects
Austin College, Physician's Assistant Program Renovation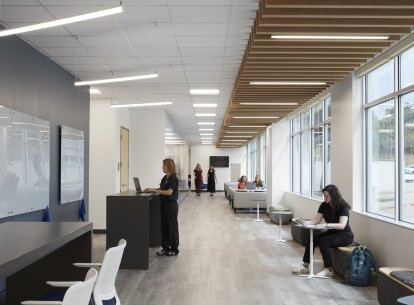 Project Stats
Client

Austin College

Size

12,000 SF

Market

Expertise
High fidelity environments — high tech meets high touch.
Austin College, a renowned undergraduate liberals arts and sciences college, is embarking on the development of its second graduate degree program, a Master of Science in Physician Assistant Studies (MSPAS). Corgan was selected to lead the design of their program start-up facility.
Central to our approach to health science projects, we focus on "high-fidelity learning environments". There are few career paths where the ever-increasing rate of technological change intersects with the need for hands-on training. Any student aspiring to join the healthcare profession must gain a range of specific, and sometimes lifesaving, skills but do so in manner that extends rather than constrains their underlying humanity. Healthcare education is where high-tech meets high touch.
Located in a leased space adjacent to a major regional hospital, Austin College's Physician's Assistant program occupies 12,000 square feet. The new program consists of spaces for classroom lecture, skills training, and clinical simulation in both in patient and out-patient settings. Supporting spaces include break-out small group study areas, offices, student amenities, and dressing areas for standard patients.
To make best use of the available limited space resources, the instructional areas are zoned into didactic and experiential areas. This core functional zone is located centrally in the space, with faculty and student support spaces located to each side. A main, wide corridor along the one exterior wall provides for circulation and allows for additional seating and collaborate areas for individual and group study and breaks. By locating circulation to the exterior side, maximum wall space was preserved in the instructional areas for headwall and equipment placement and display.
Healthcare education is where high-tech meets high touch.