Projects
Alliant University Nursing School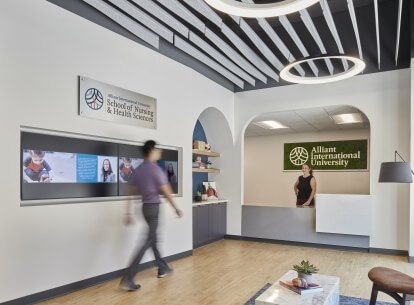 Project Stats
Location

Phoenix, Arizona

Size

16,000 SF

Market

Expertise
New nursing school provides real-world environments for hands-on learning
Alliant International University offers higher education to prepare students for professional careers in service and leadership. When the university branched out to offer a new School of Nursing and Health Sciences, it began with expansion into the Phoenix market. To attract students and faculty and increase enrollment and retention, the university engaged Corgan to design a welcoming space to provide classrooms, offices, workspaces, and nursing skills labs to simulate a hospital setting. Located in the heart of Phoenix near hospitals, apartments, and a thriving cultural scene, the nursing school is positioned to train aspiring nurses and healthcare providers in the growing southwest region.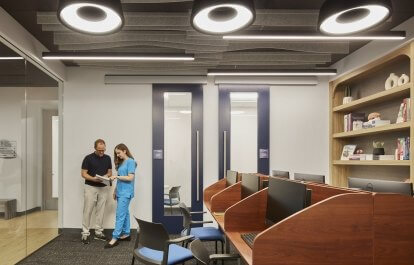 The simple and elegant yet purposeful space is warm and inviting. Curved lines, wood tones, and natural light warm the lobby and check-in area and provides an opportunity to show off marketing materials. Three flexible classrooms with moveable partitions and rolling furniture are adaptable for lectures and presentations. A quiet library with workstations and study rooms offers private spaces for students to focus on homework. Branded elements throughout the space motivate and encourage students to succeed – strategically placed logos, an inspirational quote from Maya Angelo, and directional signage provide wayfinding while creating a sense of belonging. 
Design in action
Labs for active, hands-on learning
Corgan was enlisted to consult on simulated medical equipment to provide hands-on learning. Simulated patient rooms, two labs including a bariatric lab and birthing room, along with a Nursing Skills Lab to simulate and ER to provide a real-world hospital environment. From patient beds and medical equipment to manikins and technology, the school is designed to teach the latest advancements in nursing skills to prepare students for successful careers in healthcare.