Projects
Jokake Construction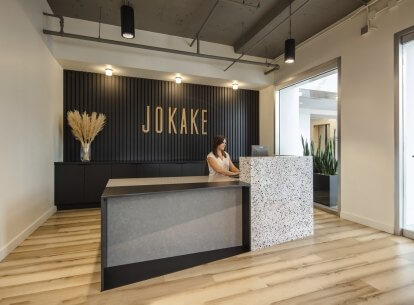 Project Stats
Location

Phoenix, Arizona

Size

10,000 SF

Market

Expertise
For Jokake Construction's office relocation to the premier Esplanade office campus in Phoenix, Arizona, the niche commercial construction contractor desired an elevated space to support its expansion throughout the southwest, establish its presence as a market leader, and better support the expectations and demands of their modern workforce.
The design articulates corporate values of connectivity and transparency with glass conference rooms, a mix of space types, and strategic floor planning to promote collaboration and team building with clients.
Inspired by the hoteling office, the working lab features smart plug-ins inviting clients flying in from out of town to touch down in the corridor hub and work while between meetings.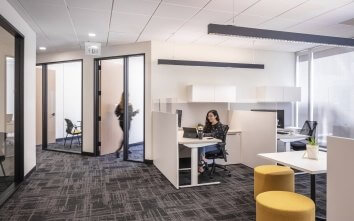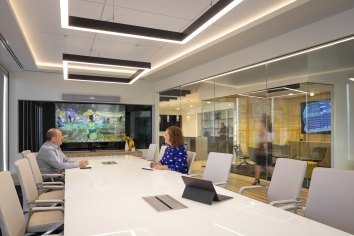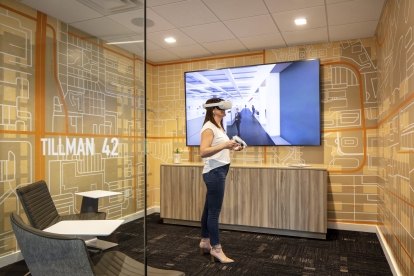 Technology
A virtual reality room offers clients the opportunity to tour plans of in-progress or future commercial developments — incorporating the latest 3D and VR technologies into a space that maintains a seamless experience for users, promotes productivity, and preserves the continuity of design.
As a tool to recruit top talent, their new office is also a celebration of their industry reputation, brand, and collective values. The company's signature gold and black branding appear in design and furniture details throughout the space. Upon entry into the main area, a custom desk and branded millwork with the company's logo greets guests while maintaining clear sightlines from reception to the CEO's office.
Setting the tone for work and the client experience, Jokake's new office space is a thoughtful and creative approach to not only support collaboration, connection, and productivity but also clearly reflect the values and principles that have established Jokake Construction as an industry leader.