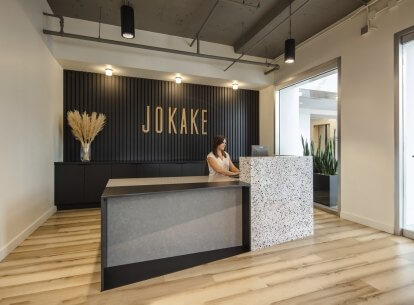 Project Stats
Location

Phoenix, Arizona

Size

10,000 SF

Market

Expertise
Jokake's new corporate headquarters in the Esplanade features two suites of open office space with technology upgrades infused throughout. Upon entry into the main suite, guests are greeted with a custom desk and branded millwork with a clear view from reception to the CEO's office. 
The new office for Jokake Construction is a complete departure from their previous space at the Stockyards. The company's signature gold and black are infused throughout the space in design and furniture details. The design matches the vision of the company with clear lines of sight and fully exposed glass conference rooms and offices to promote collaboration and team intermixing.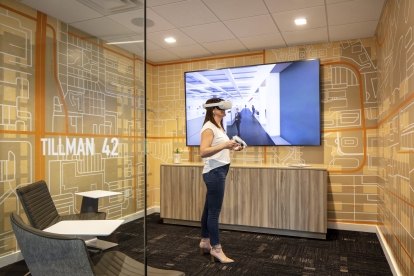 Technology
Requiring the most scrutiny and quality oversight is the Virtual Reality Room where you can walk through your future development in 3D and envision the space coming to life.
Each office is built as a hoteling office and the work café features smart plug-ins, inviting clients to touch down in the Biltmore corridor hub while they are between meetings or flying in from out of town.