Projects
Indeed Regional Headquarters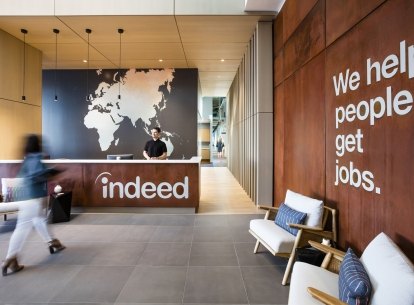 Project Stats
Location

Scottsdale, Arizona

Size

52,000 SF

20,000 SF 2019 Expansion

17,000 SF 2020 Expansion

Awards

IIDA Southwest PRIDE Award 
Unbuilt Category, 2018

AZRE RED Award 
Interior Project of the Year, 2019

Market

Expertise
Renovation of an old shopping mall transforms to thriving office space.
After its Scottsdale office tripled in size over the course of a year, Indeed desired to expand its sales team into a larger location in the Galleria. The Galleria Corporate Centre delivers a pro-business culture, energetic environment, and scores of amenities within walking distance — all of which speak to the young and spirited culture of the company. Indeed's goal was to capture the local flair of Arizona, while also providing an energetic and tailored work environment for its employees and a welcoming meeting space for partners.
Strategically improving communication and performance, the design team rearranged the open office floors to create a variety of spaces, ranging from collaborative workstations and activity-based huddle rooms to private nooks for concentration and heads-down work.
Then and Now
Making optimal use of the existing, clear, and rational basic structure of the building.
The Galleria, formerly a shopping mall, gives the office a unique layout. The grand corridor is flooded with natural light courtesy of an existing curved skylight and is utilized for informal mingling and meeting while centrally connecting office town hall and game room.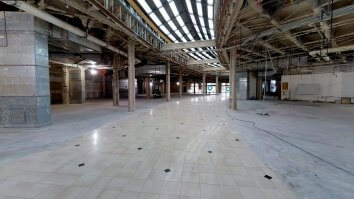 Before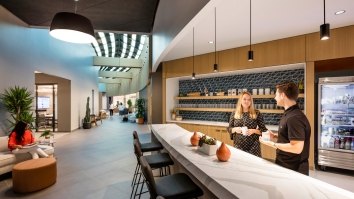 After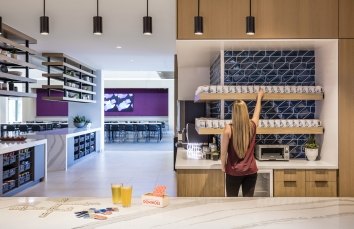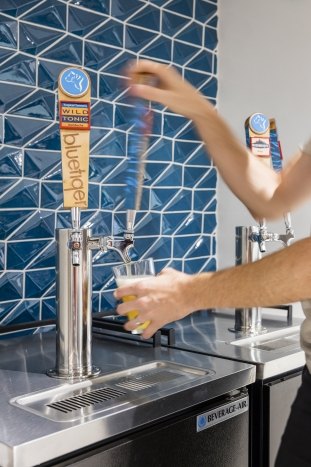 Amenities
Balancing work and play.
Keeping with the young and energetic culture of the company, Corgan focused on designing a space that could keep up with the young talent pouring in through a workspace packed with amenities such as a large café fully stocked with beverages and snacks, beer and cold brew on tap, and a fitness center complete with showers, a wellness room, and a designated meditation room.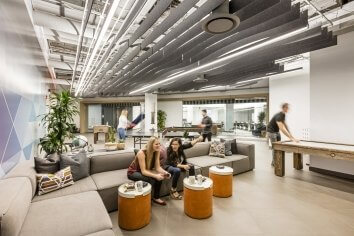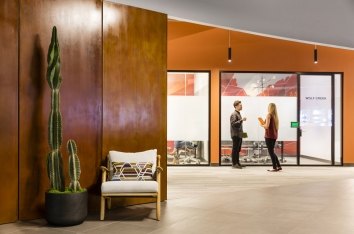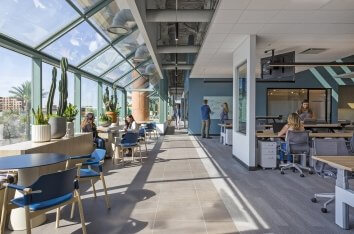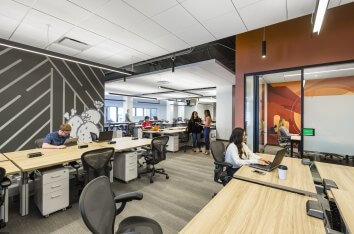 Inspiration
Tailored space for regional connection.
Wanting to standardize their offices nationally, Indeed quickly realized it felt too corporate for its culture. The design team worked with Indeed to create a tailored workplace that reflects the Arizona desert landscape, drawing inspiration from the uncultivated environment. The subtle use of warm tones, texture, and simple geometric forms creates a refined space that embodies simplicity and sophistication. The fresh, light, and airy atmosphere has long sight-lines, and stimulates visual and user interaction between spaces.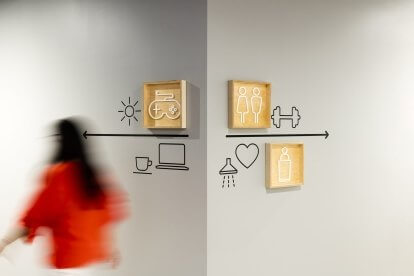 Signage & Wayfinding
The wayfinding strategy included regional room names, color coded wall graphics to identify neighborhood zones, icons to visually describe the space's purpose, and whimsical wayfinding directories to guide users to specific amenities.