Projects
Financial Company Tech and Operations Office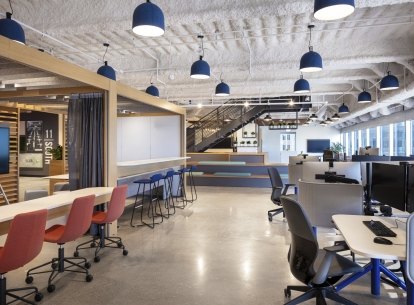 Project Stats
Location

Houston, Texas

Size

255,886 SF

Market

Expertise
Flexible Working Environments
The design of this space is based on a new and evolving model of "agile workplace" which is modeled after the behaviors associated with agile project management. The design of the space will enable small functional teams to self-organize in "neighborhoods" of workstations supported by a variety of collaborative settings.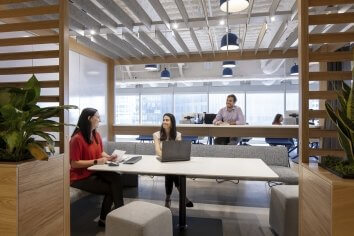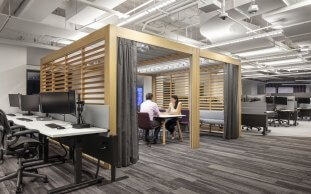 Collaborative Setting
A flexible working environment allows groups to work in neighborhoods creating an agile work setting. While individuals will be free to choose any seat within the space, it is anticipated that groups will self-organize and locate for a period of time in a particular neighborhood or other collaborative environment. Lockers provide personal storage space in a central shared space that also provides printing and support functions and as well as a "general store" concept for shared resources and quiet booths for impromptu meetings.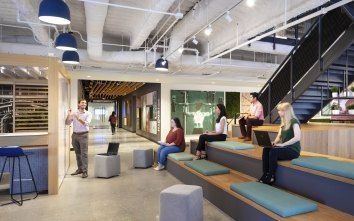 Versatile Gathering Spaces
Each floor features flexible collaborative spaces and a work café. The 11th and 12th floors of the building form the central hub of the new space and feature the largest of the work cafes, a reconfigurable innovation lab space, and large meeting rooms that can open up to the work café and provide a venue for hackathons, town hall meetings, and special events. The 11th and 12th floors are connected by an internal stair with a multi-layered seating plinth that provides seating for large groups and small conversations.
The Work Café
A shared resource area for meetings and impromptu collaboration.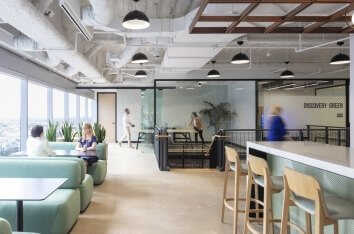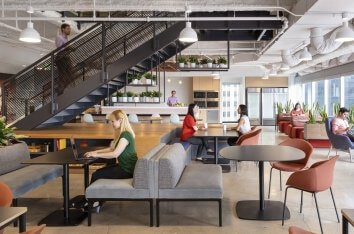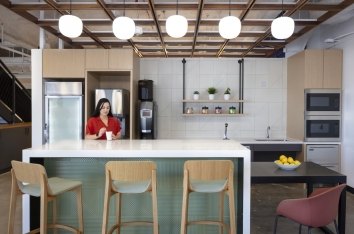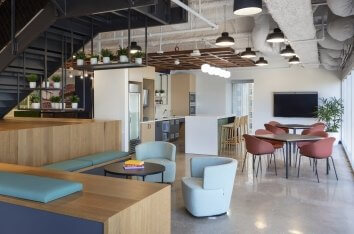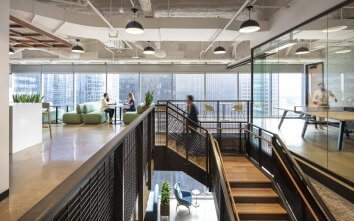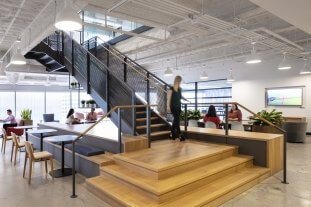 Engaging Connections
The stair on levels 11 and 12 are one of four stairs distributed through the stack, each serving to connect the workplace community between the two levels and provide an organizing element that brings people together for a meal, a meeting, or a casual conversation. Integrated to the stair design and deployed throughout the space are planters and other biophilia features.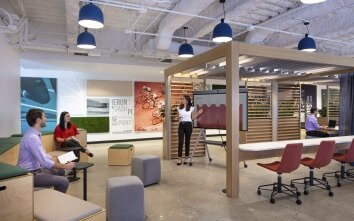 Tech Bar
The tech bar, adjacent to the innovation lab and stair, provide space for new app demonstrations, small group training sessions and technical support in an open, retail-like environment.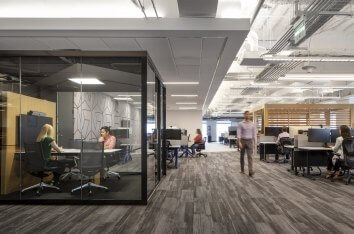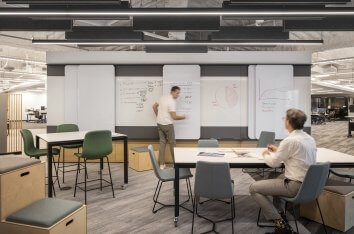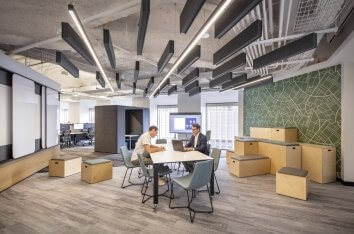 Agile Workspaces
The workspaces are designed to support collaboration; enabled with writable surfaces and pervasive monitors distributed across the floors that allow sharing of content.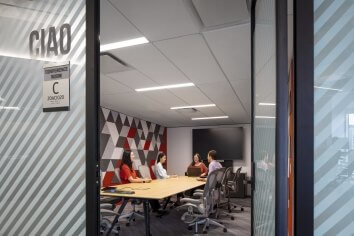 Branding
The Corgan branded environments team is providing thematic content on each floor through graphics and imagery that celebrates the culture and diversity in Houston as well as local company culture.
The success of this work environment deploys versatile spaces that engage employees through collaboration, community, and productivity.