Projects
7-Eleven Corporate Headquarters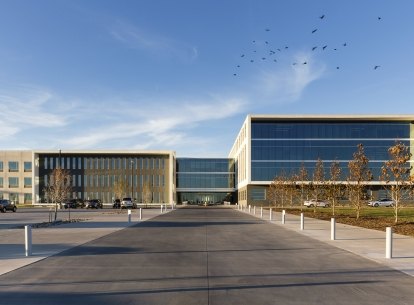 Project Stats
Location

Irving, Texas

Size

325,000

Market

Expertise
Highly collaborative and branded environment.
This bold new corporate headquarters for 7-Eleven is conveniently positioned in a growing mixed-use development. 
The office space is comprised of apportioned 100,000-square-foot floor plates over three floors. A 25,000-square-foot fourth level brings the headquarters to a total of 325,000 square feet of office space. This fourth level, in conjunction with the topography of the land, provides a prominence that can be experienced, from both the mixed-use programs of the development, and along the highway corridor. 
The office development is supported by a three-level parking garage that can accommodate over 500 vehicles. Both the office and the garage are situated on a 21-acre site. In association with the building design, the relief of the land and the articulation of the landscaping provides a pedestrian friendly experience that unites the site with the office creating a uniform campus environment.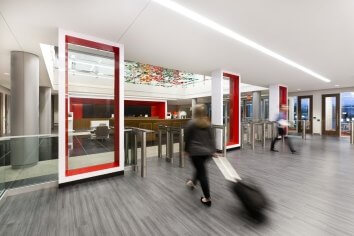 Secure Entry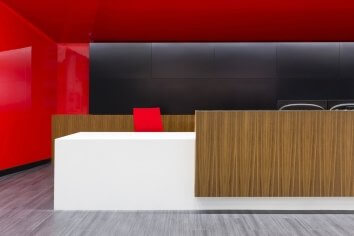 Reception Desk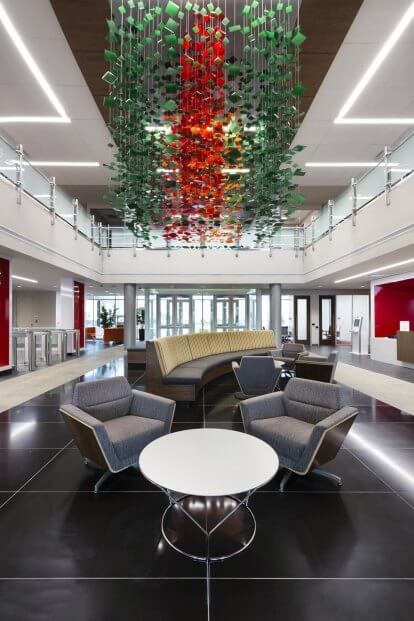 Branding
Custom branded elements accent the space throughout.
Visitors are drawn into the space and immediately immersed in vibrant colors and branded accents. A custom art installation is suspended from the lobby ceiling which  when viewed from below forms the 7-Eleven logo. 
Splashes of red, green, and yellow, colorful wallcoverings, and bold textiles are applied in gathering spaces reflecting the cheerful culture of the company. 
Pops of Color Accent the Interior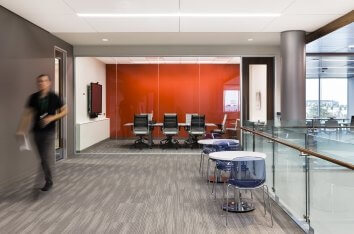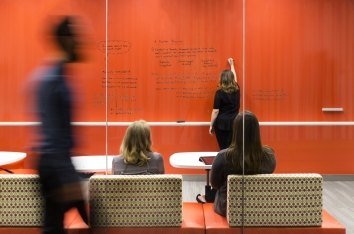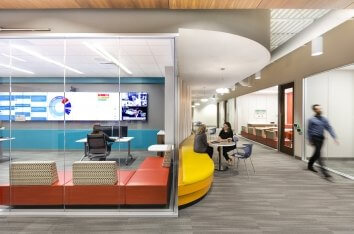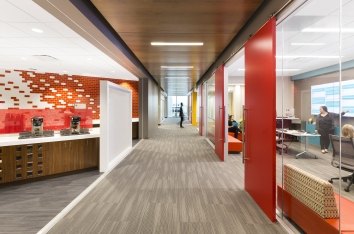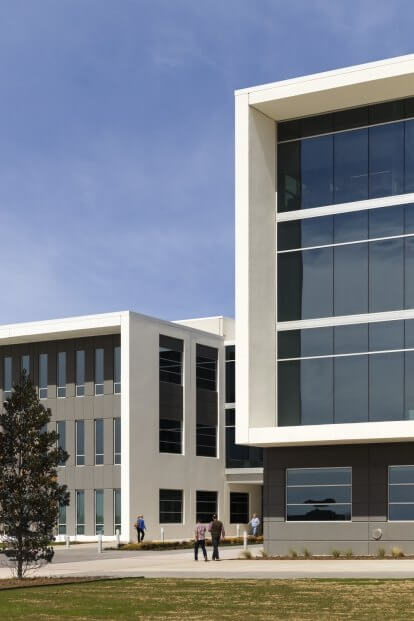 Cantilevered Forms
Delivering innovation in tilt-wall design.
Thinking beyond traditional tilt-wall design, the design features cantilevered forms along the facade, complemented by a variety of iterative punched openings in differing shapes, and expanses of glass curtainwall.