News & Insights — Insights
The Hybrid Report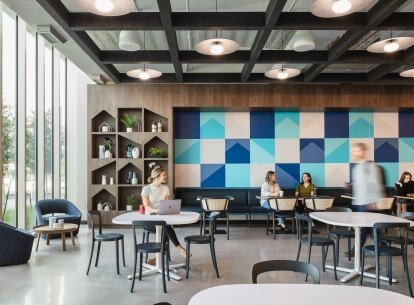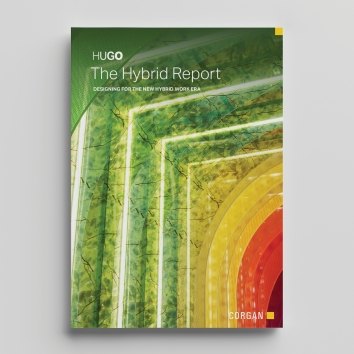 DESIGNING FOR A NEW ERA OF WORK
Making Work, Work
How can office design power a better hybrid experience?
What matters most for productivity? For connection?
Can the workplace increase recruitment and retention?
Get answers in The Hybrid Report — a report that makes sense of what matters most for hybrid workers and employers. We translate data-driven insights into practical interventions for a more flexible, supportive, and empowering workplace.
The office has always demanded agility. Adapting to shifting economies, emerging industries, and new technologies from laptops to artificial intelligence. But, rapid change and big leaps require companies to intentionally and quickly rethink how we work—balancing corporate goals with the modern expectations and preferences of today's workforce. As part of the evolution of the office as a cornerstone of our social, economic, and even personal lives, designers have both the opportunity and the challenge to meet the demands of how we work while creating spaces that are change-ready as the role of the workplace continues to unfold.
Investigating the future of work—from how to incorporate technology to lifestyle changes reframing how we approach work—Corgan has combined research with deep insights to move beyond recent headlines and understand the impact of virtual and hybrid work for clients, employees, and for design.
Most recently, The Hybrid Report studies what makes a successful hybrid workplace. Asking how office design can create a better value proposition for an in-office experience while supporting a better flexible, digital experience. The report analyzes findings from 45 interviews with leaders and employers and survey findings from 1,000 hybrid knowledge workers across the nation to outline decision-making drivers, the biggest pain points and preferences, and the design elements that shape the employee experience.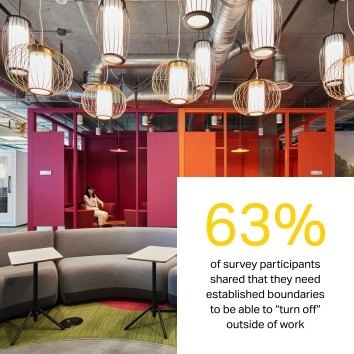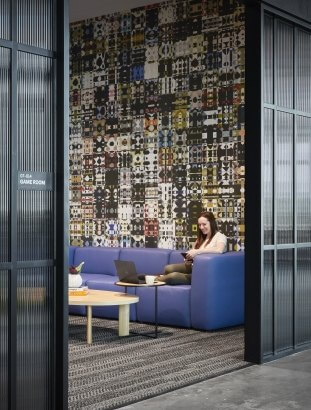 THE KEY TO FLEXIBLITY MIGHT BE THE OPPOSITE
Bending Without Breaking
Flexibility that's functional depends on a framework of predictability—a sort of freedom within fences. With distributed teams, diverging needs and priorities, and staggered schedules, the number of variables can stack up to create frustration for staff and managers, erode trust and lack of connection, and introduce friction in collaboration and communication.
Work has always required clear communication and a shared set of expectations. Our research and experience with clients reinforce a need for boundaries and predictability to make work, work. Owning "on" and "off" hours and owning their own desk, banking on reliable technologies, and standardizing how we we engage with the office, take a look at how design can meet policy to increase trust, accountability, and transparency in the "messy middle" of a hybrid world.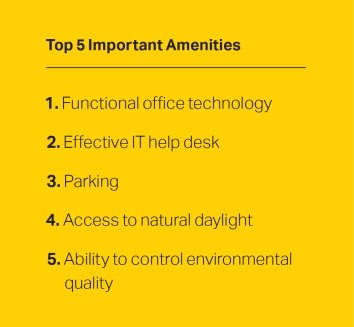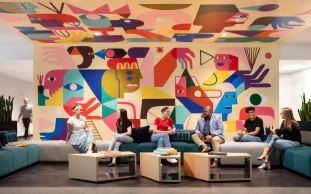 DATA-DRIVEN DESIGN
What Hybrid Employees Want From the Office
Understanding the unique characteristics and drivers of hybrid knowledge workers uncovers critical insights necessary to adopt successful strategies, policies, and practices that also promote productivity, engagement, and well-being for the modern work landscape.
What do hybrid workers want from the workplace? What makes the office worth the commute? What makes an employee want to work from home?
This isn't about office design that competes with working from home. Rather, it's about creating a destination that delivers on the most influential factors of the employee experience. With a distinct function and role in how we live, connect, and work, the future of office design means delivering on our evolving expectations for it. That means more than a ping pong table or a perfunctory pizza party.
Some old, some new—here's what hybrid workers want and need from their workplace.
Rethinking Success
Changing expectations and functions means changing our metrics for a successful workplace design. Emphasizing the importance of results over occupancy, new measurements of employee connection, task completion, and overall productivity may be better indicators of the success of a work environment. While more challenging to measure or to draw a correlation with, they provide a better appraisal and reflection of the true intent of the office—as a place that supports how we work and what that work feels like.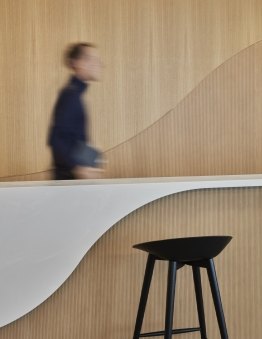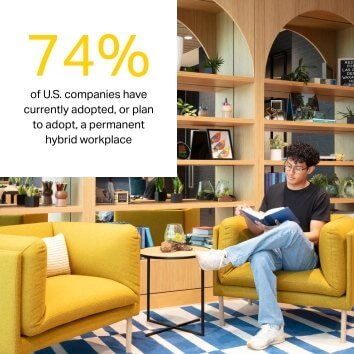 HERE TO STAY. HERE TO CHANGE.
Designing the Hybrid Workplace
The office has an enduring role in our lives and our work. And demonstrating great staying power, hybridity requires us to rethink what that means for design and policy. With a distinct set of unique characteristics, needs, and challenges, the hybrid knowledge workforce welcomes the next iteration of the office—one that articulates shared values of convenience, functionality, people, productivity, and comfort. Designing the hybrid workplace means fostering relationships, balancing individual and teamwork, enhancing in-person engagement, and seamlessly connecting virtual and physical spaces.
Backed by data, The Hybrid Report provides practical design solutions that apply survey findings and research. As more employers adopt hybrid policies, these interventions outline actionable and approachable steps that shape the future of how and where we work.
TUNE IN
Thinking Outside the Box on TheSquare
With the growing popularization of hybrid work, how does the modern office support the needs, challenges, and evolved expectation of the workforce? Corgan's nationwide study of 1,000 hybrid workers provides insights on the state of hybridity—its impact on focus, connection, retention and more. Listen in to this episode of The Square as Emily Strain, Director of Workplace Strategy, and Melissa Hoelting, Senior Design Research Lead of Hugo discuss the role of design in how we work.
DIVE IN. LEARN MORE.
Download The Hybrid Report
More information on the methodology, key findings, data, and design solutions are available in the full report.