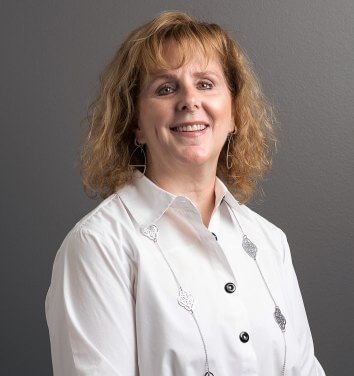 Dawn Chisholm Meinhardt
AIA, IIDA, NCARB, LEED AP ID+C, WELL AP
Principal, Interiors Studio Leader
Dallas, Texas USA
All it took was one architecture class in high school, and Dawn was hooked. "I knew after the first class I would be an architect," she says. Forty years later, Dawn still loves what she does and has made her mark on our firm and the industry at large. A LEED- and WELL-accredited architect, Dawn is a founding member of our interiors sector and uses her expertise to lead teams through all phases of a project, bringing her clients' visions to life.
Dawn has worked on nearly every project type, but large corporate offices are her passion. She has led the design efforts for some of our most high-profile workplace projects, for clients such as Toyota, Fossil, TIAA, JPMorgan Chase & Co., Blue Cross Blue Shield, and State Street — projects that, because of her efforts, have led to long-standing relationships. She currently manages the Dallas Interiors Studio comprised of designers, workplace strategists, branding specialists, and furniture strategists. It is this studio of talented, passionate, hardworking designers and architects that inspires Dawn to continue to give it her all. "I come to work every day and give my very best because of them," she says.
Dawn loves spending time with her husband, children, and grandchildren — but she also takes time to focus on herself. "I love to learn and am always seeking ways to improve and grow, both professionally and personally," Dawn says.