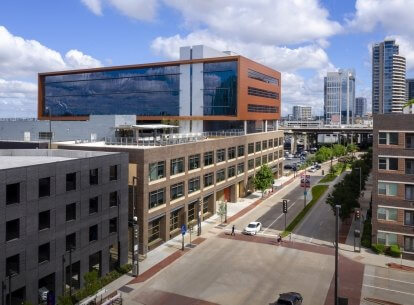 Project Stats
Location

Dallas, Texas

Size

160,000 SF

Awards

TEXO Distinguished Building Awards, Merit Award

CoreNet North Texas Black White & Blue Sustainable Leadership Award for Wellness Program

Certifications

LEED Gold

WELL Gold

Market

Expertise
Thoughtfully crafted identity — weaving modern design within a historic, urban context.
Located on the western edge of Downtown Dallas, on the second oldest block of the city, The Luminary is part of the revitalization of a historic district that was reimagined as a federal grant Innovation District. The project expands Corgan's existing three-story 58,000-square-foot headquarters building with a new adjacent seven-story, 102,000-square-foot addition and integrated 400-car parking structure. The expansion makes it the tallest building in the West End with incredible downtown views.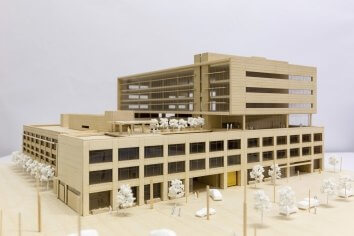 PHYSICAL BUILDING MODEL
Neighborhood Connection
Using materiality, color, and texture in bold ways to create a unique identity, while honoring the historic character of the neighborhood.
Copper paneling, brick, and exposed concrete create a graceful integration of a modern building within a historic neighborhood. Expanses of electrochromic glazing combined with multiple roof decks unite the spaces and offer incredible views and connection to downtown and the nearby Trinity River.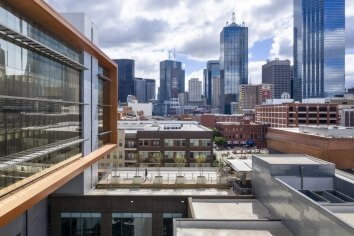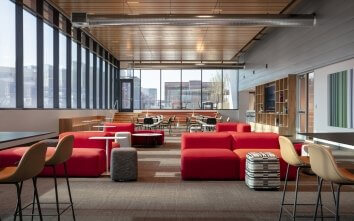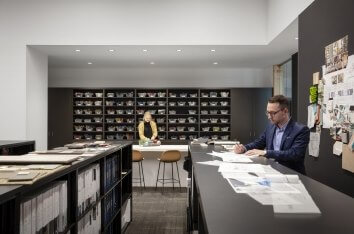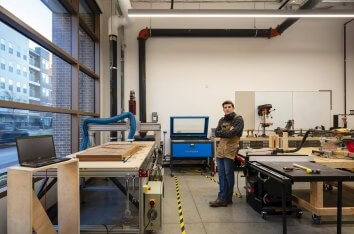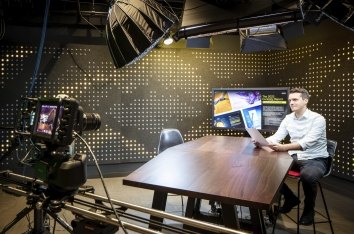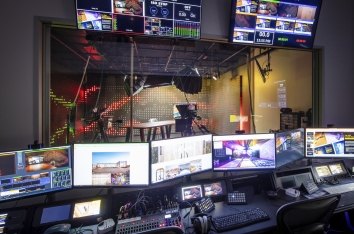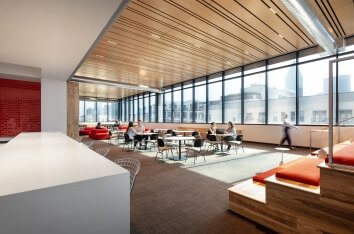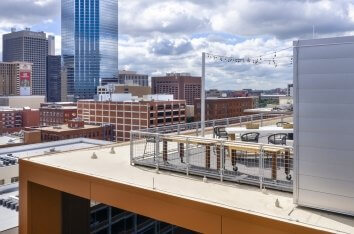 Design on Display
The redesign of the existing creative office space pushes makerspaces toward the street scape, celebrating the innately artistic and tech-forward elements of the design practice.
The headquarters features a fabrication lab, materials library, expansive crit space for large gatherings, media production studio, and a large multi-purpose Skyline Lounge, featuring plush sofas, counter-height tables and chairs, bench seating, a learning stair, and moveable ottomans and side tables.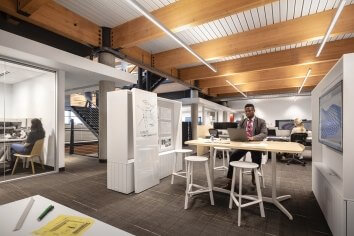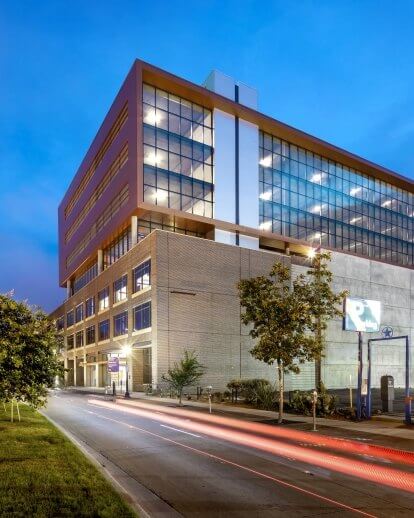 Jewel Box
A forward-thinking design that remains authentic to its roots and to the nature of its work.
The Luminary is representative of the city's history and its future. Recognizing the authenticity of place and an architecture right for a contemporary creative office.
Awards & Recognition
LEED Gold Certified

WELL Gold Certified

AIA DALLAS DESIGN AWARD

DISTINGUISHED BUILDING AWARDS — MERIT AWARD

DCEO EXCELLENCE IN ARCHITECTURE

BEST PLACE FOR WORKING PARENTS INNOVATOR AWARD