Projects
Stryker Communications Office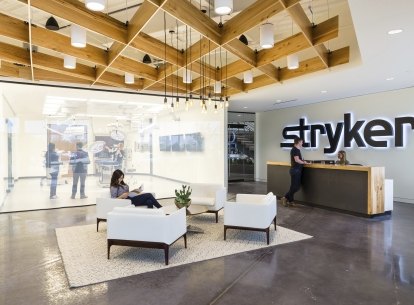 Project Stats
Location

Flower Mound, Texas

Size

250,000 SF

Awards

ENR Texas and Louisiana, Best Interior Projects Merit Award

Certifications

LEED Silver

WELL Silver
First WELL certified project in Texas

Market

Expertise
Elevating the workplace for an employee-focused company.
Corgan was engaged to provide workplace strategy and interior design services for Stryker's new 250,000-square-foot facility in Flower Mound, which includes approximately 78,000 square feet of office space designed by Corgan and an additional 112,000 square feet of warehouse space and 60,000 square feet of shell space for future growth. The company was recently named one of Fortune's 2016 World's Most Admired Companies and one of Fortune's 100 Best Companies To Work For, so being a very employee-focused company, great care was taken to make sure this new facility accommodates the needs and desires of those who would be occupying it.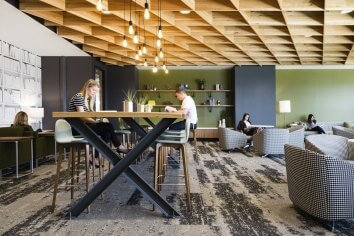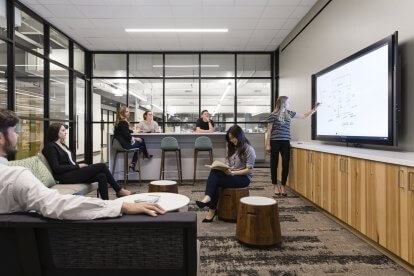 Corgan led Stryker's executive team of 10-12 people and the change management team of approximately 20 through an in-depth visioning session to better align everyone's vision for the project. We reviewed survey results from various departments, including Marketing, HR, Operations, Accounting/Finance, R&D, Customer Care and more, to understand what currently doesn't work and the aspirations for the new space.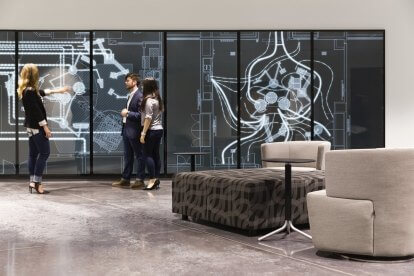 The visioning session also included an image collage, value voting exercise, today/tomorrow discussion and other interactive activities to gain feedback and establish a big picture strategic vision for the project.
Corgan maintained this relationship and has provided similar services in Scottsdale subsequently expanding the Flower Mound facility.