Projects
Iron Mountain Data Center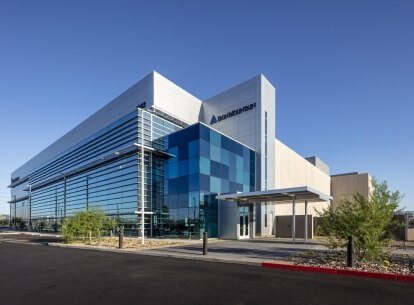 Project Stats
Location

Phoenix, Arizona

Size

540,000 SF

Data Hall

42,500 SF

Critical Load

48 MW

Market

Expertise
Working within a challenging site footprint parameter, the team designed a three-story, yet only 59' tall data center in the desert. Another limited space design solution was to place the medium voltage transformers in the UPS rooms. Increasing value to the client, the telecommunications team was involved right from the start for a fully integrated data center strategic plan that allowed for faster implementation and streamlined both schedule and cost.
As part of a three-building campus on 40 acres, AZP-2 is just minutes from downtown Phoenix and is powered completely by renewable energy.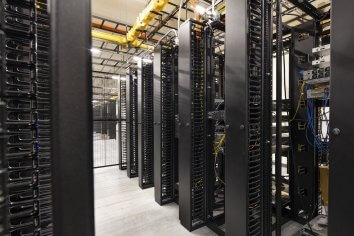 Connected data center campus powered by renewable energy.
Corgan faced a design challenge determining how large prefabricated modules can route from the loading dock into its final position. The data center is three stories and Corgan worked on designing the first floor as the area for the prefabricated modular pods. The team worked across multiple sectors and our IT team to look at how aviation uses software to study airplane travel paths and large vehicle driving paths. We also worked with a rigging company the general contractor hired to develop a path in the building that the modules could take. This resulted in columns shifting, which we worked closely with the structural engineer to solve.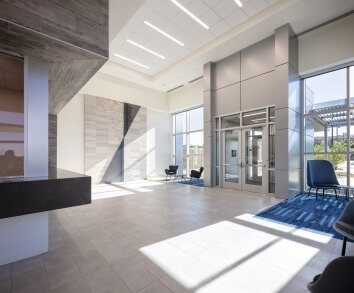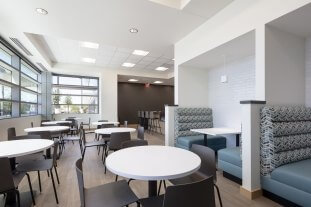 Meeting architectural development code requirements
Attached office designed with ACM composite metal panel and insulated curtain wall systems.
The office was designed with steel framing and separated from the data center building by a three-inch expansion joint. We designed the three-story office building using composite metal panel and curtain wall systems. The office design required extensive coordination with Iron Mountain branding standards and finish requirements. Corgan worked closely with our interiors team to understand what our client used on other projects and what would be best used for this project.